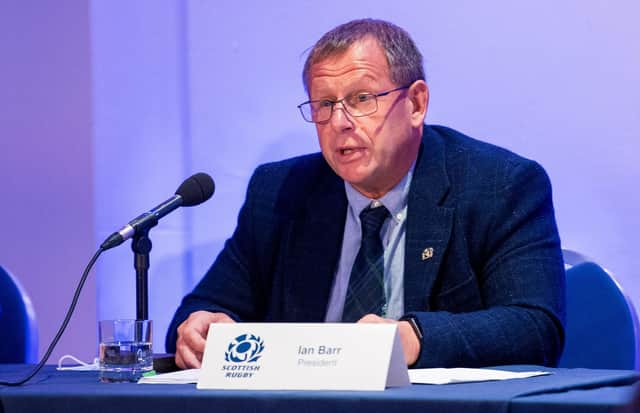 Outgoing SRU president Ian Barr has hailed the new changes to the organisation as a 'line in the sand moment'. (Photo by Ross Parker / SNS Group)
The new structure will involve the creation of a company limited by guarantee consisting of eight 'Custodians' – who will as a matter of law be classified as Directors with all the consequent statutory duties and obligations – to oversee the work of the operating arm of the game known as 'Scottish Rugby Limited' (ie the current Board).
This new set-up has been more than two years in the making and is ultimately the result of a series of governance failures in 2018 and 2019 which created concern that the current Board had ceased to be accountable to the Union's membership.
"It has been a bit of a marathon and at times it has been challenging, but Scottish Rugby needed and deserved a governance review and then a new structure, which will allow us to go forward working collaboratively," said Barr.
"Scottish Rugby's logo is 'AsOne' and I think that is something we should aspire to in moving forward. I think this new structure will bring that clarity, it will bring that transparency, openness, honesty, integrity, all those values that we all think Scottish Rugby should have had for a long time.
"I'm really looking forward to it," added Barr, who will be one of the first 'Custodians'. "There will not be much time for resting. It was hard work to get to this point, and a different type of hard work now starts to get everything in place so that member clubs are well represented at all times."