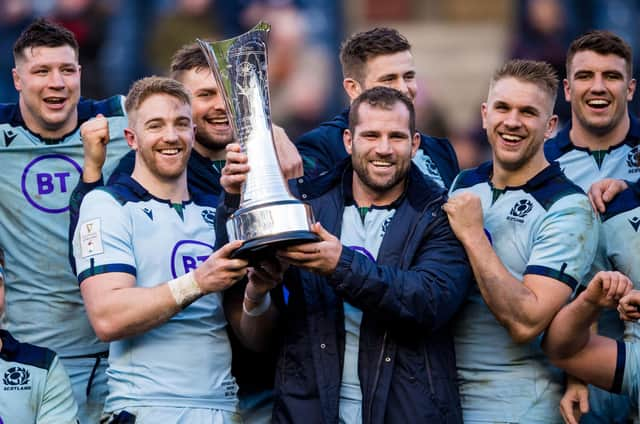 Kyle Steyn became the 1,109th player to represent the Scotland national rugby team and, after a 12-minute cameo off the bench in Sunday's thrilling 28-17 win over France, has now targeted winning a starting spot.
The 26-year-old Glasgow Warriors centre/wing came on in the 68th minute to replace double tryscorer Sean Maitland but admitted he had feared his chance may have gone after a week of expectation following his naming on the bench and his dad scrambling his way over from South Africa for the match.
"When it got to 62 minutes, France were coming back at us hard, the rain was coming down, and we were camped at our end and I thought 's***, I wonder if I'm going to get on'.
"Then when Rambo [sub hooker Stuart McInally] went through and scored [for Scotland's third and clinching try] I was chuffed because I thought I would get on then."
Johannesburg-born Steyn was delighted that his dad, Rory, who was formerly a part of the police protection unit for the late President Mandela, got to see him take the field and win that prized first cap for the land of his Glasgow-born mother Gill.
"My dad came over. He was the only one who flew over from South Africa but there were tons of cousins," said Steyn.
"They were actually asleep as South Africa is two hours ahead [when Steyn found out he would be in the matchday squad for France]. I just sent mum and dad a WhatsApp message saying I'm playing at the weekend.
"[Head coach] Gregor [Townsend] told me on the Monday night, the squad was getting announced [to the players] on the Tuesday so Gregor pulled me aside and told me I'd be on the bench.
"Gregor gave me a book to read with a message written inside. It was Beyond The Thistle [a history of the Scotland team and the stories of the players who have represented it from the start to present day]."
Steyn arrived in Scotland two years ago on a Sevens contract but his talents soon saw him head to 15s with Glasgow. A starting spot for his adopted homeland is now the aim.
"Oh, for sure. To get 12 minutes, you then want to be out there doing it for 80 minutes," he said.
"It was awesome to settle the nerves and to join the club. And it's done wonders for our campaign. We now have a good opportunity to go down to Cardiff and have a real crack at Wales."
The prospect of a summer tour to South Africa is an enticing one, Steyn admitted.
"Yes, to have the family there and just have a crack against South Africa would be pretty good to be honest," he said. "I've played against tons of them [Springboks] but I don't really know any [personally]."
It is traditional for a Scotland debutant to entertain the squad with a post-match song.
"Yes, I've known it's coming, so, when I've had a bit of spare time, I've been practising," said Steyn. "I won't say what the song was, though!"