The national team defeated England, Wales and Italy for their highest finish since 2018 but it wouldn't be too much of an exaggeration to say the impressive campaign came about despite the system not because of it.
You don't have to scratch too far beneath the surface to see the flaws. The Scotland under-20 team's 82-7 home defeat by Ireland earlier this month was a result which should have triggered alarm bells in Murrayfield's highest office. It was followed by a 40-17 loss to Italy under-20s at Scotstoun on Sunday and Townsend is acutely aware that Scotland lag far behind these two nations when it comes to producing young players.
Speaking last week, the national coach bemoaned the failure in Scotland to bring through players at a young age, making the stark claim that no-one from the under-20 sides of the past two to three years had made the breakthrough at pro level. He believes there is an unwillingness on the part of Edinburgh and Glasgow Warriors to give players a chance at 19 and 20 which is hampering their development and forcing the national side to go searching abroad for players who are Scottish qualified through parents or grandparents.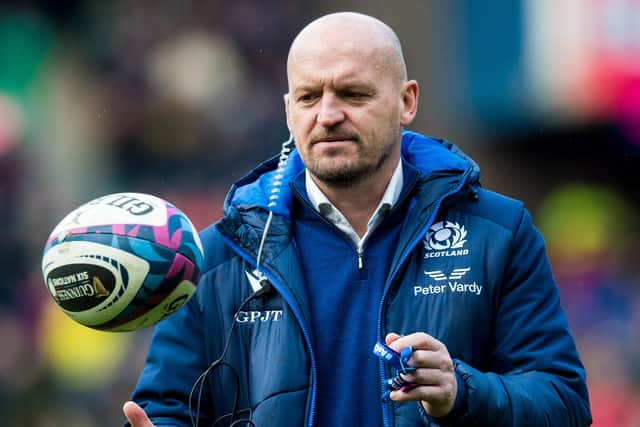 The so-called 'SQ programme' is playing an increasingly dominant role at Test level for Scotland, with half of Townsend's Six Nations squad coming from outside the Scottish system. Townsend was speaking following criticism in some quarters of Scottish Rugby's pursuit of Mosese Tuipulotu, the 21-year-old younger brother of Scotland centre Sione, who made his Super Rugby debut at the weekend for Australia's New South Wales Waratahs.
Why, the detractors ask, are Scotland prepared to shell out top dollar to bring young Australian-born players here rather than invest the money in developing native talent? It should be noted that the Tuipulotu brothers qualify through their Scottish granny and Sione has developed into a highly influential player for Glasgow and Scotland since moving here from Japanese club Shizuoka Blue Revs in 2021 and was arguably the national side's best player in the Six Nations. Townsend defended the ongoing hunt for Scottish-qualified talent from abroad but recognises the need to do more to rear homegrown talent in the way Ireland and Italy have done in recent years.
"We have to be better at getting players in Scotland through, 100 per cent," said the coach. "There are lessons all around, from Ireland in particular, from Italy in the last few years. If you can get your own players through quicker then that's going to help you long term. Most of the players who are qualified for Scotland are playing in Scotland but there are players with Scottish heritage, be it first generation or second generation, who are playing in England and overseas, and if they're at a high level and can add to the pro teams' quality or the national team's then of course we're going to be interested.
"The Sione example is a really good one. Somebody who has come over here, made a massive commitment to move from Japan. He was brought up in Australia, with Tongan heritage but the Scottish link was something that was close to him and he has been totally committed to improving both himself and Glasgow, and now Scotland. He's really added to our team, and to Glasgow, and yes we'll continue to look for players who are Scottish qualified but I would obviously like to see more Scottish players coming through and playing for pro teams at 18-19 years old. It's been a while since that's happened and we've got to put more focus on making that happen quicker.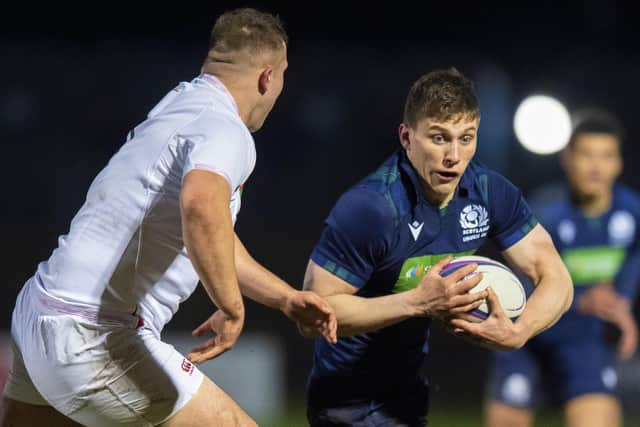 "I think we've got to give players opportunities to play at a higher level and there's a lot of things that go into that. We've got to back them earlier because often, these players that do get these opportunities, they grab them. Rory Darge, for example. He couldn't play at Edinburgh and moved to Glasgow and won man of the match after man of the match, played at Test level, was outstanding in his first games until he picked up the injury. That's a great example but we need more of them.
"Whether it's emphasis or investment or focus, we need to get those players based in Scotland coming through quicker and getting more opportunities to play at a higher level. Ireland are showing us the way and Italy are showing us the way as well. We've got to learn from what we're doing now but also from what the best models are, and they're quite close to us, across the Irish Sea and how good Italy are performing at age-grade level."
The Scotland under-20 team has struggled over the past three seasons. They did win one match in this year's U20 Six Nations, defeating Wales 18-17 to end a 15-match losing streak, but progression from the age-grade side to the full Scotland team has ground to a halt.
"We know the evidence is there," added Townsend. "No under-20s players from the past two or three years are playing at pro level or are in pro level squads. Now whether that's because our squad sizes are the right number for them to come through or are we doing enough at the 15 to 18 age to help them to come through…
"The Garbisi brothers at Italy - one [Paolo] is starting at stand-off and one [Alessandro] is on the bench, the younger brother, a scrum-half who played for U20s last year. The two Wales centres played U20s against Scotland in the summer last year. That's what we have get better at, getting our players up to that level where they can almost step up to pro level and international level, but also giving them the opportunities and the windows for that to happen."