The winger admitted he had struggled in recent months and sounded emotional as he explained what the win meant to him deep in the bowels of the stadium. Van der Merwe, who scored two tries, said a trip home to South Africa where he got married helped revive him after some difficult times.
"It's been really tough for me personally," he said. "I've not played very well for Edinburgh, I've struggled. So coming into this game, not playing much and being injured, it was quite nerve-wracking. I didn't have much confidence. But after scoring that first try I just felt the confidence. I'm just really happy, I've got a good mindset and I'm just enjoying my rugby.
"I've struggled quite a bit so the week away couldn't have been any better. I felt refreshed after everything that went on at Worcester then coming back to Edinburgh and not playing as well as I can. The pressure builds up and I've never really experienced that in my life. It was quite a tough period for me, and I was trying to sort out wedding plans. When I came back to the Scotland camp I felt refreshed and I trained well and was buzzing to get back and get better."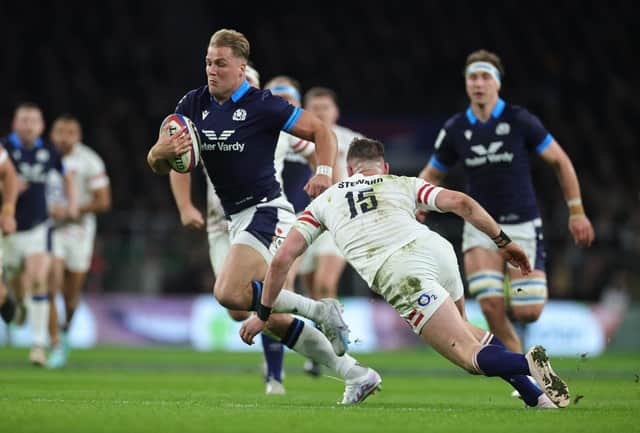 Van der Merwe's first try was a stunning solo effort. Taking the ball in his own half, he weaved his way past five England players before touching down. The second, which won the game for Scotland, saw him use brute strength to force his way over with five minutes remaining. He was unequivocal about the first score.
"That was the best try of my life," he said "I was quite surprised when I got up [after scoring] with the feeling. I was absolutely buzzing. I just got the ball and I saw there was some space in front of me, and once I got through the first line of defence there was heaps of space, and somehow I managed to use footwork, which I never normally do, and I went over for the try. Obviously, getting a win against England is always special, and being able to score two tries makes it much more special."
The player said that his coach at Edinburgh, Mike Blair, had been a source of comfort during the difficult times. Blair brought van der Merwe back to the capital in October following Worcester's financial collapse and gave him permission to have time off to get married last month. "I've spoken a lot to Mike through those couple of weeks," he said. "Being able to see the family and getting married was a really good week for me. I felt refreshed coming back. It helped me a lot because like I said, I was struggling."