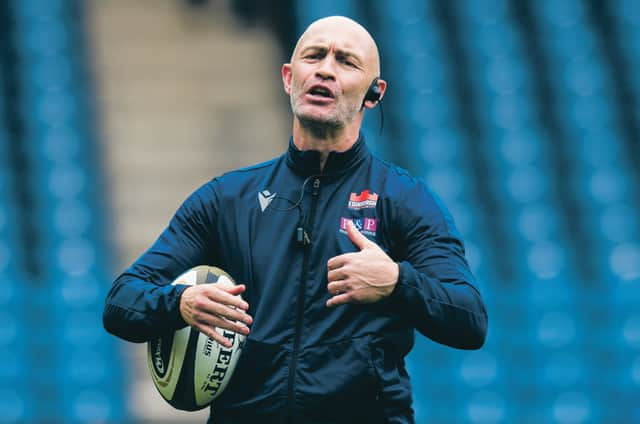 Edinburgh defence coach Calum MacRae is upbeat for the new season. Picture: Ross Parker/SNS
Edinburgh's progress last season was evidenced by the final Guinness Pro14 table: they finished top of Conference B for the first time, up from fifth the previous year. But when it mattered most they failed to show real growth, and the end of their campaign was marred by double disappointment: defeat by Ulster in the league semi-final play-off, and a loss to Bordeaux-Begles in the Challenge Cup quarter-finals.
As they look ahead to this season, the challenge is clear: maintain that solid showing in the league while finding the self-belief to get over the line in those big one-off games. It is a combination that has so far proved elusive, but one that defence coach Calum MacRae believes they are well capable of making.
"When you face a disappointment, and we've had two in three weeks with Ulster and Bordeaux, there tends to be a fixation on it," MacRae said. "But I think it's really important to reflect on the season more as a whole rather than just those two games.
"I think there is clearly steady progress. The league table doesn't lie: we were top of the conference because we consistently performed. We're getting to play-offs consistently now, and I think our game is evolving.
"In my previous role with the [Scotland] Sevens we had a season in which we missed out on competitions by the skin of our teeth. It was hugely frustrating, but I knew deep down we were very, very close to turning the corner.
"I've got the same feeling as I did with the Sevens boys. There is disappointment, but I fully believe that we're not far away."
Of course, it is difficult for any team to find consistency of performance when there is no consistency of selection, and Edinburgh will again be hard hit by the loss of a dozen or more key players during the Nations Cup and then the Six Nations. With stand-off Jaco van der Walt set to follow winger Duhan van der Merwe by becoming eligible for Scotland on residential grounds, the squad's depth is set to be even more sorely tested than in previous seasons.
"We get hit hard, as do Glasgow, relative to the other teams," MacRae continued. "During the World Cup a lot of guys stood up who were waiting for their opportunities. We got the results last season during the international windows, and if you want to make play-offs that's critical."