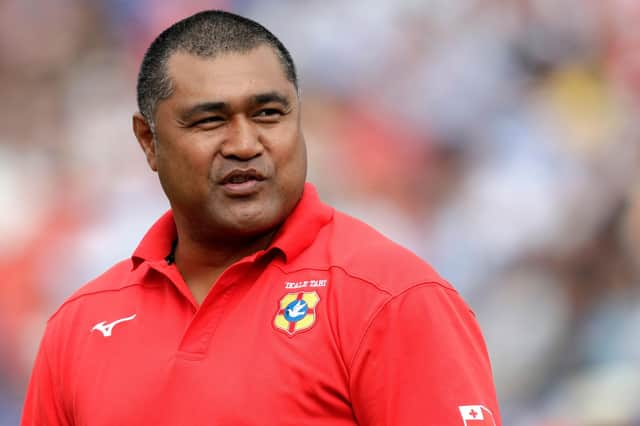 Tonga's coach Toutai Kefu was seriously injured along with three other members of his family during an alleged break-in at his home in Brisbane. Picture: Aaron Favila/AP/Shutterstock
The Wallaby World Cup winner is still recovering after he and his family were subjected to a brutal attack in their Brisbane home.
The August break-in, which allegedly involved a machete and knives, took place at 3am as the family slept.
Kefu said "there was blood everywhere" as the 47-year-old, his wife Rachel, and children were attacked.
Police forensics examine the scene following the alleged break-in at the home of Toutai Kefu in August this year. Picture: Dan Peled/EPA-EFE/Shutterstock
Olivia, the oldest daughter, was disturbed by noise through the night but originally thought it was possums. Unfortunately, this was not the case and the bloody intrusion ended with four teenagers being charged with attempted murder.
"She's gone downstairs confronted by these two young kids, so she screams and then starts yelling at them," Kefu told the Sydney Morning Herald's Please Explain podcast. "I've heard the scream and I've got up, ran out of our bed, I've actually jumped over the balcony from the second floor down to the first floor, where the front door is ... I broke two bones in my foot, I didn't find out until later in the week.
"I've landed, I've run in and seen them and my wife was just backpedalling. I've jumped in between my wife and [the two attackers]. One had a sickle, a kind of a bent machete, and the other guy had a little knife. We walked back past the front door, we said 'There's the front door, cut your losses boys, go'. They were young kids, I was shocked to see how young they were.
"The bigger kids kept lunging at us and we kept ducking away. He lunged and got Rach on her arm. I had a knife, I put the knife down and I've grabbed a stool and basically charged them and then we wrestled. My son [Joshua] has come down, we wrestled with one each.
Toutai Kefu, playing for Australia, is tackled by Gregor Townsend, right, and Alan Bulloch during the Test against Scotland at Murrayfield in November 2000. Australia won 30-9. Picture: Matthew Impey/Shutterstock
"There was blood everywhere at this stage, it was unbelievable. The police that came in could not believe the crime scene."
What the family went through sent shockwaves through rugby.
A hugely respected figure in the game, Kefu was part of the Australia side which won the World Cup in 1999 and then their first ever Tri-nations a year later. He won 60 caps for the Wallabies and has been coach of Tonga since 2016.
Gregor Townsend described him as "a massive force for good for Tongan rugby" as he expressed sympathy for the family.
"He's a lovely guy," said the Scotland coach. "It was really sad to hear what happened to him and his family, and it's sad that he's not going to make it across. But it's great that he and his family are making a full recovery."
Unsurprisingly, the family was left traumatised by the events of August 16. They are struggling to sleep and are receiving help from psychologists. And then there's the physical toll.
Kefu was left fighting for his life after his liver was cut while Rachel suffered nerve damage in her arm. Joshua needed 40 stitches in wounds in his back and his sister Madi was also hurt.
"But no one died, we're still alive," said Kefu, who has found it in his heart to forgive the intruders who he believes were as young as 15.
Kefu is good friends with Matt Taylor, the former Scotland defence coach, and has visited the Scotland camp during his time in charge of the Tongans, impressing Townsend and the rest of the coaching team with his knowledge and diligence.
"He's been a massive force for good for Tongan rugby," said the Scotland coach. "I know they have their challenges around player availability and governance, and he has to do a lot more work than I would as a head coach in getting a team together."
Kefu, like many of his contemporaries from the Pacific islands, opted to play for Australia. New Zealand, too, have benefited from the islanders and the Tongan diaspora extends also to rugby league and American football.
"Tonga is at the heart of a lot of sports," said Townsend. "You see a lot of Tongans playing in the NRL and in the NFL, a lot of Tongans playing rugby throughout Europe and in Japan. So they are a big part of the rugby world and it's great that they're able to come over here."
It will be Scotland's first game in front of fans in almost 20 months and their opening game in a sequence of four Test matches over consecutive weekends at Murrayfield. Townsend expects a bruising battle which will set up his side for the games to come against Australia, South Africa and Japan.
"They're a team that would be very dangerous as well in terms of the way that they play," he said. "They can score a try out of nothing; they're a hugely motivated team. Most teams that we'll face now coming over here playing in front of crowds for such a long period will be highly motivated. They'll probably view that game as a massive high in the history of them as a rugby team.
"They're going to be tough opponents. There's the unknown factor as well: they will be putting a team together that probably hasn't played much, so we're not going to be able to look at footage of how this team plays. It's a new coaching staff as well.
"What we'll learn and what we'll feel is the hardness of their tackles. I've been on a tour to Tonga and played a Test match against them. I don't think there's a team in world rugby or a group of people who tackle harder than the Tongans.
"We'll be ready for that. If we can take some of that into our games against South Africa and Australia, that'll help us a lot."
A message from the Editor: Thank you for reading this article. We're more reliant on your support than ever as the shift in consumer habits brought about by Coronavirus impacts our advertisers. If you haven't already, please consider supporting our trusted, fact-checked journalism by taking out a digital subscription.