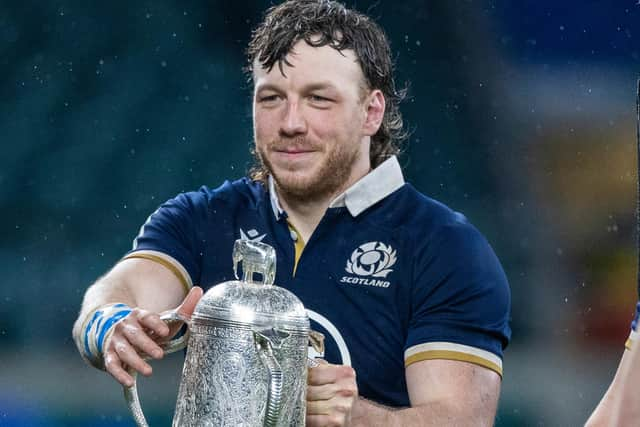 Hamish Watson shows off the Calcutta Cup after the hoodoo-smashing win over England at Twickenham.
This is the wild and crazy guy from the Scotland back row with the wild and crazy eyes and and the wild and crazy hair. The guy who ripped the ball from wilting English hands and administered the skitteriest, bobbliest and most beautiful welly to end 38 long years of horsings and hard-luck stories at rugby's "HQ".
"Not one of my finest," laughs Watson. "The thing is, I fancy myself as a kicker. Still, the ball went out, the game was over and we'd done it. Some in that dressing-room had never beaten England before and no-one had ever won at Twickenham. For lots of Scots watching the game it was a new experience, a fantastic one. There's not been much to cheer about recently and, judging by the way all our phones blew up afterwards, the win was a massive moment for all the families back home."
The hoof wasn't the Edinburgh openside's only contribution. Nothing like. A force of nature, Watson was everywhere and in every English face: scavenging, snaffling, sacking, plundering and ruining their best moves. He must be an absolute nightmare to play against. But for a chat on a training-camp day off ahead of tomorrow's clash with Ireland he's a very pleasant chap indeed.
Hamish Watson in action for Scotland in the narrow defeat against Wales.
Let's start with the hair. What the hell's going on there? A headband is employed to vaguely keep it in check but only ends up enhancing the impression that if you didn't know Watson and certainly if you hadn't heard him, he could be one of Rab C. Nesbitt's bampot pals. Imagine this bursting through a train-carriage door or staggering onto the top deck of a bus, swinging carry-outs in each hand like they were medieval flails and heading straight for the vacant seat alongside yours. You'd get off at the next stop - in fact you'd probably jump off way before then.
The mullet, if that is what we should call it, though in his case it could maybe be "The Mish" after one of his two nicknames, is making a comeback. The short-at-the-front-and-sides, long-at-the-back (non-)style once worn by Napoleon and Alexander the Great is currently being rocked by Miley Cyrus and Cara Delevegne - but Watson, 29, is no mere flibbertigibbet skipping unthinkingly from trend to trend. "I haven't cut my hair since I got married - the back of it anyway," he says with pride.
"That's not so long ago - June, 2019 - and only because my wife Lucy ordered me to do it. She didn't think it would look that great 20 years down the line for our kids digging out the wedding album, which was a fair point.
"I don't think she would have turned up if I hadn't cut it because she hated my hair back then. 'What about tying it in a ponytail?' I said. That didn't go down well either."
Watson recently signed a new contract with Edinburgh.
Ironically and almost perversely, Watson away from the pitch is in the hat business. With his brother Gus he runs Rex Club, a sports headwear company selling beanies and baseball caps, although as he points out the latter because of the hole at the back are no impediment to letting your tresses grow rampantly.
"This has been my hair pretty much right through rugby," he continues. "I always admired the mullet of [the NFL's] Jared Allen so maybe subconsciously I was copying him but as you can probably tell there isn't much method going on here." Maybe not, but before too long, lockdown ensured hair would be growing wild and crazy everywhere. The first breakout star of lockdown TV, Tiger King's Joe Exotic, pointed the way with his mullet. So now Watson might be thinking: do I stick with a look that no one's going to believe I mildly trailblazed or should I ditch it? Well, he would if he cared about his status as an influencer, which he doesn't. The thing is, it may no longer be his hair to chop.
If he carries on influencing games and epochal victories like the one at Twickenham then the locks may be claimed for the nation, and for a future rugby museum, to be displayed next to Bill McLaren's Hawick Balls, Doddie Weir's amazing technicolor jackets and other prize exhibits.
Watson laughs at the notion but admits: "I said I would get my hair cut when the first lockdown ended and I didn't. I told Lucy I would get it cut right after Christmas and I didn't. I'm now saying I'll get it cut when the hairdressers reopen again but maybe some people - not Lucy, obviously - would be disappointed to see it go."
Watson relishes taking on the big guys.
One such would be Glasgow's Ryan Wilson who right after the Twickers triumph tweeted Watson's face superimposed not on Nesbitt but Mel "Braveheart" Gibson. The caption read: "It can be tough out there with an English accent in the beautiful Scottish jersey … barnet is helping him blend in!"
So has it been tough? Not really, and not after the country which Manchester-born Watson's only ever wanted to represent saw him play. That was enough to silence any doubters.
He explains: "It's funny when anyone says it's been England's loss that I chose Scotland because I never tried to play for England, never did any age-grade stuff for them. My dad who's half-Scots like my mum always wanted me to play for Scotland and for me there was never any doubt that that was what I was going to try and do.
"I hung a Saltire in my bedroom to prove I was Scottish. From the age of ten I was always coming up to Murrayfield to watch Scotland. My first game was New Zealand in 2001 - I found the programme the other day. When I was at boarding school in Leicester I continued to come up and when I got stick from the other boys for that I didn't mind. I liked being different. Later, taking part in under-18 trials, schlepping up to Edinburgh on the train didn't do my academic career much good. There was the odd challenge fitting in because at that age boys can be cliquey - but when you get out there on the field and show you're good enough, that sort of stuff quickly disappears."
Hamish Watson: "I'm not England's loss. I was only ever going to play for Scotland". Picture: Jane Barlow/PA
Watson, who wins his 38th cap tomorrow, is now good enough to be one of Scotland's prime candidates for the British and Irish Lions in whatever shape or form they may take this year. His omission from the last tour caused consternation and should that happen again the Murrayfield massive will think it's personal. Mindful of that, and the hype surrounding him, he toes the party line by saying, yes of course, the Lions would be a great honour but first and foremost he must keep performing for Edinburgh, with whom he's just signed a new contract taking him beyond the next Rugby World Cup, and in a dark blue shirt.
Maybe making the Lions would require another song from him. The ritual of new Scotland caps singing in front of the rest of the team has gone beyond the actual debut to include the captain's run, first game at Murrayfield, first Six Nations match, first try, etc. "You need a full repertoire now," laughs the man who opened his set with "Ain't No Mountain High Enough" and followed that with "Build Me Up Buttercup".
On the field Watson, whose other nickname is "Pinball", is more of a knocker-downer than a builder-upper and there ain't no opposition forward high enough who can't be floored, or clung onto limpet-like until there's no place for him to go. More or less a No 7 right the way through from school, Watson says: "I love the role. I love carrying the ball into guys on the rugby field who're normally a lot bigger than me. I try to 100 per cent commit and, as it hopefully looks, really go for it and give it my all in every carry."
So, despite being on the small side for his position, does he actually like smashing 18 stones' worth of opponent beef? "You have to enjoy it, otherwise you're not going to be very good at the job, especially in the back row. If you don't like it you're going to end up in a bit of bother." Would he class himself as fearless? "In rugby for those 80 minutes you definitely have to try and be." So away from the pitch what scares him? There's a long pause before, possibly thinking he'd better come up with something, the offer is: "Spiders."
Apart from leaving his hair wonderfully untouched by scissors or strimmers or scythes, Watson has been spending lockdown with his family, which increased by one last July with the arrival of Willow, a little sister for Honor, now two-and-a-half. "That was a tense experience, Lucy being pregnant during the first wave of Covid, because early on no one really knew the crack for expectant mums so we had to be extra-cautious."
As soon as the country was ordered to stay indoors the Watsons took off for his in-laws who have a farm in Northamptonshire. "We were grateful for being able to do that, especially after hearing from some of the Edinburgh boys who don't have families or gardens and didn't leave the city." Our man is completely unapologetic for not having embarked on a lockdown project similar to those who constructed the Forth Bridge out of banana bread or whatever. "I kept on top of my fitness and chilled out with the family, which was great, because in professional sport you can often miss out on stuff with the kids."
Scotland are enjoying the benefit of Watson keeping himself nicely ticking over and after the hugely frustrating loss to Wales he's ready for more controlled explosions against the Irish.
It's 66-all in this long-running fixture. "I was looking at our record over the last decade and it's been pretty dreadful. Ireland are obviously a great team, very physical and it'll be a tough game against them but we're playing well and if there's a time to beat them it's now."
A message from the Editor:
Get a year of unlimited access to all of The Scotsman's sport coverage without the need for a full subscription. Expert analysis of the biggest games, exclusive interviews, live blogs, transfer news and 70 per cent fewer ads on Scotsman.com - all for less than £1 a week. Subscribe to us today