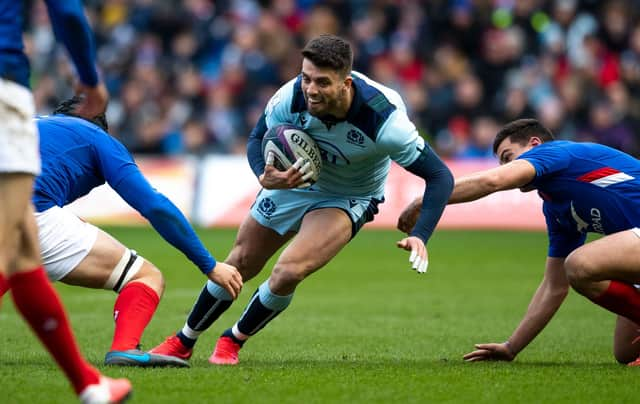 Scotland stand-off Adam Hastings had been left to "stew" on his erratic and error-strewn showing in Rome before bouncing back with a magnificent display in Sunday's famous 28-17 win over Grand Slam-chasing France at BT Murrayfield.
The 23-year-old contributed 13 of the home points with a boot which was firing again after a wayward afternoon in the Italian capital.
He did grab a late try in that 17-0 win over Italy but admits it was on off-day and he was delighted to put things right at the weekend.
"I was disappointed with the Italy game. Personally, I felt like I was pretty inconsistent in that match. That was disappointing," said the Glasgow Warriors stand-off.
"I had time to let that stew. I came out against France just to focus on doing my job and doing the simple things. I felt I managed to do that."
He certainly did that. Not only was he almost perfect off the kicking tee, including a monster from almost 50 metres out, along with clubmate half-back partner Ali Price, he managed the game brilliantly.
Following French prop Mohamed Haouas's red card for a stupid punch on Scots flanker Jamie Ritchie, Hastings and Price probed away at the depleted opposition, with the stand-off making some fine breaks, clever passes and working open the gaps.
It was a great response from a young man who has been thrust into the pivotal playmaker role following superstar Finn Russell's well-documented exclusion from the squad.
"I do tend to enjoy the pressure. I usually play half-decent when the pressure is on. A lot of things against Italy were just self-inflicted," said the former George Watson's College and Millfield School pupil.
"But it was really pleasing to come through that and bounce back in this game. It was a really pleasing day for the team. We had been a bit stop-start previously in this campaign and it was frustrating.
"But we got a good, tough win over in Italy and then I think you saw us in full flight against France. It was really pleasing."
Scotland naturally went into Sunday's game as big underdogs, with the resurgent French, who have rebuilt on the foundations of youth looking ahead to their home World Cup in 2023, knocking over England, Italy and Wales so far this year.
But Hastings, who was winning his 20th cap since his debut in Canada on the 2018 summer tour, said: "We had a good gameplan. We all felt really strongly about it and we really took the game to France."We stopped them from starting well, which they had done in all the previous games. We showed our control in the second half, so it was a really pleasing day for us."
Hastings is clearly a young talent of great potential, which the Russell saga has allowed to shine more than he perhaps expected this year.
With youth comes inconsistency but Hastings feels Sunday was a big step forward in his fledgling Test career.
"Exactly, that's the nail on the head," he said. "The Italy game was tough because you've won a Test match, but you're still disappointed at how you've played personally.
"For the whole team, it's frustrating, because, in a way, we feel like we could have had four wins from four. We've had chances. It's just been stop-start at times, almost 'what if'."We've got two wins under our belt now and we need to take that momentum into the game against Wales next week."
As thing stands that game in Wales does go ahead amidst the current coronavirus crisis and, as now the only scheduled match on a not-quite- so Super Saturday, the Scots could top the table ahead of the postponed games being played some time in the future. To do that, though, they will need to end an 18-year losing drought in the Welsh capital.
The away record in Cardiff, Paris, Dublin and London is poor across the board, but Hastings feels an improved defence gives them a better shot at finally nailing a big win on the road.
"Steve [Tandy, Scotland's new Welsh defence coach] has been brilliant with us since he's come in. He's given us a new lease of life in that area," said Hastings.
"Speaking to a few of the boys, we almost enjoy defending now, whereas we maybe didn't used to in the past.
"It's a big strength of ours. We're not afraid to put the ball deep and then let teams have a crack at us.
"Our defence has been really well handled. It had just been a little bit stop-start for us in attack and it hadn't quite clicked prior to France."