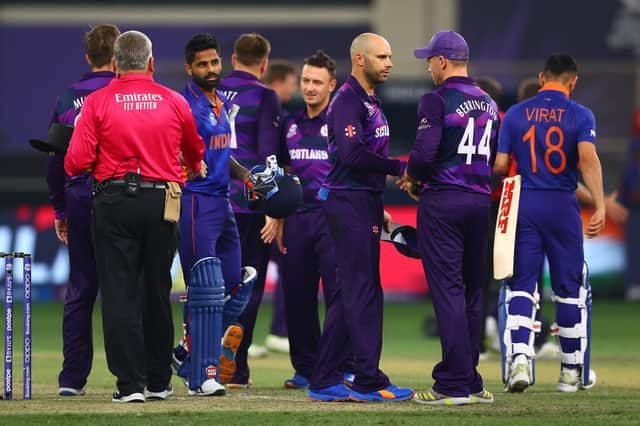 Players of Scotland and India shake hands after the defeat in Dubai.
Jasprit Bumrah became India' s leading T20 wicket-taker but it was fellow quick Mohammed Shami and slow left-armer Ravindra Jadeja who were chiefly responsible for Scotland subsiding in 17.4 overs as they each took three for 15.
India knew they needed to overhaul their target inside 8.5 and 7.1 overs to respectively better the net run-rates of Super 12s group rivals New Zealand and Afghanistan, and openers KL Rahul and Rohit Sharma were in no mood to hang around.
The pair peppered the boundary rope with alarming regularity in an opening 70-run blitz, with Rohit thrashing 30 off 16 deliveries while Rahul went to an astonishing 18-ball fifty before immediately holing out with four needed.
Suryakumar Yadav thumped his second ball down the ground for six to get India home as they moved up to third in their group and all eyes will now be on New Zealand's final group game against Afghanistan in Abu Dhabi on Sunday.
Victory for the Kiwis would see them advance alongside Pakistan to the knockout stages but an Afghanistan win would open the door for India and, in such a scenario, they would require another heavy win over Namibia on Monday.
For Scotland, Shane Burger's men have one final match against Pakistan on Sunday, with odds stacked against them of avoiding a whitewash at the tournament.