NFL coach salary: here's how much an NFL coach makes in a year following Senator Lindsey Graham's comments on losing coaches
Senator Lindsey Graham suggested that coaches with losing records weren't well paid during a debate on the image rights of college footballers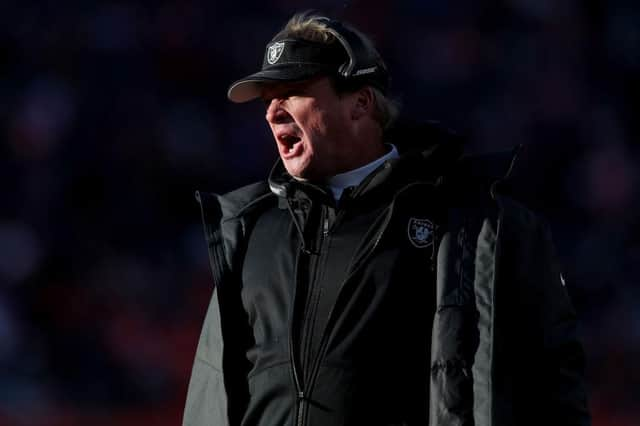 Jon Gruden is one of the NFL's best paid coaches (Getty Images)
US senator Lindsey Graham turned heads when he made comments suggesting that losing NFL coaches aren't paid well.
According to Ross Dellenger of Sports Illustrated, the South Carolina senator said: "Very few coaches get paid a lot of money that lose over time".
The ardent President Trump defender's comments were met with bemusement, with fans citing NFL and NCAA coaches who hold a losing record and continue to collect a healthy pay cheque.
The comments came as the Senate Judiciary Committee, headed by Lindsey Graham, debated the image rights of college footballers.
The NCAA is currently classed as an amateur sport with college athletes prohibited from receiving endorsements. Despite its amateur status, coaches earn millions annually.
But just how much do American football coaches earn?
How much do NFL coaches earn?
Unlike player salaries, coach salaries aren't made public.
However, New England Patriots coach Bill Belichik, widely regarded as the finest coach of his generation – possibly of all time – reportedly earns $12.5m a year.
Yahoo Sport claims that Seattle Seahawks coach Pete Carroll earns $11m a year.
But what about coaches with losing records?
According to Forbes, the average NFL coach earns $6mn a year.
In terms of losing coaches, Las Vegas Raiders head coach Jon Gruden reportedly earns $10m a year
He led the Tampa Bay Bucaneers to a Super Bowl title in 2002, but since then he has led a side to the Playoffs in just two of the eight seasons he has coached.
In his two most recent seasons, he holds a record of 4-12 and 7-9.
What about college coaches?
According to USA Today, the top 25 college football coaches earned between $9.3m and $4.1m in 2019.
Boasting two national championships, Dabo Swinney is the highest paid coach in college football, earning just shy of $10m a year.
Losing coaches also pick up healthy pay packages in the NCAA.
Chad Morris for instance earned $500k a year, plus $3m in additional compensation while at Arkansas, despite a career record of 14-40.
Morris was dismissed in 2019 by Arkansas but will continue to receive 70% of his pay package until 2022 according to Hero Sports.
This is on top of the $735k which Morris is being paid by Auburn who hired him as an offensive coordinator in 2020.