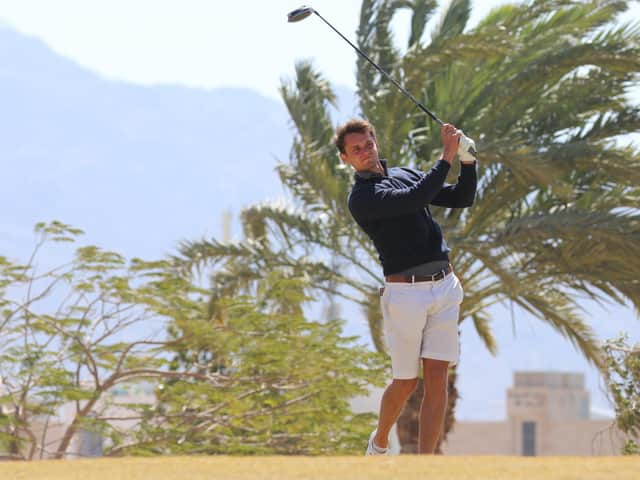 Ryan Lumsden on his way to a three-under-par 69 in the second round and a two-shot lead in the MENA Tour's Journey to Jordan #2 at Ayla Golf Club. Picture: Joy Chakravarty.
The 23-year-old London-based Scot sits two shots clear of the field heading into the final round of $75,000 Journey to Jordan #2 on the Arena-sponsored third-tier circuit.
In windy conditions for the second circuit at the Greg Norman-designed Ayla Golf Club, he carded a three-under-par 69 for a six-under 138 total in the 54-hole event.
Bidding to join both David Law and Bob MacIntyre as winners on the circuit, Lumsden leads from English duo Tom Sloman (70) and Benjamin David (71) on four-under.
"It was a little windier and touch trickier than yesterday, but I played solid," said Lumsden, who did well in a spell at Northwestern University in Chicago, of a polished effort that contained three birdies and no bogeys.
"It was all about missing it in the right places and hitting smart shots. I kept the ball out of the wind pretty nicely."
The 2018 Scottish Amateur Championship finalist started with a birdie on the par-4 10th, then made an up-and-down on the par-5 17th before making his final birdie of the day on the third hole, where he wedged it to tap-in distance.
"I just hit one bad shot today, on the par-4 seventh hole, and it did not get into the water and stayed on the edge," he added. "But the game was pretty consistent, and my lag putting was good."
Lumsden, who qualified for the 2018 US Open at Shinnecock Hills, has been knocking on the door for that win this season.
He played the last two holes to one-over and lost in the play-off in the MENA Tour Qualifying School in January.
Then, In the Journey to Jordan #1, he was one shot off the lead and had a poor final round. Last week, in Bahrain, he was two-over for the last four holes to lose by two.
"I have been learning from those mistakes and trying to figure out how I can play the golf I have been playing when I am down the stretch and get over that hump and get my first win on the MENA Tour," he said.
"I have been thinking about it lately. I did a much better job in Bahrain last week. My mistakes weren't really mental out there, just a couple of good shots ending up in positions where I did not think they would.
"I just need to stick to the process of hitting one good shot after another. "It's really going to be a case of staying in the moment and not letting my head get in the way and thinking ahead.
"I just see it as another opportunity to figure out my stuff coming down the stretch and I see it only helping me down the line."
Scott Henry, the only other Scot in the field, is in a tie for 37th on seven-over after rounds of 73-78.
Thirty years after winning the Scottish Amateur Championship at Gullane, Craig Everett has tasted more success in East Lothian.
He joined forces with Paul Bradshaw to come out on top in the season-opening PGA in Scotland Winter 4 Ball at Craigielaw.
The duo carded a splendid 64 for a three-shot victory, with Graham Fox and James Erskine their closest challengers.
Robert Jenkins is making a habit of tasting Spanish success in the senior ranks.
On his latest trip to the Iberian Peninsula, the Royal Troon member figured prominently in the Spanish Senior Men's Amateur Championships at Villaitana Golf Club.
In the doubles, he teamed up with England's Gareth Bradley to claim top spot, carding rounds of 68-67 for a two-shot victory over Spanish duo Ramón Luengo and Ramón Peláez.
Jenkins, a well-kent face in Scottish golfing circles, then finished third behind Ireland's Steven Graham in the individual event following rounds of 73-68-70.
The excellent performance came three years after he won the individual title at Las Colinas.