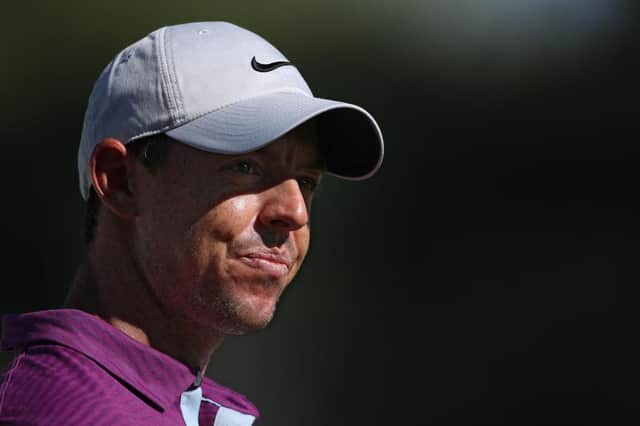 Rory McIlroy is doing everything he possibly can to avoid catching Covid-19 ahead of next month's Masters. Picture: Christian Petersen/Getty Images
World No 1 Dustin Johnson and former Masters champion Adam Scott have both tested positive for the virus in the past week or so, forcing them into self-isolation.
McIlroy, who needs a Masters win to become just the sixth player to win all four men's majors, is taking every precaution possible to ensure that his preparations for next month's rescheduled event at Augusta National are not similarly disrupted.
"I think with having a pregnant wife through Covid and then with my mother having some respiratory issues, having asthma, I've really tried to be careful," he said.
"Anyone can get it and you can get it from anywhere, I get that, but I've tried to be ultra careful just because of those two things.
"I guess the only time I was a little nervous was when our daughter was born and I was in the hospital for three days, because I think you could catch it there pretty quickly.
"I think going to the Tour Championship and getting tested, that was probably the most nervous I had been about maybe having a positive test.
"I maybe go to a restaurant once a week while I'm at home, but I try to take all the necessary precautions.
"I'm loading up on zinc and magnesium and vitamin D and all the stuff that's said to maybe help protect you from it. I try to do my part to stay as safe as possible."
Phil Mickelson has expressed concern about fans being allowed to attend the Vivint Houston Open, the PGA Tour event the week before the Masters.
That will be the first time that spectators will be in attendance at event on US soil on the circuit since the opening round of the Players Championship in March.
"I think I'm more comfortable with it now than I was, say, back when we were going to play the Memorial in July with fans," said McIlroy, speaking ahead of today's opening round of the Zozo Championship in Los Angeles, on that development.
"I think that was the first one and I think everyone was still a little sceptical about that.
"But I think we just know a little more about Covid and in the short term what it maybe does to the body and what the symptoms are and treatment protocols and therapeutics.
"It's hard because the demographic that is a Tour player and the people that are out on site, if they get Covid, more than likely nothing is going to happen. They might get symptoms for a couple of days, but they'll bounce back and they'll be fine.
"But it's down the line is if someone gets it, you know, we need to still be careful and protect the communities that we play in as well.
"If local officials there are comfortable with fans on site and the PGA Tour are comfortable in working with local health experts, then I'm all for it.
"I think it's a gradual reintroduction back to having fans again, but I'm certainly more comfortable with it now than I was maybe two or three months ago."
A message from the Editor:Thank you for reading this article. We're more reliant on your support than ever as the shift in consumer habits brought about by Coronavirus impacts our advertisers.
If you haven't already, please consider supporting our trusted, fact-checked journalism by taking out a digital subscription.