'My sense is the more golfers are cooped up, the more that hunger for the game will increase'
How Crail Golfing Society are coping without anyone on the course during the coronavirus crisis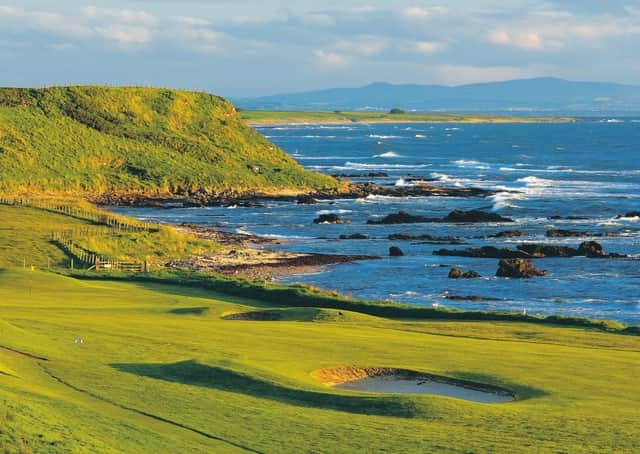 The Balcomie course at Crail, like all courses up and down the country, are closed because of the coronavirus pandemic.
What was abundantly clear from the outset of the coronavirus starting to take its grip in the United Kingdom is that the messaging we get from the very top, i.e. the Prime Minister and the First Minister, really matters.
A week past Monday, when events started to unfold, the initial reaction from some people was that they were in a state of denial and, due to that, there was a reasonable amount of reluctance, from both members and staff and some visitors, to make what adjustments were needed at that time. That changed dramatically and instantaneously after Boris Johnson's announcement to the nation on Monday night.
From my perspective, trying to manage it, it would have been much easier if these announcements had been much clearer and much more definite much earlier, because last week was very challenging when trying to make the requisite changes when there was a certain amount of confusion about how far and how fast we were supposed to be making the changes.
What I have found since the closure of the facilities here at Crail is that members clearly care and I think this will probably be true about the vast majority of golf clubs and sports organisations. They obviously care about the staff, with members explaining on a number of occasions this week that they want the staff to be safe and secure.
They also care about their fellow members and that's because people in golf clubs know the vast majority of fellow members and they don't want anything untoward to happen to them. Importantly, they also care about the viability of their club.
Some people might regard a golf club membership like a season ticket or a gym membership, but there is a strong emotional connection to a place like a golf 
club due to the fact it generates lots of good memories for so many people.
Once we started putting in place various changes, I didn't experience any resistance. People were prepared to do everything that was required to ensure everyone was safe. We immediately acted on governmental advice while I was also able to utilise the excellent support from our H&R advisers, Xact, and the National Golf Clubs Advisory Association to make sure we were doing everything correctly.
That meant we were able to furlough all the green staff bar the course manager and his deputy. It is quite an undertaking for two guys to take on the maintenance of two golf courses, as is the case here with the Balcomie Links and Craighead Links. They did so willingly and took it on the chin.
The clubhouse staff have also been furloughed while the office staff understand that our role at the moment is to manage the situation and enable visitors to move their tee time, cancel member competitions and pay the bills.
We have been kept at full steam managing the situation, with the committee chipping in as and when required. That's harder than normal to do with almost all communication carried out electronically, so many urgent changes have had to be dealt with by the captain, finance convenor and myself.
Normally, as soon as Easter comes around, that is the trigger for the golf tourism season to get really cranked up. We had several hundred visitors' reservations through the whole of April. We've had to completely clear the decks, getting in touch with either golf tour operators or people directly and thankfully everyone has been extremely helpful and understanding.
What has been interesting is that very few people have asked for a refund. The vast majority are saying, if we can come later in the year, then that's what we want to do. It gives me optimism that people are not going to suddenly say, I'm going to give up golf and start cycling instead. There's still a great demand for people to get out there with their clubs and my sense is the more people are cooped up, the more that hunger for the game will increase.
The worry that everybody has at the moment – and this isn't exclusive to golf clubs – is what happens if it goes beyond three months. With the help being offered by the government, coupled with our financial reserves, we will be OK until our subs start coming in again in December.
Speaking to my colleagues in clubs like us, there seems to be that same level of reserves. But, if it goes beyond the three months, it is not just Crail and the golf club that will be in difficulty, it will be the entire world economy. That is completely imponderable.
But, so long as it follows the curve that everyone keeps talking about i.e. roughly the one China managed, it looks like we should be OK come the agm, which, for us, is the first Monday in December.
By its very nature, a club is a community, somewhere people get together and spend time with each other. Trying to replicate a community electronically in a time like this is certainly a challenge.
Keeping in touch with members is critical and even more so at this time. That's why we have discussed the possibility of creating a video on aspects of the club that members might not know about. What goes on behind the scenes, for example, and historical artefacts. Anything to make them feel connected to their club.
As for what will happen generally at golf clubs at the end of this, I think it will definitely be a bridge too far for some clubs in terms of being able to survive. When the world economy takes a big hit and, let's not forget, golf is absolutely a discretionary spend, even a modest amount of people deciding to give up memberships will cause a number of clubs to fold.
There are a significant number of golf clubs currently running at a deficit and, in the absence of them being able to sell off assets or get help from a few wealthy benefactors, there is going to be an unwelcome number of clubs going to have to shut the door at the end of this.
 David Roy was talking to golf correspondent Martin Dempster