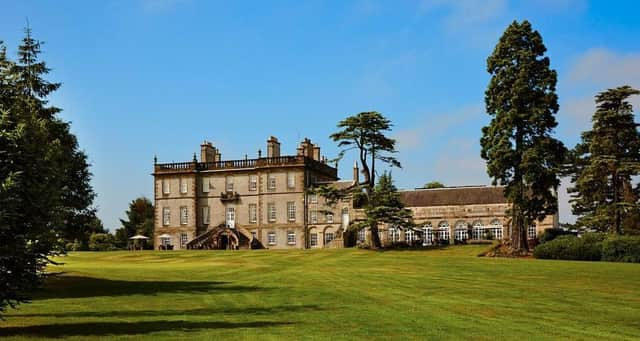 Dalmahoy is utilising a travel "exemption" to welcome members from Midlothian and West Lothian, as well as the City of Edinburgh
Dalmahoy and Musselburgh sit in the City of Edinburgh and East Lothian respectively, but they are both utilising the Scottish Government's travel "exception" rule to allow members from neighbouring local authority areas to continue playing.
Current government regulations prohibit travel without a reasonable excuse into or out of a Level 3 or 4 local authority area.
Exceptions include travelling to work and school and some exercise and sport are allowed, including golf, but it must take place five miles from the boundary of your local authority area and fines can be issued for unlawful travel.
Under the boundary guidance, Musselburgh is continuing to welcome members from the City of Edinburgh and Midlothian while other clubs further down the East Lothian coast have stopped them from booking times.
"At Musselburgh Golf Club, we have, at all times, ensured strict compliance with all Covid-19 advice as published by the Scottish Government," said company secretary Gordon Mundie. "Our members have wholeheartedly accepted and complied with the restrictions in force in the wider public health interest.
"With our golf course sitting in tier 2 and the tier 3 Edinburgh area lying but a drive and a 9- iron away, our position is slightly different from other clubs located deeper into East Lothian.
"Our course is closed to visitors and our clubhouse is closed to tier 3 (and higher) members but remains open to members from tier 2 and below. Our clubhouse is Covid compliant in all respects and additionally has a QR system in place for track and trace purposes.
"In recognition of the physical and mental health benefits of golf, the Scottish Government have allowed an exception to travel restrictions allowing a golfer from tier 3 to travel no more than 5 miles into tier 2 to play golf.
"Whilst this Scottish Government exception is clear, Musselburgh Golf Club is also clear. It is permitted, as an exception, to travel less than 5 miles into East Lothian from Edinburgh for golf but our members are not treating it as a loophole.
"Members individual responsibility shows that very few are using the Scottish Government exception as a carte blanche and, put simply, any member from Edinburgh who comes to play at this time will arrive in the car park, play golf and return home whilst following all outdoor social distancing rules."
Dalmahoy, meanwhile, is allowing both Midlothian and West Lothian members to use the "exemption" due to its location on the edge of three local authority areas.
On the back of initial guidance provided about the new restrictions, Dalmahoy had informed members last week that only those from the City of Edinburgh would be able to use either the golf or leisure facilities until 11 December.
However, that was changed when the "exemption" rule came to light in a second update from Scottish Golf.
"We have been following guidance from the Scottish Government - and often take reassurance from Scottish Golf that we've interpreted the guidance correctly - to the letter this year, and we try to communicate any restrictions as clearly as possible to our members," said Craig Waddell, Dalmahoy's director of golf and leisure.
"We have had a few occasions whereby guests have arrived but then turned away due to living outwith the Midlothian, Edinburgh City and West Lothian authorities.
"We have a tight system in place whereby all members and guests are asked to check in at the pro shop where they will be asked for proof of address and photo ID. This is again asked for when they arrive at the starter's lodge.
"For all members living outwith the accepted areas, their memberships have been suspended, so they have no access to online booking. We also have track and trace at all areas of check in and our driving range.
"We had one guest arrive from Falkirk yesterday who we unfortunately had to turn away; he was very understanding and admitted he didn't understand the travel restrictions fully."Generally speaking the procedures and guidelines have been received well from the majority of our members.
"The members who are still permitted to play are very happy and the ones who unfortunately have to sit out for the next few weeks are understanding."Even at this time of the year, the 1999 Solheim Cup venue is "extremely busy", with the tee sheet booked from 8am until mid-afternoon every day of the week.
"It's almost all member play at the moment due to an increase in membership paired with tighter travel restrictions on visitors," added Waddell.Among those who are happy to still be allowed to play and practise at Dalmahoy is Rory Smith, who came through the ranks at the club and is now a playing professional on the PGA EuroPro Tour.
"We live in Kirknewton and, at most, Dalmahoy is a five-minute drive from the front door," he said. "But I definitely did fear that me and my dad couldn't play golf as we live in a Level 4 now and Dalmahoy is in a Level 3 area.
"For me, I guess it's a little different since golf is my profession and travelling for "work" or training as a professional athlete was allowed but for my dad it was the complete opposite.
"My mum as well being a leisure member is now not allowed access to the swimming pool which she uses maybe three-four times a week.
"The thing that really confused us all, though, was that Dalmahoy is addressed as Kirknewton, which is the village we stay in, so it was a little weird being told I couldn't travel from Kirknewton to Kirknewton.
"Thankfully, though, all the confusion has been rectified with all the staff and the members and we can get back to playing some golf over the winter period."
A message from the Editor:Thank you for reading this article. We're more reliant on your support than ever as the shift in consumer habits brought about by coronavirus impacts our advertisers.
If you haven't already, please consider supporting our trusted, fact-checked journalism by taking out a digital subscription.