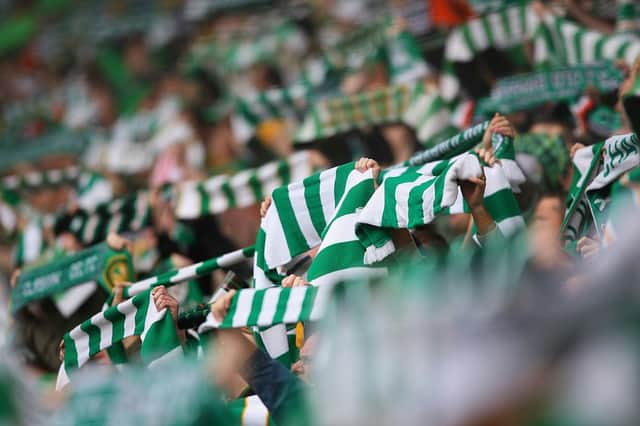 The third Old Firm match of the season is just days away, taking place at Celtic's Parkhead stadium on 21 March.
In recent weeks, Scottish football fans have taken to social media to express their sympathies for Terry Munro - which sounds all too similar to 'ten-in-a-row'.
So, who is this mysterious 'Terry Munro' and how is the name linked to Celtic football club? This is what you need to know.
While a quick Facebook search throws up plenty of 'Terry Munro' accounts, none of them are the Terry Munro that Rangers fans have been chanting about.
Some of the accounts have profile pictures of former Celtic manager Neil Lennon and others of Rangers' Steven Gerard.
So, who is Celtic's Terry Munro? Well, he's a misspelled name on a Hoops fan's chest.
That's right, one drunken party in Magaluf with the bhoys resulted in a Leven man's chest being permanently marked with a lost-in-translation slogan.
Robbie Brunton, 25, got the tattoo while drunk on holiday.
He told The Sun in 2017, that he had no recollection of the evening, but woke in the morning to the 'Terry Munro' tattoo.
He asked the tattoo artist for 'ten-in-a-row' on his chest, as he was confident his team would achieve the winning streak.
But he awoke to a scribed 'Terry Munro' tribute, just above his right nipple.
Why do Rangers fans chant it now?
The tattoo went viral, and soon became a teasing joke used by Celtic's rivals, Rangers.
As Celtic has now lost the league to Rangers, football fans from both sides have made jokes about 'Terry Munro', including the Rangers News website.
The name has become a regular replacement when fans make reference to Celtic's ten-in-a-row defeat, and one Rangers fan went further when they paid for a tribute to 'Terry Munro' in The Courier.
The obituary read: "MUNRO - Terry, after a year long illness, in Dundee, on Sunday 7th March, 2021. Close friend of Neil Francis. Funeral details to follow. The banter has passed on."
Neil Francis is a taunt to Neil Lennon, who resigned this season after Celtic failed to accomplish 10 successive titles. Neither Rangers or Celtic have ever achieved double digits, both coming close with nine successive wins.
Rangers have levelled up this year, with 32 games without defeat in the Scottish Premiership.
Terry Munro could be mourned further at Parkhead on Sunday 21 March, as the teams go head to head for the third old firm of the season.
Depending on the ranking of other teams within the premiership, there could be a fourth Celtic vs Rangers fixture in early summer.
When is the next old firm?
The next Old Firm is scheduled to take place on 21 March at Parkhead, with kick off at 12pm.
The match will be shown live on Sky Sports, should it go ahead.
The First Minister, Nicola Sturgeon, said on Monday 15 March that no final decision has yet been made on whether the Old Firm will go ahead.
She added that she would continue to take advice from the Chief Constable, before a decision is reached at the end of the week.