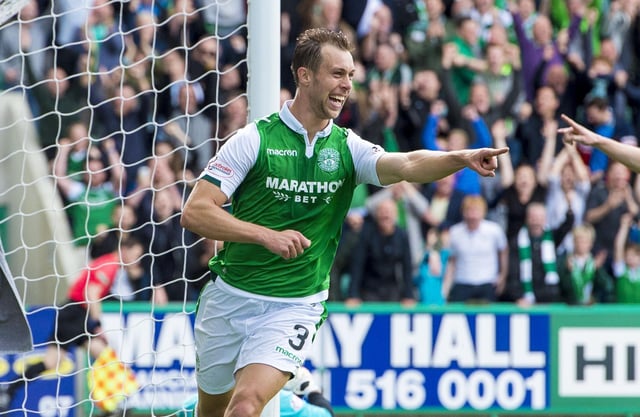 Steven Whittaker scoring on his first game back at Hibs under the ultra-demanding Neil Lennon in 2017.
"Apparently," says Whitty, "I have a Hearts tattoo. The story goes that they were my team as a boy but then I signed for Hibs and so had to keep it hidden all these years. I've been told that many times … "
Well, is it true? And to maintain his secret did he have to wear full Edwardian bathing clobber when the Hibees, as a break from regular training, went on outings to Edinburgh's Royal Commonwealth Pool … you know, where there used to be a flume only it was always out of action, remember, because of the sadistically-concealed razorblades?
At this he laughs but his sole admission of guilt is to the charge of having been a junior Jambo. "I'm one of the few footballers who doesn't have any tattoos." Ex-footballers, he means, for Whittaker at 36 has finally hung up boots. No more rampaging up the right wing, also the left wing and sometimes from the midfield, after a highly versatile career with Hibs, Rangers, Norwich City and Scotland, unadorned by inkwork, only medals and caps.
A worldy of a goal for Rangers against Motherwell in 2012.
He knows how to beat Croatia. A 1-0 victory in a World Cup qualifier in Zagreb in 2013 was the first-ever against our next opponents in these Euros. Allan McGregor was in goal, Leigh Griffiths was up front, Robert Snodgrass scored the winner - and Whittaker moved to the left of the defence to accommodate Alan Hutton. So you thought Scotland having a conundrum at full-back was a new thing?
From Bonnyrigg to Scotland honours
That win looks to be the standout result from the 31 appearances for his country. Some of the others need a bit of explaining, such as his 2009 debut, Norway 4, Scotland 0: "Yes, well, that was a bit of a disaster: the game where Gary Caldwell was sent off, his brother Steven had to be substituted in case of a second yellow and Christophe Berra got injured so I was chucked on as the emergency centre-back. Despite that, and despite the result, nothing could detract from the fact that there I was, one of the 11 guys - ten guys - out on the park chosen to represent Scotland."
This had been Whitty's dream growing up in Bonnyrigg, Midlothian. Home was in a cul-de-sac, ideal for the wannabe football imp. "My dad will tell you, I dragged him out to play with me three times a day. I never went anywhere without a ball and used to sleep with one rather than a teddy bear." Playing for Scotland was the ultimate. Eighteen times he showed up for the Under 21s. "Other guys would be like: 'I don't fancy this trip.' For me, wearing a dark blue shirt was an honour and a privilege at any level. My attitude was: 'I'm going to play. I want to make the big team and this might help me get there.'"
That free-running style for Scotland against Denmark in 2016.
Then, in 2012, there was USA 5, Scotland 1, another car-crash. "I'm not saying that game wasn't treated properly but it was end-of-season for us. I remember beforehand texting [fellow Rangers men in the US team] Carlos Bocanegra and Maurice Edu about how we'd been chilling out on the trip which had been a bit of a bonding session and they were like: 'Proper lockdown for us, mate - training three times a day.' The result illustrated the different approaches."
His favourite Scotland manager
Oslo and Jacksonville were respectively the heaviest defeats of the difficult tenures of George Burley and Craig Levein. Diplomatically, Whittaker says: "Coming into the Scotland set-up, and only working with the managers in short bursts, at first I didn't really know what was good [about them] and what was bad."
Or what was revolutionary and what was crackpot. Come on, what was his reaction when Levein set out the 4-6-0 formation for that strikerless attempt to combat the Czech Republic in 2010? "I thought it might be a long night, and a strange one for a defender: instead of trying to find a forward you were just going to be booting the ball into space. We were following instructions. And, until the Czechs scored, they worked."
Winning the League Cup with the Hibees in 2007.
Gordon Strachan, in charge that winning night in Zagreb, was his favourite national boss. "His ideas were clearer and the way he wanted football played, through the lines with Shaun Maloney finding those little pockets, suited my game. He gave us all a bit more freedom and as a result we played better football."
We are talking via Zoom after Whittaker, at home in the Capital with wife Pamela and the two kids, has read the bedtime stories and on the laptop prepared the next day's training for Dunfermline Athletic, his final club as a player where he's now stepped into a coaching role alongside new boss Peter Grant.
Was quitting tough? "Of course. Last season, because of Covid, the lack of fans, the mentality needed to keep going, was tough. I knew the end was coming for me and I just decided that to go another season would be too much hard work, both for the body and the brain. I didn't want football to become a grind, having absolutely loved it all my life."
Helping Scotland beat Croatia in a World Cup qualifier in Zagreb in 2013.
But hang on, he's out there already with the bibs and cones, metaphorical or real, when it's still only mid-June? "I know. Yesterday was my birthday and as a player pre-season never happened before then. But we want to do well in the League Cup again, having qualified from the groups the last two seasons and last time out only losing in the quarter-finals on penalties to St Johnstone, who went on to win the trophy. But we don't just want the same again from this campaign [the Pars having also reached the Premiership playoffs]; we want to do even better."
A lads' holiday in Tenerife with Garry O'Connor
Now Whittaker is smiling: memories of his first lads' holiday, in Tenerife with Garry O'Connor, have just popped into his head. Traditionally, that's what sparky young footballers should be doing at this time of year and that Hibs generation was not short of them.
The golden generation they were called. Golden boots and golden plumages abounded. O'Connor and Derek Riordan and Scott Brown and Kevin Thomson. "Pah, boyband," scoffed Neil Lennon.
This was Lenny upon becoming the Easter Road manager - what did Whitty think of Tony Mowbray's team being likened to Take That or Westlife? "If he was talking haircuts then I wasn't modelling a new style every week like some, although I'll admit to having highlights." More directly, I suggest, Lenny probably reckoned the term encapsulated what he thought was the side's seductive but capricious and immature nature. Flash - like they were simultaneously rising from stools at a key change - but erratic.
"I'd agree with that. Sometimes we'd play fantastic football. At home against Celtic or Rangers, game on the telly, we could turn them over. But the next week we'd go up to Inverness and get thumped four-nil." Still, he loved his time as a Hibee and the fun that team had. Friendships with the likes of Thomson - they cut up public parks together as 12-year-olds with the renowned nursery Hutchie Vale - and Brown have endured to this day and now all three are moving into coaching at the same time.
A winner at Wembley after Norwich City's victory over Middlesbrough in the 2015 English Championship play-off final.
A trophy with Hibs and taking his game to the next level at Rangers
Still, too, Whittaker's Hibs lifted the League Cup. They achieved third. And the whole gang moved on, netting a whopping £12.5 million in transfers, which paid for the swanky training complex. Which begs one of the favourite "What if … ?" questions down Leith way: what if the superkids had stayed together a bit longer? He fires a question back: "Did the likes of Scott at Celtic and Kevin and myself at Rangers turn into the players we ended up being because of the experiences we had at these bigger clubs? If we'd remained at Hibs could we have achieved the same potential to win a couple more cups or maybe even the league?
"For the sake of Scottish football generally you might like to think so, but Rangers took my game on to the next level. You have to learn to be resilient there, how to cope with pressure and how to develop a winning mentality because that's the only one that'll do. You have to learn how to become a champion."
Invariably portrayed as the most sensible of the Young Leith Team, he'd been paying attention to good advice from the start when his preferred position had been midfield. It was Mowbray who shifted him to right-back. "I had to," his old boss remarked, "because every time Steven was getting the ball he'd be trying to beat three men."
"Tony gave me great advice," admits Whittaker. "He told me I could do very well as a midfielder but there was a chance, if I learned about defence, that I could have an elite career as a full-back." There's a chuckle as he recalls his Hutchie Vale days when any suggestion he might contemplate taking on defensive duties was akin to being told to tidy his room. At Easter Road, the fans became accustomed to taking a leap of faith whenever the finest upright runner with the ball since Pat Stanton sallied forth. But there was more encouragement for him from Stanton's legendary manager Eddie Turnbull: "He was great with me. After a game, when I was heading from the changing-room to the stand to see my mum and dad, he'd grab me: 'I love watching you play,' he would say, 'and for the moment when you cross halfway with your head up.'"
Wonder goal against Sporting Lisbon
Walter Smith when he was Scotland manager noticed this about Whittaker too and was first to call him up for national duty. Then, back in charge of Rangers, Smith quickly signed the player for £2 million.
Whittaker describes that first season at Ibrox, 2007-08, as a "whirlwind", which is putting it mildly. The club challenged on all fronts, won both domestic cups, reached the Uefa Cup final and were pipped to the title by Celtic after having to play four matches in eight days. Our man scored on his debut in a 7-2 thrashing of Falkirk. "I thought: 'This is brilliant.' But of course there would be bumps. When I was out of the team I tried to keep learning, keep watching, soak it all up." He returned to net a wonder goal against Sporting Lisbon, the requisite trio of opponents not only beaten but left on the grass, and hold his nerve to score his penalty in the semi-final shootout against Fiorentina after Barry Ferguson had missed.
Trophies galore at Rangers but sour end
Whittaker developed that winning mentality sufficiently to play his part in three championships, a hat-trick of League Cups and two Scottish Cups. But his time at Ibrox would end sourly with ill-judged remarks in the wake of the club's financial implosion.
One of several to object to player contracts being transferred to a new company, he explained at a news conference alongside Steven Naismith that he didn't feel he owed any loyalty to Rangers in a different guise. With that he joined Norwich where he spent five happy years. The bulk of his Scotland caps came from this spell, which justified the switch.
"It was purely a football decision," he says today. "Steven and I were 28 and playing for Scotland. I would have been putting that at risk if I'd stayed [and dropped down the divisions]. Coming up against part-time players, no disrespect to them, was not going to test me.
"We were told to say certain things which didn't come across the way we hoped. It could have been handled better. I was loving playing for the club and still had four years on my contract but I deeply regret how it all ended."
Learning from Lennon
So: a new chapter for Whitty. He thinks it might lead to him becoming a manager in his own right, and while that seems some way off right now, he hopes what he's learned from his bosses will stand him in good stead.
Strachan and Mowbray have been enthused about but he's keen to reference Smith: "Water was great for me. He'd tell us: 'Do your best for the team, stay together, shut out the noise from the crowd and the press, don't become frustrated by the frustrations of others, help each other, stay focused, this is us.'
"And I loved playing for Lenny, too. The Old Firm had been his arena and he was determined that Hibs should get in among Celtic and Rangers and properly compete, which they ended up doing by equalling the club's highest-ever points tally.
"He was extremely demanding and sometimes if we dropped off in games he'd lose the rag. He put his foot through the tactics board a few times and we learned to keep the dressing-room floor swept otherwise a boot or anything else lying around had the potential to turn into an unguided missile. But you wanted to give him everything you could."
All good source material for a career in the dugout but we'd like to think Steven Whittaker won't forget something bearing his own signature: the desire, and ability, to beat three men. After all, what could be more classically Scottish?
A message from the Editor:
Get a year of unlimited access to all of The Scotsman's sport coverage without the need for a full subscription. Expert analysis of the biggest games, exclusive interviews, live blogs, transfer news and 70 per cent fewer ads on Scotsman.com - all for less than £1 a week. Subscribe to us today
Steven Whittaker lifts the Scottish Cup with Rangers after the win over Falkirk in the 2009 final.
Steven Whittaker played for Dunfermline last season but has now hung up his boots and joined the club's coaching staff.
Steven Whittaker scoring a superb solo goal for Rangers against Sporting Lisbon in the 2008 Uefa Cup quarter-finals second leg.