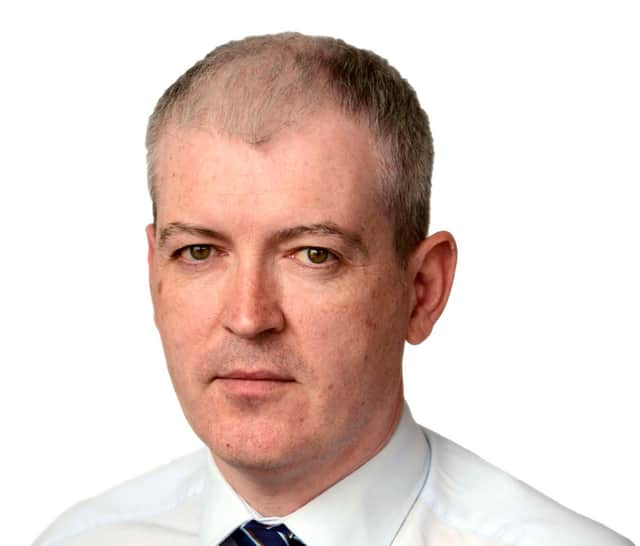 Scotsman sports writers byline pics
As a preparation for stepping into the unforgiving world of management at high profile clubs, it was doubtless valuable experience for a duo whose shared values and vision of how the game should be played saw them forge a close bond off the field.
That friendship still endures, which made the announcement of Lampard's sacking as Chelsea head coach on Monday a source of particular dismay to Gerrard.
The ruthless nature of Lampard's dismissal after just 18 months in the Stamford Bridge hot seat is in sharp contrast to the long-term view which the Rangers' board have adopted with Gerrard since his appointment at Ibrox in the summer of 2018.
Frank Lampard celebrates with Steven Gerrard after scoring for England against Moldova in a World Cup qualifier in Chisinau in September 2012. (Photo by Michael Regan/Getty Images)
Seeing the bigger picture
Gerrard's failure to win any silverware in his first two seasons at the club has not obscured the bigger picture for the club's directors who recognised the unprecedented size of the task facing the former Liverpool and England captain in restoring both the structure and the fortunes of the first team squad.
"I don't think it takes something like the news about Frank to make me appreciate the support I've had here at Rangers," reflected Gerrard.
Steven Gerrard is in regular dialogue with his former England team-mate Wayne Rooney as he takes his first steps in management at Derby County. (Photo by Michael Regan/Getty Images)
"It's something we discussed at length and in detail before I took the job. I knew coming into it that it wasn't going to be a journey of ups all the time, where everything was going to be rosy and all of sudden we would change the fortunes of this club overnight.
"I think the board were well aware it was going to take time and there would need to be some patience.
"But at the same time I very much appreciate the support I have had from day one here.
"When you go into these jobs, you understand it is going to be a journey. It's going to be a rollercoaster at times. You are going to have some tough days, you are going to have some top times.
Steven Gerrard and Frank Lampard close in on Stevan Jovetic during a 2014 World Cup qualifier between England and Montenegro. (Photo by Adrian Dennis/AFP via Getty Images)
"That's the way it is, that's management. That's the reality of it. But some clubs are a little bit quicker than others in terms of making changes.
"I'm sure Frank was aware of that when he signed up for it. These are the questions you ask as a manager before you go into a club.
"You have to make decisions on situations like this – are you going to get the support if you have a few indifferent results? He hasn't had that support. They have decided to make a change very swiftly.
"But we all know as managers that's the world we live in, that's the reality of the job."
Old boys' support network
Wayne Rooney, another of Gerrard's former England team-mates, has also dipped his toe into the shark-infested waters of football management with his recent appointment by Derby County, the club where Lampard had one season in charge before being unable to resist the call from Chelsea.
"I've had conversations with both Wayne and Frank [about management], along with others I've built relationships with in the game," added Gerrard. "You try and be a support for each other, not just in these situations like the news with Frank.
"If there is any support you can give to a friend or former team-mate, you give it. Because it is a tough role managing these big clubs. I'm obviously disappointed and gutted for Frank.
"It's the nature of the job, it happens. I didn't speak to Frank on Monday, I'm sure his phone would have been on fire in terms of incoming calls. I'll give him some time and space.
"I exchanged some messages with him on Tuesday morning and he's fine, he's okay. I'm sure he will dust himself down, spend some time with his family and get ready for his next challenge.
"That's the character of the man I know. He will learn from the experience of the last 18 months.
"He should be really proud of the job he's done, not just at Chelsea but previously at Derby as well.
"For a young manager to achieve what he has in such a short space of time, there are a lot of positives among that.
"He has brought through players like Mason Mount, Reece James and Tammy Abraham – they are going to be forever in debt to Frank for the opportunities he has given them.
"He got Chelsea into the top four without being able to go into the transfer market, that was a very tough thing to do. He nearly got Derby promoted to the Premier League.
"Yes, his results of late have been a bit indifferent and I have been a bit surprised he wasn't given a bit more time and a bit more support during that first rough spell.
"But this is the job we are in. It can be brutal at times. Chelsea have got a history of making changes pretty quickly in these situations.
'So I suppose from that point of view I haven't been so surprised at all.
"It's obviously going to be a tough few days for him but he will bounce back. He will really analyse how it's gone for him and try to improve moving forward."
A message from the Editor:
Thank you for reading this article. We're more reliant on your support than ever as the shift in consumer habits brought about by coronavirus impacts our advertisers.
If you haven't already, please consider supporting our trusted, fact-checked journalism by taking out a digital subscription.