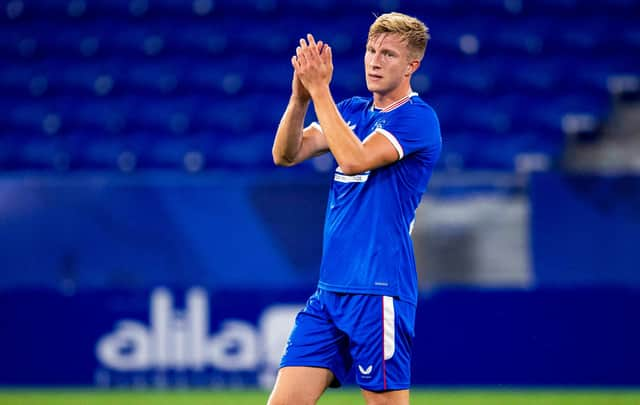 Ross McCrorie has completed his move from Rangers to Aberdeen. Picture: SNS
Here's how Rangers supporters reacted to the news on social media:
@EHDMJU: "You've been a great servant to the club and are welcome back any time."
@RabRoss3: "Good luck Ross, like most I'm gutted to see you leaving but wish you all the best. Hopefully see you back to captain our club in a few years."
@Kyle_M93: "This baffles me, was the whole purpose of Auchinhowie not to produce good young players to then sell for a decent profit, the only one we've ever done that with is Alan Hutton! Huge mistake Rangers but best of luck to Ross!"
@Dempseyni: "Meeehhhhhhh don't know how to feel, deffo better for Ross as a whole as Gerrard clearly didn't fancy him but always felt there was a want to play for us and he's certainly no mug. Good luck. Once a Ger always a Ger."
@GKamaraLoyal: "That's a f*****g joke btw. Getting rid of guys that would run through walls for you but still have dross like Barker as your 1st sub? I'd start McCrorie before Jack in midfield too, definitely more chance of him scoring yesterday than any of our midfield. Bad move."
@StevenMcLucas: "Not happy with this. Why a loan? If we are selling Ross, make them pay now. Why are we doing favours like this to a club that despises us?!"
@Ryane1872: "This makes no sense to me surely this means Lewis Ferguson is either on his way or will arrive next season?"
@Scotthannah42Sh: "Thought our leader said not so long ago that McCrorie was a future captain of our club, getting rid of young talented enthusiastic players to keep a broken down Davis who can't play a full game and Artfield who only comes on as a sub now and again."
@JonsSAlexander: "Think about it. He will play against Celtic 4 times and not play against Rangers. Rangers won't win the league if other teams don't take points off Celtic."
@stewarty0907: "Another very promising prospect from our excellent academy has to leave. We can give 1st team opportunities to other club's academy prospects but ignore our own? If Liverpool had the same outlook back in 1998, where would SG be now? Either the academy works or it doesn't."
@easyluckyfree84: "Hopefully there's a buy-back clause for next season when the current manager's gone."
@kyler1872: "Wish it worked but he's s***e, people need to get a grip acting like he's Barry Ferguson or something."
@stuarthynd: "You would honestly think Ross McCrorie was the second coming of Paolo Maldini the way some Rangers fans go on about him. Showed so much promise but consistently failed to deliver. Reality check. Hopefully we bring in a replacement...Lewis Ferguson?"