Robbie Neilson's men hosted the Ibrox side for what was third against second with two in-form teams going up against each other at a sold-out Tynecastle Park. It was one of six top-flight matches played across Tuesday and Wednesday, with none selected for live coverage.
"At this moment in time, Scottish football is really colourful," Beale said of the Hearts match not being on the box. "We've got players coming in from outside, whether that's from down south, or from Asia and one or two from around Europe. The league's in a really good place, so we should focus on the football. It was disappointing that the game wasn't on TV. You have two teams unbeaten over 10 games and something that had to give. There was optimism in the air in the Hearts team and maybe in general in football with people saying, 'okay, let's see where Rangers are at' and I thought it was always going to be a good game."
The current deal allows Sky Sports to show up to 48 games live from the Premiership each season, with a maximum of four from each ground. As things stand, 25 games have been broadcast live from the top flight, with a further seven having been announced up to April 9. It means the broadcaster has 16 games available to show for the final two pre-split match-days, plus the five post-split rounds. If so desired, it could show upwards of two live matches a round.
New deal
If Sky fall short of the 48, it will be the third season running it has done so since the start of a five-year deal agreed in 2018. Earlier this campaign, it was announced a four-year extension was struck with the broadcaster. From 2024/25, Sky Sports will be able to show up to 60 games live from the Premiership each season, with maximum per ground rising to five.
A positive addition to the deal which is currently running has been the allowance for each of the 12 top-flight sides to offer PPV streams within UK and Ireland for five matches per season. The new deal also includes the SWPL and League Cup with at least five games from the 2022/23 broadcast live.
"This is a very significant financial and promotional deal for the SPFL and I'm delighted our clubs have overwhelmingly supported deepening their relationship with the UK's leading sports broadcaster," Neil Doncaster, SPFL chief executive, said at the time. "(The) announcement represents a major financial boost for our 42 member clubs at a time when the UK economy is facing significant headwinds, and will increase the exposure of Europe's most exciting and passionate league."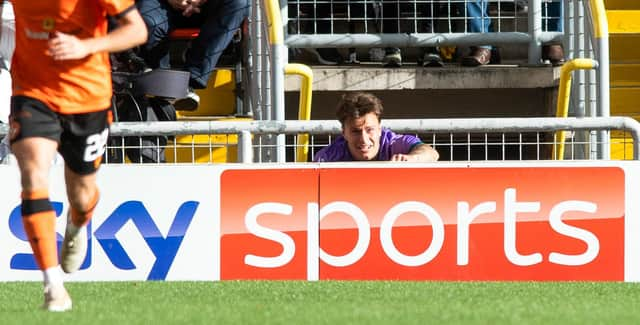 How many times each Premiership team has been shown live: Aberdeen 3, Celtic 12, Dundee United 3, Hearts 4, Hibs 4, Kilmarnock 2, Livingston 3, Motherwell 2, Rangers 12, Ross County 1, St Johnstone 2, St Mirren 2 (as per Pie and Bovril).