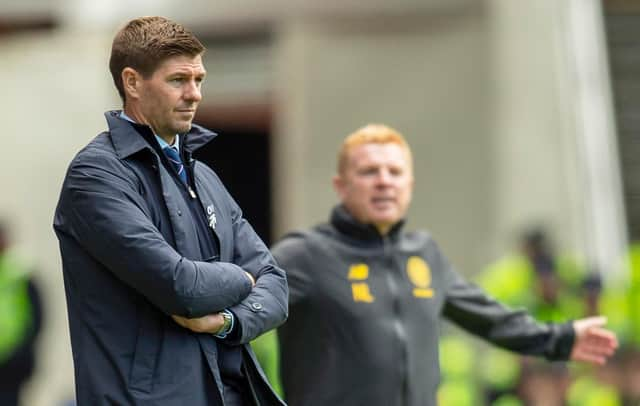 Steven Gerrard needs to be backed to catch Celtic, according to Mark Warburton. Picture: SNS
Ex-Rangers boss Mark Warburton has told his former club that the only way to catch Celtic is to spend money and support Steven Gerrard.
The Ibrox side made progress last season but at the time of the shutdown they were still 13 points behind, albeit with a game in hand.
Rangers have already spent around £3million to make Ianis Hagi's loan deal permanent.
Mark Warburton admits he wishes he was more honest during his time at Rangers. Picture: SNS
Warburton reckons it will take more investment to not only catch Celtic but go beyond them as Neil Lennon's men go for ten in a row in the 2020/21 campaign.
"Rangers are getting a lot closer to Celtic but you still need to support Steven," he told the Daily Mail.
"You need to make sure he can not just close the gap, but get there and go beyond.
"I think he has done a great job and I very much hope they keep on backing him. That's what he needs because I'm sure the other side of Glasgow will be keen to push for the tenth. You really hope that Rangers do what they have to do to support Steven and stop it.
"Of course, there will be big pressure, but then Steven had almost 20 years as a world-class player dealing with pressure. He will understand the pressure, even with the different perspective of a manager. He knows what it takes to win big games of football.
"As I said, I think it is all about backing Steven. Give him the time, the support and the confidence any manager needs — no matter who you are.
"The likes of (Ianis) Hagi, you need that level of player to come to Ibrox. It's a great theatre."
Warburton revealed he wished he had been more honest during his time at the club having won the Championship to bring Rangers back to the top flight.
The Englishman revealed it was never going to be realistic for his side to challenge.
"We were in a situation where we had no money," he said. But I didn't use the media wisely enough. I hoped very much that people would see and understand but I should have been blunter.
"You look at the first people coming in, the likes of Tavernier and Waghorn — £200,000 or so. Halliday, free. Holt, free. Foderingham, free.
"We should have been more vocal to say the club is not in a position to go and rival Celtic. But if you do that, the other side of the coin is that you are seen as being negative or lacking ambition."