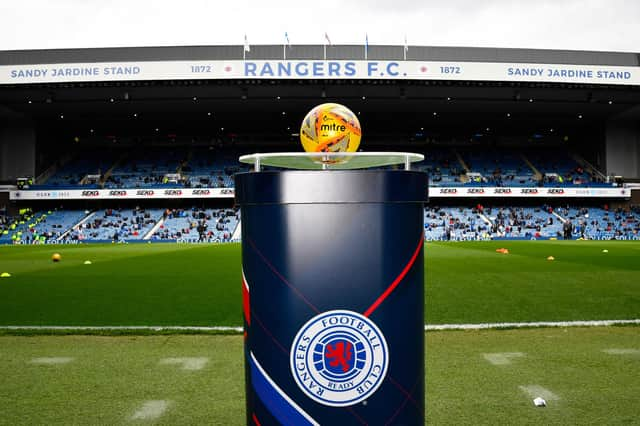 Rangers have hit back at the SPFL. Picture: SNS
Rangers hit back at the SPFL once again following a letter sent to all 42 clubs by organisation chairman Murdoch MacLennan.
Seeking to set the record straight, MacLennan attempted to react to various aspects of the last few days following a vote on the SPFL's resolution.
In the letter he said that Rangers' allegations regarding the organisation's competence and governance was "harmful to the standing, performance and effective operation of the SPFL and runs counter to the wider interests of our game" without evidence.
MacLennan also addressed the money issue, stating that end-of-season payments couldn't be paid out until the final league placings are determined.
Rangers had put forward their own resolution last week for soft loans to be made to clubs which would allow for more time to decide on a solution for the current season. It was deemed ineffective by the SPFL, starting a back and forth between club and SPFL.
Following the letter, the Ibrox club responded.
A club spokesperson said: "A spokesman for Rangers advised that Rangers Company secretary, James Blair, has had several email exchanges with the SPFL legal adviser, Rod McKenzie.
"Remarkably, we have learned from an email received from Mr McKenzie that our proposed resolution is deemed unnecessary because the SPFL board already has the authority to provide loans to member clubs which can be exercised by the SPFL at any time.
"The Inverness CEO, Scot Gardiner, confirmed on national radio yesterday that SPFL representatives made it clear on several conference calls that it was necessary to approve the SPFL resolution in order to release funds which would relieve the financial hardship being experienced by many clubs.
"Member clubs will be shocked to learn this is not the case and any club facing short term financial difficulties should request a loan from the SPFL immediately.
"Our resolution was never intended to release end of season fee payments but instead to provide loans as an advance on such payments.
"It is now apparent that this is already within the power of the SPFL. This provides further evidence that an independent investigation is urgently required."
She also said the Tynecastle club would be proposing a temporary league adjustment.