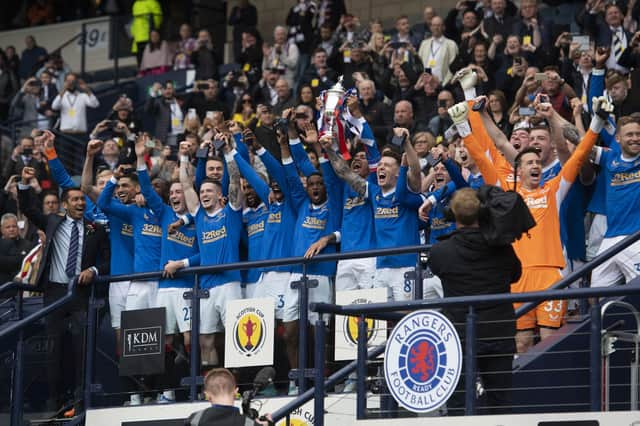 It's fortunate, then, that this is what they have effectively been granted. That wasn't the case initially, of course. When the draw for the fourth round was made as far back as November, shortly after Rangers had lost 2-1 to St Johnstone at McDiarmid Park, a return assignment to Perth did not hold very much appeal at all.
That result as much as any other contributed to ending Giovanni van Bronckhorst's tenure at Ibrox. By the same token, it hastened Michael Beale's coronation as Rangers manager. Nevertheless, McDiarmid Park might not have been high on the list of places Beale wanted to visit either. St Johnstone have unhappy connotations as far as he is concerned.
As much as he has been almost faultless while re-igniting a Rangers side that had become moribund under Van Bronckhorst, this is the first time Beale has faced a situation where he can only mess up his predecessor's good work. Rangers are the holders having won the trophy for the 34th time last season under the Dutchman.
Beale would rather not suffer a first defeat as Rangers manager in his first Scottish Cup tie as a Rangers manager, particularly with Celtic currently so far ahead in the league. He appears to have received help from an unlikely source when it comes to this aim: tonight's opponents.
St Johnstone have all but surrendered home advantage by giving three stands to Rangers fans and restricting home supporters to only the main stand. The Perth club also upped ticket prices to £30 for adults and £20 for concessions. Among those severely inconvenienced by the decision were East Stand season ticket holders. Not only were they being relocated to the stand opposite, but they would have to pay more for the aggravation.
The move sparked uproar among St Johnstone supporters. Although chairman Steve Brown addressed the reaction in a statement released earlier this week, it stopped a long way short of being the mea culpa that furious fans desired. He said he accepted "certain criticisms" and the club would take the feedback "into account" in the future. He added that "we understand and respect our supporters who choose not to attend on this occasion".
St Johnstone manager Callum Davidson has done his best to ease relations between the fanbase and the club but even so, the expectation is that tonight's match will be played in front of the smallest-ever home crowd at McDiarmid Park. As few as 500 could attend. By contrast, there will be over 6,000 Rangers supporters cheering their team on from three sides of the stadium. It's an unusual situation although far from unique in Scotland, where Livingston always accommodate Old Firm away supporters across three stands.
The last time Rangers featured in a Scottish Cup tie at an away ground other than Hampden, at Dens Park in March, there was similar evidence of discord in the home stands. Visiting fans again heavily outnumbered the home support, estimated at around 1500, after the decision by the Dundee board to pitch the price at £30 for a game being shown live on television led to an unofficial boycott by the already disillusioned home fans. It seems most Scottish Cup games are effectively home ties for Rangers these days, whether they are drawn at Ibrox or not.
None of this is, of course, Beale's problem. He's simply delighted to discover circumstances where the home team have contrived to fritter away much of the advantage in a tie they could reasonably expect to win. After all, it's not a lower division team we are talking about here. It's St Johnstone, the last-but-one winners of the Scottish Cup.
Beale has already seen how strong support from the stands can give his team the edge in difficult away encounters. He boasts a 100 per cent record in four such outings to date. "It (the away support) has been big in all the away games so far," he said. "Wherever we go, we know we have got a fantastic support. It helped us massively at Dundee United, it helped us again midweek (v Kilmarnock). We have had some really difficult away games recently, obviously with the weather and changes in pitches and all that. I expect all of that to be involved tomorrow in a real tough cup tie."
Not involved at McDiarmid Park, nor anywhere for at least four weeks, will be striker Kemar Roofe, who injured a shoulder in the League Cup semi-final win over Aberdeen last weekend. Such a setback is not as potentially ruinous as it might otherwise have been in a more hostile environment.
"Obviously it's nice for us because for our players we can go there and know the crowd is going to be behind us and supporting us," added Beale. "I think the crowd, our fans are aware it is a very, very important game and we are aware it is going to be on a tough pitch against an opponent that is going to make life difficult for us. But the most important thing on the night is that Rangers are in the next round of the cup – that's our focus."
As a member of Steven Gerrard's staff, Beale knows they fell short when it came to the domestic cups during their spell in charge. Beale has mended the league form – for now. Now he simply wants to avoid the same fate suffered in his last involvement in this competition – a defeat to St Johnstone at the quarter-final stage in 2021. That, though, was at a completely empty Ibrox. And at least there's no Zander Clark to worry about at corners.