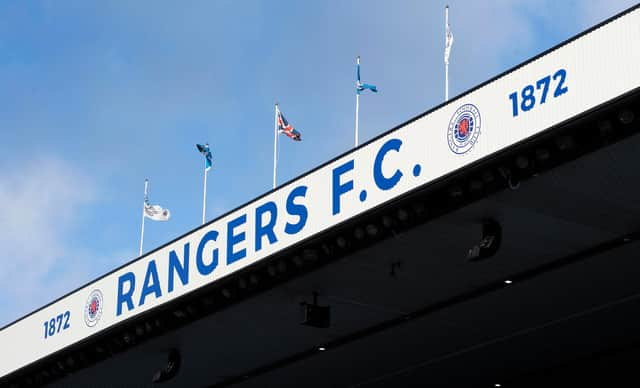 Rangers have issued guidance for fans ahead of the two home games against Bayer Leverkusen on March 12 and Celtic on March 15 amid the ongoing situation with coronavirus.
The Ibrox side has installed hand sanitiser dispensers in all public toilets at the stadium and further information will be carried on the big screens and in the matchday programme.
Fans will not be able to meet players or coaching staff for autographs or pictures before the two home matches following advice from the authorities that club employees should avoid contact with supporters "where possible".
Bayer Leverkusen v Rangers
Rangers chiefs are in "continuous dialogue" with the Bundesliga side and the relevant authorities concerning the second leg of the Europa League last-16 meeting.
Currently the match is scheduled to proceed as planned with fans able to attend, but national and regional government leaders in Germany have warned that the match may only go ahead as a closed-doors fixture.
A statement from Rangers read: "Direction will have to be taken from the German authorities. We appreciate the uncertainty this situation will be causing for our travelling fan base and the club will endeavour to update supporters at every available opportunity."
The two teams are scheduled to meet on Thursday March 19, a week after the first leg in Glasgow on March 12, but Germany's Health Minister Jens Spahn has called for gatherings of more than 1,000 people to be cancelled.
Closed doors or postponed?
Nordrhein-Westfalen, the region that includes Leverkusen, has recorded the highest number of coronavirus cases in Germany.
Armin Laschet, the regional government leader, has indicated that the state intends to follow national advice. As a result, Borussia Dortmund's home match with Schalke this weekend could be played in an empty stadium.
However, Mr Laschet said in comments reported by the BBC: "I will let the clubs decide if they want to play without spectators or if they prefer to not play at all."
The Germany national team's match against Italy on March 31 will be played behind closed doors. The state of Bavaria has cancelled all events with more than 1,000 attendees meaning the match, fixed for Nurnberg's Max-Morlock-Stadion will go ahead without supporters.