'Rangers fans were a joke': Why Livingston's new boy was left in awe of first taste of Scottish football
Rangers manager Giovanni van Bronckhorst was first to acknowledge his team had not produced their best in overcoming a Livingston team who led them for an hour.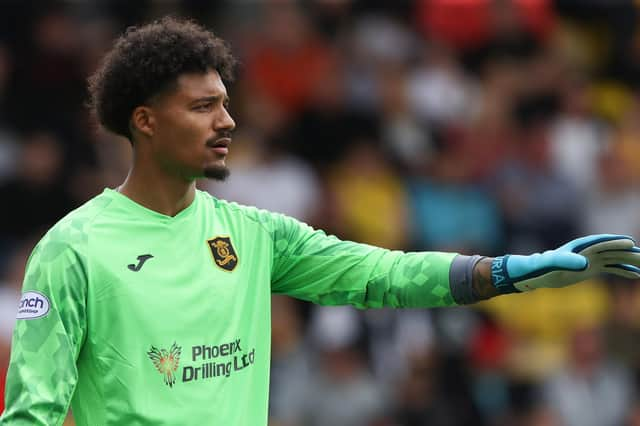 Shamal George made his Livingston debut against Rangers.
Yet, the sense of occasion generated owing to the calibre of the Ibrox side and their travelling support's intense backing left one participant slack-jawed. Livingston's new keeper Shamal George may have been schooled at Liverpool's academy but his playing days have been restricted to England's League Two, moving north from Colchester United in the summer. None of it prepared him for his first taste of top-flight football in Scotland at home to one of the country's big two.
"The atmosphere, I have never experienced anything like it. It's definitely one that I will remember," said the 24-year-old, who produced some fine stops but admitted how he lines up a defensive wall is "something I'll look at" after James Tavernier's free-kick winner. "It would have been better if we had got a draw or a win but the team played very well. I'm just gutted for the boys. This is the second time I have played on [live] TV. To me, it's massive, in front of a big audience. It's a massive step in my career. When I came here, that was very important to me. I want to play as many games as I can and do as well as I can for the team. It was Forest Green last season, my last TV game. They were getting promoted, basically. The crowd was nothing like this. This was crazy what I experienced.
"I didn't really know [what to expect but Rangers] were unreal. They were a joke. I didn't expect them to be that good. The gaffer said 'you are going to be in for a shock when you see how good they are' and I was. The best I'd played before was when we played Northampton in League Two. It's a crazy step up, one I'll always remember. The way Rangers keep the ball, their pace and power, organisation. To come back and win 2-1, they are a very, very good team. They played Tottenham the other day and lost 2-1. They beat West Ham. I knew coming here, it wasn't going to be easy, and it definitely wasn't. And, the Rangers fans were a joke [too]. Again, I've never experienced anything like that. It motivates me to do better when there are people behind the goal giving you stick. It's something I'll always remember."