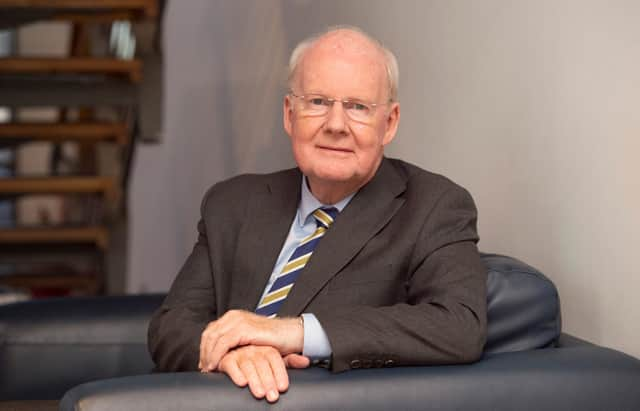 SPFL Chairman Murdoch MacLennan has sought to address the resolution fallout. Picture: SNS
SPFL chairman Murdoch MacLennan has sought to address the fallout from the organisation's resolution, taking aim at clubs seeking an independent investigation into the handling of the controversial vote.
An EGM is arranged for next month after Rangers proposed that an inquiry take place into the process of the SPFL resolution. Clubs are set to vote on whether it should take place.
MacLennan answered a variety of questions in a lengthy open letter and Q&A to the 42 member clubs and made it known that eight of the nine members on the SPFL board are against such an investigation.
The only member of the board not in agreement is Rangers' Stewart Robertson.
MacLennan said: "Eight of the nine members of your Board of Directors believe the demand for such an open-ended, hugely time consuming and expensive investigation, carried out by a senior QC, to be wholly unnecessary, inappropriate and contrary to the interests of the Company."
He added: "Ultimately however, it is for you, the member clubs of the SPFL, to decide whether you wish the time of our staff and Board members, and your money, to be spent on the exercise now sought by Hearts, Rangers and Stranraer, without Rangers having made available to the Company or to SPFL clubs any of the evidence which they claim is in their possession.
"You are now being invited, by each of them, to commit the SPFL Limited to uncapped expenditure on an investigation, without defined boundaries, into the SPFL Board and its Executive team, as well as a range of matters related to a resolution which achieved a 80% plus agreed return. All at a time when we have had no detail or evidence whatsoever of what it is the directors, appointed by you, and our senior employees are alleged to have done 'wrong'.
"At this hugely challenging time, distractions, scapegoating and sideshows are our enemy. We currently have a very small executive team comprising only five senior members of staff who are working tirelessly in the interests of Scottish football. Two of them are the subject of unexplained calls for their suspension."
The SPFL commissioned an independent investigation by Deloitte into the SPFL resolution and the controversy of Dundee's vote.
The Dens Park side submitted a vote rejecting the resolution but it didn't land with the SPFL. In the meantime, after seeing the position they were in as having the casting vote, changed their mind and asked for their vote not to be counted.
Deloitte's forensic team were given full and unfettered access into systems, emails and phone records, as well as text messages and undertook interviews with SPFL staff. They determined that there was not "any improper behaviour or impropriety by anyone".
MacLennan said: "There has been some ill-informed speculation that this was a superficial exercise, and I therefore feel compelled to provide some
"Deloitte undertook a thorough and detailed examination into email records, telephone logs, text messages and other messaging tools used by the SPFL, as well as conducting fact-finding interviews of SPFL personnel involved in the process surrounding Dundee FC's return, and engaging with the third party that operates the SPFL email system. This was not something we entered into lightly, but we felt it was essential, given the seriousness of the allegations made against senior figures in the SPFL.
"As your independent, non-executive chairman, I am entirely satisfied with the rigorous process that your Board undertook in putting the SPFL directors written resolution to members. It was the product of several weeks of intensive work – using the best medical, scientific, governmental and legal advice to devise a way forward for the game in an unprecedented set of circumstances."