We can win this, he told his players. I promise you right now, we can win this. Even though there was seemingly no plausible way of this outcome happening, he told them otherwise. He made a rag-tag bunch believe that a team from the sixth tier of Scottish football could beat one from the top tier. He convinced them that a team currently operating in a junior regionalised league could beat the former European Cup-Winners' Cup champions. Darvel could do what Real Madrid could not do. On a one-off occasion, with the right mindset, the right players and, dare we say it, the right manager, anything was possible. And so it proved.
Sadly for Jim Goodwin, the dressing room scenes captured by BBC Scotland before Monday night's Scottish Cup fourth round tie make for a vivid contrast to the message he relayed to his own players – and, perhaps more ruinously, the Aberdeen supporters – before a home match against Celtic late last year. It was the much-anticipated return to league football following the World Cup break. Millions had thrilled to results such as Japan 2 Germany 1 and Saudi Arabia 2 Argentina 1. Even in death trap stadiums in a land where human rights were so low down in the list of priorities, some romance had managed to exist. Football did what football does. The beautiful game, the glory game, had fought its way out of the dust storm. Hope had prevailed.
So it was very easy to understand the depth of dismay felt among Aberdeen fans on December 17. They had headed with such relish to Pittodrie for the league restart only to be let down by Goodwin's team selection and subsequent tactics, which all but conveyed the opposite of Kennedy's elated message to his players on Monday night. Goodwin's version was far from a passionate battle cry. It was interpreted as a cowards' charter by fans and who knows, maybe even the players. He was effectively saying: We can't win. I promise you right now, we can't do this.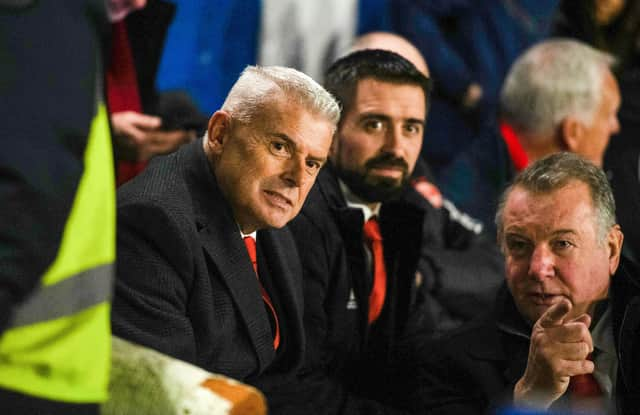 No shots on target, no ambition. Just 20 per cent possession. Aberdeen barely made it out of their own half. "We felt it was the best way to go," said Goodwin afterwards. A late Callum McGregor meant Aberdeen were left with the zero points they deserved, cue uproar in the stands. "It's difficult to make a case for it (the game plan) now," the manager admitted in the face of fans' fury.
A crushing defeat to Rangers a few days later was just as hard to bear given the fact the hosts had been 2-1 up with four minutes of additional time played prior to caving in. Goodwin was badly served by this outcome on two counts; firstly, it showed what could happen if Aberdeen took the game to their opponents, even opponents far better resourced. And secondly, it again disproved his contention, aired soon after he took charge last year, that improving the defence would be the easier part of his brief. The shambolic concession of what proved the winner on Monday, on top of last week's five-goal mauling by Hearts, would suggest otherwise. He is a dead man walking. The sleek black cloak he wore on Monday night seemed to serve to emphasise that.
It's a tragedy, an absolute tragedy, to see such good men brought low. Goodwin was the definition of good grace afterwards. He faced reporters, faced the cameras. He was sure to offer his congratulations to Darvel. An invitation to complain about an erroneous offside call that robbed Aberdeen of the chance to equalise was not taken up with much enthusiasm. Goodwin knew it was a lost cause. He could read the signs even before seeing the expletive-laden "clueless" banner draped near the entrance to Cormack Park, where, perhaps surprisingly, the manager took training on Tuesday.
He could also probably still feel the eyes of chairman Dave Cormack boring into his back. Darvel's admirable determination to play the fourth round tie at home, rather than switch it to Rugby Park, not only increased their chances of springing a shock, but also made for some unforgettable television. With space at a premium, the imaginative seating arrangements at Recreation Park meant Cormack could be seen shifting uncomfortably on his pew whenever the camera switched to the Darvel bench. There, behind Kennedy, was a man whose schemes were going seriously agley in deepest, darkest Burns country, in the week of the anniversary of the poet's birth.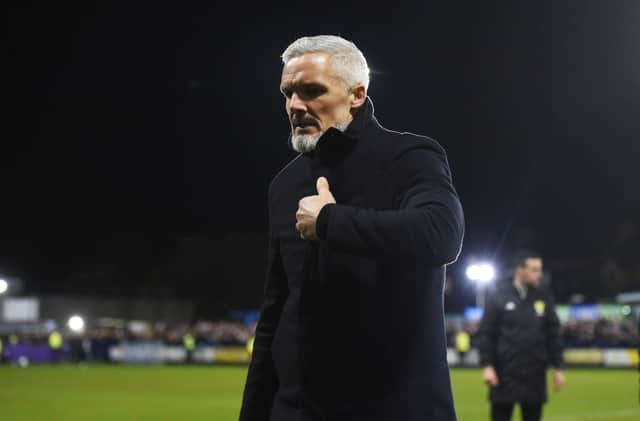 "Everyone loves a shock and everyone loves an underdog," isn't one of Burns' lines. It's from another son of Ayrshire, Craig Brown. The Aberdeen ambassador was another caught in the line of camera just two days after releasing a clip wishing Stirling University, the side his grandson used to captain, all the very best against Dundee United. Everyone loves a shock, he told them. Two days later, he was in the teeth of one.
Brown knows what Goodwin will be going through as well as anyone. And Goodwin himself will accept that there's a sense of inevitability that his time at Pittodrie is coming to an end already. It seems just a matter of when. It might be different if the Darvel debacle was being treated in isolation, and, even then, it is hard to see a manager surviving such a pratfall.
Sometimes a result feels so seismic, so overarching, that it renders it impossible for the person responsible for team affairs to continue. That proved the case with Jack Ross earlier this season, in the wake of Dundee United's 9-0 defeat to Celtic. Goodwin could stumble on, but Darvel will cast a long, long shadow.