Some of Spain's players incurred the wrath of the Scotland fans for theatrical falls, notably Joselu who twice went down in the box in dramatic fashion, and Pedro Porro, who rolled in agony after a clash for which Andy Robertson received a yellow card.
As Scots celebrated a famous win, we look at how the Spanish media reacted.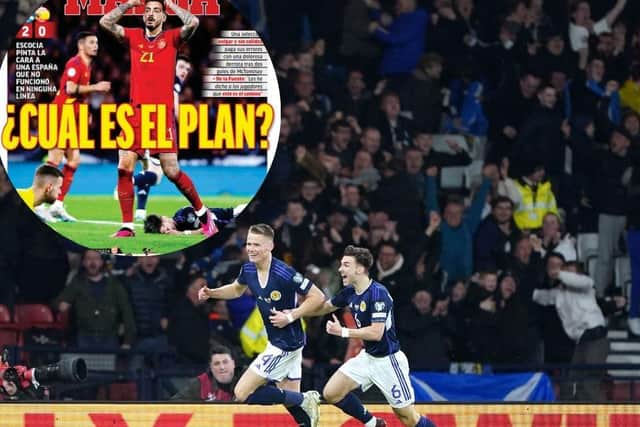 "Thank good­ness for the sacred places like Hamp­den Park. Just listen­ing at Flower of Scot­land in the temple of Scot­tish foot­ball is worthy of kings. How lucky are the Scots, with their bag­pipes, their paper pro­grams and their people who go to foot­ball to watch foot­ball?"
Their match report read: "A very bad start from Spain, could have been worse when the defence opened up like the sea to Moses for Christie to almost make it 2-0 with Scot­land's aggress­ive­ness eat­ing Spain."
Marca was also critical of the right back Pedro Porro, who attracted the ire of the Scottish fans after going down theatrically in the first half.
"We have already said that the goals with which Scot­land scored came from mis­takes by the right-back, first Pedro Porro and then Dani Carva­jal. That is a pos­i­tion in which Spain has long had a very ser­i­ous prob­lem.
"Carva­jal has never come close with Spain to what he has achieved at Mad­rid. It's evid­ent. See­ing what these two players offered in Glas­gow leaves the ques­tion of how is Nacho was not that the most appro­pri­ate answer to play"
'Few expected him to do it again'
Spanish newspaper El Pais hailed the impact of two-goal hero Scott McTominay. They wrote: "Spain's players were warned after McTominay scored two late goals in Scotland's opening win over over Cyprus.
"But few expected him to do it again against a team that had not lost a European qualifying game since a 2-1 loss to Slovakia ahead of the 2016 tournament. Spain had not lost to Scotland since Maurice Johnston scored two and Kenny Dalglish added another in a 3-1 World Cup qualifier in November 1984."
The report also questioned the changes to the lineup: "New Spain coach Luis de la Fuente made eight changes to the lineup to the team that started Euro 2024 qualifying with a 3-0 win over Norway. "
Nothing remains of Luis Enrique era
El Mundo criticised the style of the Spanish side writing: "Spain is worse than Scotland if they play like Scotland. Nothing remains of the Luis Enrique era. There are leaders who build and self-destruct at the same rate."
Rodri criticised Scotland's "rubbish" approach but the midfielder was quick to defend his side in the Spanish press telling Spanish TV channel Teledeporte. "We do not want to start with doubts because we are working, trying and we have done many things well. We all win and we all lose. Working hard, we are sure we will improve."