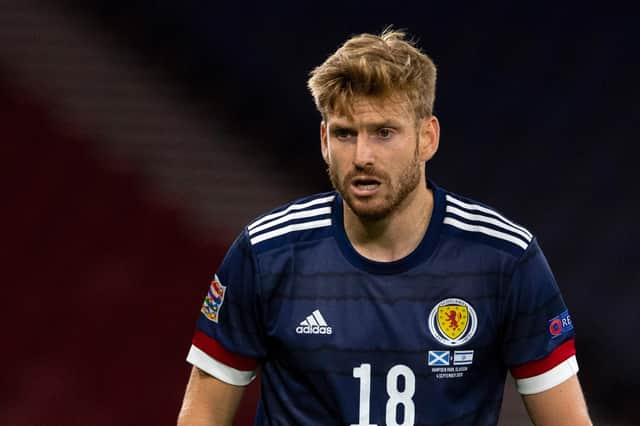 Stuart Armstrong has tested positive for Covid-19 and will self-isolate along with two other players
Two other squad members as well as a member of the physiotherapy team and a masseur are also self-isolating owing to close contact with the midfielder although no other members of the national team playing or backroom staff has tested positive.
The three playres will now miss the triple-header against Israel, Slovakia, and the Czech Republic. We take a look at what this means...
What exactly is happening?
Professional footballers are regularly tested for coronavirus and in the most recent round of tests carried out on the Scotland national team, Southampton midfielder Stuart Armstrong returned a positive test and will self-isolate for ten days from the date of the test (October 6).
He will miss the Euro 2020 play-off against Israel and Nations League matches against Slovakia and Czech Republic.
Ryan Christie and Kieran Tierney will also self-isolate after being identified as close contacts along with a member of the physiotherapy team, and a masseur.
What does it mean for the three players and the Scotland squad as a whole?
For a start, it gives manager Steve Clarke a selection dilemma – especially with Oliver Burke, Scott McKenna, and Liam Palmer out through injury – but the measures taken will hopefully keep the wider group safe and healthy.
Thursday's game will go ahead as scheduled at Hampden Park behind closed doors as all other players have returned two rounds of negative tests.
For how long do players have to self-isolate?
Ten days for a positive test, 14 days for an individual considered to be a close contact.
Why haven't Scotland had to forfeit the game?
Forfar Athletic and Kilmarnock were forced to forfeit their involvement in Betfred Cup ties against Dundee and Falkirk respectively, in line with SPFL rules.
The Rugby Park side's entire first-team squad was advised to self-isolate following six positive Covid-19 tests. While the club theoretically could have played the fixture fielding their Under-18 side, manager Alex Dyer opted not to do so.
In Forfar's case one player returned a positive result but the club was forced to pull out of their tie with Dundee because the Test and Protect process wouldn't have been completed in time for the Tuesday night match.
In Scotland's case the process has been completed in advance of the fixture and there are enough players to field a team plus substitutes.
Are club matches affected?
Yes. Armstrong's ten-day isolation period will last from October 6 to October 16, so in theory he could be involved in Southampton's trip to Chelsea on October 17.
Christie, however, will miss the Old Firm clash on October 17 while Tierney will have to sit out Arsenal's visit to Manchester City on the same day.
What has the Scottish FA said?
Scottish FA Chief Executive Ian Maxwell said: "We will maintain constant dialogue with Dr John MacLean [team doctor] to ensure that those who are required to self-isolate are given the full support of the Scottish FA in conjunction with their clubs and employers.
"Equally, the protocols and procedures in place are designed to ensure that the remaining members of the squad can continue to prepare for the forthcoming matches in a safe and secure environment."