The Steven Caulker conundrum and sourcing players for Scotland
In an extract from Nutmeg Gordon Cairns explains why you want players eligible for Scotland to do well at club level, but not that well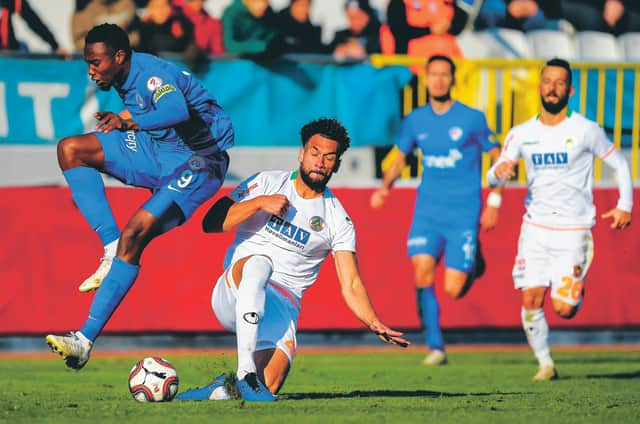 Steven Caulker is now playing in Turkey for Alanyaspor . Picture: Hollandse Hoogte/Shutterstock
Admittedly, it's an unusual pastime. Following the weekly performance of a player at domestic level as an indicator of their international prospects is a fairly common practice – but hoping those players don't excel in club colours might seem perverse, especially if you want to see them line up for your country.
However, when players have a number of international options, at least one of which is more attractive than playing for Scotland – the bar can be set pretty low – you may understand why I want Che Adams, Angus Gunn et al to be good, but not that good.
Not that good, that is to say, until they commit to Scotland and suddenly develop into international-class players, hoping to follow in the bootsteps of a Scott McTominay rather than a Scott Dobie.
Steven Caulker has already played - and scored - for England but could yet switch sides. Picture: Michael Regan/Getty Images
This is what I have come to term the "Caulker Conundrum" and it plays out the same as when a player joins your club on loan. Of course, you want him to be successful and improve the team but, if he is too successful, then he will be lost to your club; either recalled to the parent outfit or sold by them at a price you just can't afford.
As soon as Anthony Stokes started breaking all sorts of scoring records for Falkirk in 2006, the Bairns must have been cursing him, knowing Arsenal wouldn't grant a loan extension, and he was quickly sold on to Sunderland. And just as it tends to be smaller teams borrowing prospects from larger clubs, it is often a bigger or more successful nation that Scotland has to compete with for dual-nationality players.
Yet, in a distinct role reversal last autumn, English-born centre-half Steven Caulker decided that he would like to represent Scotland at international level and contacted assistant manager Steven Reid asking to be considered. Previously, at different stages in his career, Caulker had been approached by various Scotland managers who were aware of his Scottish grandmother, but it's unlikely he gave it much thought until the nation and his club career aligned, and the Caulker Conundrum came into play.
Imagine a graph where one axis maps the career path of a player who could play either for Scotland or another nation, and the Scottish national team's fortunes, while the other axis charts a period of time.
Steven Caulker in action for Dundee. Picture: SNS
In the golden era of the 1970s, as our graph rose steadily upwards, two players who had won English First Division championships with their respective clubs, David Harvey and Bruce Rioch, both chose Scotland over England, their country of birth. But, as our fortunes plummeted, so did the quality of players willing to pick Scotland over anyone else, hence Robbie Stockdale, Jay McEveley and (the other) Andy Gray gaining caps in dark blue.
And, if we chart the career of Caulker over the last ten years on this same graph, we can best illustrate the conundrum named after him, where his trajectory and Scotland's have gone in wildly different directions.
At the start of the decade, Caulker, who represented his country of birth across the age groups, was playing for Tottenham Hotspur while Scotland manager Craig Levein was experimenting without a striker against the Czech Republic, with predictable results.
In 2012, Caulker became Cardiff's record signing while playing in the Premier League, and scored on his full England debut in a friendly against Sweden. The closest he came to representing Scotland was being picked for Team GB in that summer's Olympics.
Meanwhile, Scotland lost 5-1 to the United States that same summer, fielding five different central defenders during the friendly encounter.
However, due to a number of reasons, Caulker didn't fulfil his early potential and, by the time he was signed by Dundee – struggling at the foot of the SPFL Premiership – in 2018, his career trajectory was actually below Scotland's, who were still on a high after a valiant attempt to qualify for the World Cup.
Now playing for Alanyaspor, in contention for a European spot in the Turkish Super Lig, Caulker has relaunched his graph upwards, and just might put himself into the frame for a centre-half-strapped Scotland squad alongside Leeds United defender Liam Cooper – another not good enough for England.
The Caulker Conundrum also works in reverse, where players fall short of Scotland standard – yes, really – and dig around their family tree in search of another country.
In a veiled threat to current Scotland boss Steve Clarke, Shrewsbury Town striker Jason Cummings, who made his international debut in a friendly against the Netherlands when he was on loan at Rangers from Nottingham Forest, has said he could choose to play for the country of his grandfather, Australia, if he continues to be ignored by Scotland.
And then there is the current dip in form of Angus Gunn, who had rejected all of Scotland's entreaties and was seemingly well out of our league as his career went from strength to strength. That is until he was dropped by Southampton after letting in nine goals against Leicester City earlier this season.
Perhaps a follow-up call from Clarke, catching him at a moment when he is questioning his abilities, might make him change his mind and follow his father Bryan into the goalkeeper's jersey of Scotland.
Also at Southampton, Che Adams is ideally placed on the Caulker Conundrum scale to play for Scotland immediately. He fulfils the criteria of being able to score well into double figures in the English Championship but not able to replicate that record in the higher division, in the same vein as Oli McBurnie (so far), Jordan Rhodes or Matt Phillips.
As soon as Adams realises he is the right fit for the country of his grandfather, and not that of his father – Antigua and Barbuda – maybe he, too, can disappoint in a Scotland jersey.
Not every dual-nationality player slots neatly into the Caulker Conundrum graph, as the upward career trajectory of McTominay attests.
If Alex McLeish hadn't shown the foresight to have Manchester United's holding midfielder commit to Scotland, then he could have by now quite possibly been performing that function for England. However, either McLeish's astuteness or McTominay's rashness meant that he was secured before normal rules applied.
Of course, the Caulker Conundrum doesn't factor in patriotism, and perhaps it is overly cynical to think that players want to play for the country that will most likely bring success and greater image rights than the country they feel a deep affinity for.
But, when a player turns down the chance of playing for Scotland "for now", as Adams did last year, you have to wonder what is going to change in their lives to choose us? A sudden liking for the taste of shortbread or developing a dourness of character, perhaps?
Yet, the Scottish national team could have an ace up its sleeve, thanks to Boris Johnson "getting Brexit done".
In a future scenario, where Scotland becomes independent, then rejoins the EU, a Scottish passport might have an added value, allowing players to work anywhere in Europe without a visa, while colleagues from the UK would have to apply for work permits to play abroad.
Could a grateful team of
 newly-passported Scots make us a better international proposition than our near neighbours?
In the meantime, we need to continue to search for the dual-nationality players whose careers are merely coasting along, and hope that the likes of Celtic wonder-kid Karamoko Dembele – who has opted for England over Scotland – sees his career stall before that first Three Lions cap.
This feature appears in Issue 15 of Nutmeg, a long-form publication devoted entirely to every aspect of Scottish football. It is published quarterly and is available via subscription at www.nutmegmagazine.co.uk
Want to join the conversation? Please or to comment on this article.