Scotland boss Steve Clarke on why "the football gods owed me"
The football gods have not always been kind to Steve Clarke. This could be discerned from the run-up to Thursday night's play-off drama, when the Scotland manager was deprived of six squad members, four of whom may well have started against Israel.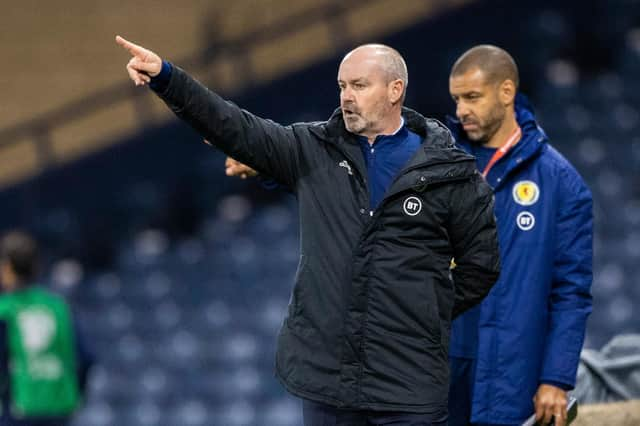 Scotland manager Steve Clarke points the way during the Euro 2020 play-off between Scotland and Israel at Hampden Park (Photo by Craig Williamson / SNS Group)
Clarke might also have shaken his fist at the skies when Scott McTominay's header curled just wide of Ofir Marciano's upright on the stroke of half-time. And then again when Liam Cooper's header bashed back off a post in the dying moments of extra-time.
So, unless one took the view that Clarke was overdue some fortune, it was easy to fear the worst when referee Ovidiu Hategan blew his final, final whistle almost immediately afterwards to signal the need for a penalty shoot-out, Scotland's first-ever.
Clarke was less fatalistic. For one thing, he knew Scotland had prepared for this eventuality, not that this is any guarantee of success in such a situation. He was also putting faith in divine, merciful justice – an admittedly heavy concept as he stood on a touchline inside Hampden long after 10pm on a chilly autumn night.
He had just watched a game which confirmed the absence of any order whatsoever in the universe. This contest, all 120 mind-numbing minutes of it, served to underline the very futility of existence.
The onset of penalties put paid to such existential anguish. There had to be a winner. While luck would still play a part, Clarke was a sanguine observer. Goalkeeper David Marshall had done his homework, the allocated takers, along with every other outfield player, had all been getting their eye in from 12 yards out after training earlier this week, just in case.
Clarke also recollected his last involvement in a penalty shoot-out at the Champions League final on a sodden night in Moscow 12 years earlier.
It is an occasion best remembered for Chelsea skipper John Terry's unfortunate slip as he stepped up to take his side's fifth penalty against Manchester United. His effort thereupon hit the post – had he scored, Chelsea would have won. It's often forgotten that four further penalties were taken, with Nicolas Anelka's later miss – Edwin van der Sar pulled off a save – proving the decisive moment.
Clarke, Avram Grant's assistant at the time, could take no pleasure from his seeing his compatriot Alex Ferguson taste glory in Russia as he lifted the Champions League trophy for a second time. But he might have been consoled had he known there would be some payback for the pain at a similarly crucial moment a dozen years down the line, when he – and Scotland – really needed it. A trip to face Serbia in the play-off final for Euro 2020 was the precious prize on offer.
Let's face it, had Scotland lost the shoot-out, had Kenny McLean or someone else slipped while in the process of taking a penalty, had David Marshall not leapt to his right to block Eran Zahavi's effort, the Scots' very moderate performance would have been cast up to decry Clarke. He needed his players to hold their nerve, he was desperate for the gods to give him a break.
"To be fair, football owed me one in a shootout after the last one I was involved in before Thursday night," acknowledged Clarke. "I was at Chelsea when John Terry slipped and missed what would have been the winning penalty for us. It was nice to come out on the right side of a shootout this time."
Unlike England, Scotland are masters at such situations. They boast a 100 per cent record – one penalty shoot-out, one win. Clarke was always confident there would be no future pizza adverts featuring any of his players. Defeat did not enter his thinking. "That didn't cross my mind," he said. "I knew the character that was on the pitch. I knew the lads were determined to do it."
He paid tribute to how his players had reacted to the hurdles over and above one of the ultimate tests of a footballer's nerve – the penalty shoot-out. Several were only playing because of injury and illness, with Stuart Armstrong's positive Covid-19 test having been a particularly unwelcome bulletin of news, since it robbed Clarke of Kieran Tierney and Ryan Christie, both certain starters, as well.
"Everything that was put in front of us this week could be classed as an obstacle," said Clarke. "But I said it was a big chance for people to step into the game."
He described one of those promoted, Stephen O'Donnell, as "excellent". His former Kilmarnock charge stuck to his task at right wingback despite his obvious limitations. Clarke also paid tribute to his back three, two of whom would probably not have started had Tierney and Scott McKenna been available.
"Declan Gallagher played in the middle of a back three that people say we can't play," said Clarke, bullishly. "Our three centre backs - McTominay, Gallagher and Cooper - were all excellent. We were strong in midfield too."
He acknowledged one very obvious problem continues to be in attack, although the circumstances – with both teams programmed not to concede on a tense night – were one reason for this lack of potency, on the part of both sides. Clarke now has time – and two more games, against Slovakia and Czech Republic – to get it right, prior to next month's trip to Belgrade.
Want to join the conversation? Please or to comment on this article.