Iain McMenemy: Great to be back - but it's crowds or cash because communities need clubs
As the new season finally kicks-off for teams in the Scottish Championship, Leagues 1 and 2, I'll admit that there have been times when I didn't think this was going to happen.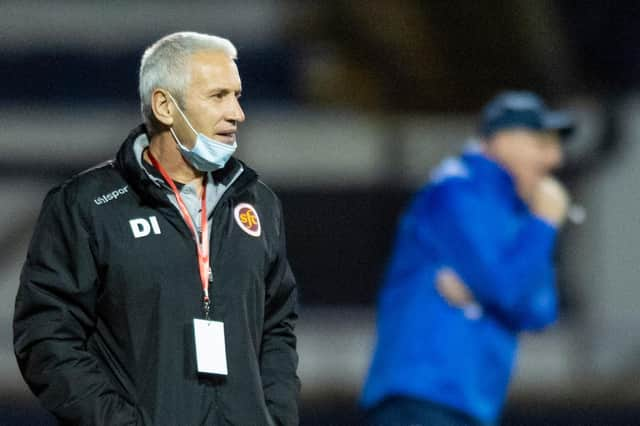 Stenhousemuir boss David Irons takes his team to Edinburgh City today.
As recently as Wednesday this week, I still had my doubts.
There was some chatter starting to emerge that the circuit-breaker was going to include sports for over-18s, and this gave many of us cause for concern. The clubs that were shelling out for testing were particularly concerned.
As the First Minister addressed Parliament and made her announcement, at the point where she confirmed that contact sport was to be suspended, our hearts sank. However, when she confirmed that professional sports would be exempt, this came as a huge relief.
It means we have finally reached the end of pre-season and we are underway this weekend.
At Stenhousemuir, this will be our first competitive fixture since early March when we take on Edinburgh City at Ainslie Park. They have already played competitively, going down 5-1 to Livingston in their group opener. With a handful of pre-season friendlies under our belt, we are in good form, but nothing compares to competitive matches where points means prizes.
Unfortunately, there won't be any fans in grounds and games are all closed door. Regular readers of this column will know I've long rehearsed the devastating impact this will have on club finances, and the negative impact it has on the quality and spirit of the game played on the pitch. For the time being though, we just need to get on with it.
As I think back over the last seven months, there have been a number of times where I really did doubt that we'd get going again. I remember back in March suggesting that the pyramid playoffs be suspended as I felt the damage that would be inflicted upon clubs at all levels could be devastating and take years to recover from. I wasn't sure if all leagues would be able to restart.
Here we are, six months or so later, and whilst all teams in the SPFL are starting, uncertainty hangs over clubs in the leagues further down the pyramid.
So whilst I'm obviously pleased to see our games continue, I feel very sorry for colleagues in any of the leagues below that are unable to start. The Highland League has entered the Betfred Cup, but won't kick off their season until towards the end of November. Many other teams won't be starting for some time yet including those in the amateur game and the women's lower divisions.
All that planning and preparation, and yet the final decisions are taken out of their hands.
Every club has a community, and those communities need their clubs. For the sake of our mental health and wellbeing, the First Minister quite rightly held back from locking us back up in our homes or imposing travel restrictions. Society cannot endure that again so soon. But where can we go? I still haven't seen the evidence to suggest that a couple of hundred local people walking to their local football club, to sit or stand socially distanced, wearing masks, is a high risk practice that should continue to be banned.
But sitting indoors in hospitality venues has been okay? It's the lack of common sense and consistency that is the main contributary factor in losing the trust and support of the population to follow the rules.
For football, the choice for Government is stark and clear, it's crowds or cash. Either let small crowds of even a few hundred back into games, or there needs to be financial support.
I've tried to make this point to anyone that will listen. Over the last week or so, I've been contacted by two politicians. As has been widely noted in these pages this week, the leader of the Scottish Conservatives Douglas Ross asked to meet clubs to hear concerns, and the SNP MSP Fulton MacGregor contacted me for information for a Parliamentary motion and debate to be held in the Scottish Parliament. I was delighted to do what I could for both of them. I am grateful to them both for reaching out.
It was particularly pleasing to see Fulton's debate achieve support from MSPs from a number of different political parties. Football has the power to transcend politics, position, and social class. It can tackle isolation, mental health, inequality and wellbeing. It is indeed, a cause worth fighting for. I would ask all politicians out there to engage with football to understand the issues.
It's more than a game on a Saturday afternoon. Clubs of all sizes, from the biggest to the smallest have been serving their communities throughout this pandemic. This includes clubs in the professional leagues and those outside. Clubs set out to help others, and are valued by many people who needed help throughout this pandemic. That work is by no means over.
It goes without saying that we have a difficult winter to get through, and society's citizens will continue to need support. Whether that's Saturday entertainment where we can forget about the virus for 90 minutes, or whether its club volunteers doing the shopping for the most vulnerable, this isn't the time to let football clubs wither and die.
If the Government is listening, it's crowds or cash, for clubs at all levels. Keep clubs in communities, because communities need their clubs.