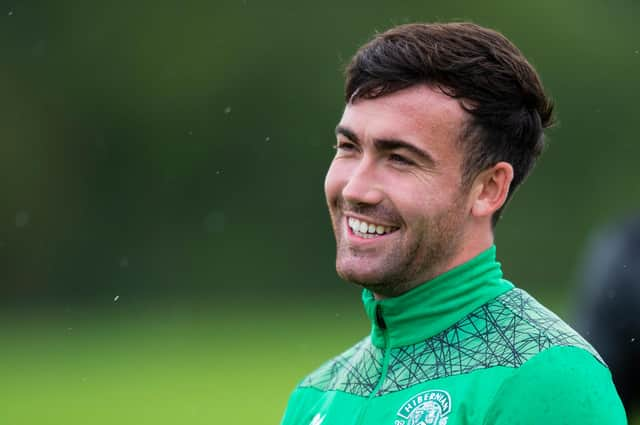 Stevie Mallan is hoping to build on his first competitive start of the season. Photo by Mark Scates / SNS Group
After aggravating a knee injury at the end of last year, and undergoing an operation to clean up his cartilage, the 24-year-old has had to bide his time as his projected comeback was put on hold by the prolonged period of lockdown and the curtailment of last term.
Back for a new term, he has had to make do with cameo appearances from the bench and while he understands why, given the positive start made by guys like Joe Newell and Alex Gogic in the middle of the park, he concedes he has become increasingly impatient for the opportunity to prove his worth and has shown little reticence in sharing that news with the manager he played under at St Mirren before fate brought them back together in Leith.
Knocking on Ross' door
"For anyone in my circumstance it's a bit frustrating. I was out for seven months, came back in good shape and it has been a frustrating time trying to get back in the team but it just shows you how the boys are doing.
"I'm always chapping the door of the manager and telling him I want to be in the team and I want to be involved. The manager has spoken to me on numerous occasions, and I know it's hard to get into a team that's playing well. He can't start dropping boys who are playing well, the likes of Gogic have come in from the start and are flying, Joe came back really well.
"The manager has always said if someone slips up I'll be in contention so as bad as it sounds, you're waiting on someone slipping up but you want the team to do well and keep pushing forward and keep pushing for that third spot so it's got to be a waiting game."
No easy challenge
Ross has worked hard to address the midfield imbalance that undermined Hibs last term. Signing Gogic has gone a long way to doing that but it has limited the remaining number of vacancies across the middle of the park. Keen to play two up front and with width important to him, that leaves just one, maybe two more openings in the central area, depending on whether he opts for a three or four-man defence.
With a glut of midfield personnel, including latest signings Stephen McGinn and Kyle Magennis, Mallan's desire to stake his claim and his competitive spirit have been inflamed but Newell has been the man chosen to complement the former Hamilton anchorman, and with results so far taking them into third spot, behind Rangers and Celtic, the task of forcing his way into the side has grown tougher and tougher.
"It's just more competition," he says, of the increasing numbers but unflinchingly singular goal. "Obviously it can be frustrating sometimes seeing guys come in and you have to battle with them for places but it genuinely just makes you work harder. The manager spoke to me before he brought Kyle in.
"Me and Kyle are two totally different players, and he said we needed an extra player in midfield for injuries etc, but like I said, it's just more competition for places.
"The manager changes between formations, so there's always a chance for midfielders to come in so it means that every day in training we have to be on our toes. When you have been out for a while, I think you concentrate on training more anyway. I think when you are starting every week, you kind of take your foot off the gas a bit but the standard at the moment is probably the highest I've been involved with since I started playing football because there's not just myself, there's guys like Melker [Hallberg], Drey Wright has been in and out, David Gray, Darren McGregor, all them are champing at the bit to get in the team and it just shows the standard. Everyone's kicking, battering the manager's door in to get in and that's the sign of a good team, boys who are pushing the starting eleven. That's the case even more so now."
Taking any chance
The Hibs manager has made it clear that he plans to use the Betfred Cup group games to give players who have been on the outskirts the opportunity to get some competitive game time under their belts and push for their ongoing inclusion when the Premiership business resumes.
After all his badgering Mallan made a bold start to his bid, slotting away two goals in the opening 11 minutes of his first start, against Brora Rangers, and while Ross alluded to more squad rotation come Saturday's kick-off against Cove Rangers, Mallan is hoping he has done enough to earn another run out.
"It's been a while since I've been involved in a full, high-quality match and it's a good feeling to get off the mark and hopefully I can get into the team on Saturday.
"The way I've been training, I've obviously been working hard and itching to get in the team, so the manager told me to go out there and play with a bit of freedom and show the quality that I have and you can't ask for any more than getting a couple of goals. I was actually really relieved that I got them in the first 10/15 minutes and then grab an assist at the end."