Ryan Porteous £20m price tag vindicated as Hibs hope for sizeable sell-on fee
Ryan Porteous' former manager labelled him a £20million player before he had even moved to Watford. And, having watched him shine in the recent international double-header for Scotland, Hibs boss Lee Johnson feels his valuation has been validated.
Steeling himself for the loss of the 23-year-old in the January transfer window, Johnson spoke highly of the player who had earned rave reviews for his performance during his Scotland debut, against Ukraine back in Septembr. The game ended 0-0 and the clean sheet helped the country clinch promotion to the top tier of the Nations League.
Attracting attention from down south as well as Italy and France, Porteous eventually opted for Watford and hit the ground running. He also returned to Steve Clarke's Scotland line up for Saturday's 3-0 win over Cyprus and Tuesday's stand-out 2-0 result against Spain. And, while Hibs missed out on a massive fee, having let his contract move into the final year, shrewd negotiations secured a sell-on clause guaranteeing them around 20 per cent. That means Johnson will be delighted if Porteous does go on to command a big money move in the future.
"Ryan has always been a good player. I just think perceptions change," said Johnson of the surge in positivity towards the defender. "And, I feel that a new environment where he's training with better athletes – that Watford squad is strong in terms of the players' athletic nature – can help.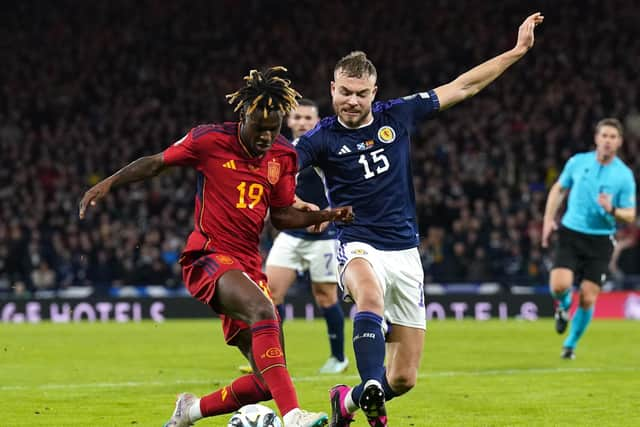 "We worked hard on Ryan's concentration, and he worked hard on it as well – if you look at this season as a whole he didn't get sent off once and when he was booked, a lot of them were harsh. He was controlled. Yes, I was asking him to step in and make bold decisions because I believed in him on the ball, but it was something we worked hard on, having that fire in the belly and ice in the head. That's just a case of the player maturing. We gave him leadership responsibilities and all those things started to come out naturally in his game, but also because he was working on them.
"I would never take the credit for a player improving but it's a journey that they're on and sometimes the perception is not the reality but it becomes the reality because of the media, the referees, or anyone who has a perception. From what I've seen, he's been very consistent in terms of his progression."
When he tipped Porteous to become a £20m player, some thought Johnson was simply inflating the price tag ahead of January negotiations, but he says there can be no disputing it now. "He probably already is [worth that]," said Johnson. "Absolutely. I have sold players, well the clubs I've been at have, and he is as good as any of them; Alfie Mawson for £5.5m, Lloyd Kelly £22.5m, Adam Webster £25m, Aden Flint £7m. . All are centre-halves, so I have a really good concept of centre-halves, their value and how they can step in. If someone big came in for him now then what's the price? Often it depends what environment you put them in. On an international stage, against Spain, there is that realistic value. And, I hope he does go for big money because of our sell-on!"