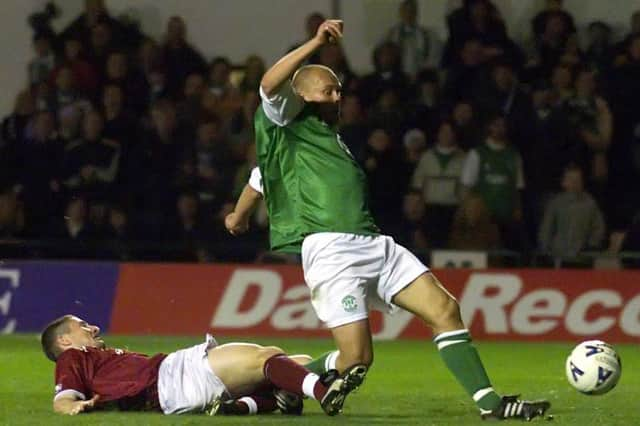 Mixu Paatelainen completes his hat-trick as Hibs go on to defeat city rivals Hearts 6-2. Photo by SNS Group
Ask Mixu Paatelainen to pick his most memorable goal from Hibs' 6-2 demolition of Hearts, under the floodlights, at Easter Road, on October 22, 2000, and the Finnish striker selects the one scored by the mercurial Russell Latapy.
"Russell's goal was special," says Paatelainen from his current home in Hong Kong, where he manages the national team. "I remember the link up play for that one.
"Russell and I were very good friends – we still are – and we played well together. If he got the ball a little deeper, he was always looking for me, and if I got the ball, I would hold it up for him to make the run. That time it happened in the box and he found me and I volleyed it back to him and he hit a fabulous volley into the goal. So that one I remember well."
It seems inadequate to describe it as the goal that wrapped up Hibs' scoring that evening. In a game that just kept giving for the Leith club and their fans, that was more like the bow on top.
A side who had been 1-0 down after five minutes, Andy Kirk's near post finish proved a wake-up call. But, although Alex McLeish's side improved their level of performance, they had to deal with having their opening effort chalked off by referee Hugh Dallas, who penalised Paatelainen for a foul on Hearts' Steven Pressley as he rose above him to head past Antti Niemi.
There was character in abundance in that Hibs team, though, and the home side rocked their guests with a quick one-two just before half-time to go in at the interval 2-1 up.
"They were a couple of scrappy goals," recalls the Hibs striker in self-deprecating form. "But, hey, any goal is a good goal for a striker."
Coming when they did, they were also vitally important. Just three minutes from half-time, he made space for himself and when the ball was delivered into the box, he stepped in to smash home the equaliser from close range. Then, just a minute later he gave Hibs the lead as Latapy's cross was swung in from the flank and Ulrik Larsen knocked it down for Paatelainen to stab over the line.
Two thirds of his way towards his hat-trick – the first by a Hibs player to do so in a derby match since Pat Quinn in 1967 – he took a temporary backseat to allow his strike partner David Zitelli to run onto a Latapy through ball and extend Hibs' lead, before the Finn slid in to make it four and earned himself the match ball he still has, along with the Man of the Match champagne bottle.
John O'Neil had provided the cross for that one and the midfielder added his own name to the scoresheet shortly afterwards when Hearts could only clear a corner as far as the edge of the area where the former St Johnstone man was waiting to fire him.
Then came that Latapy volley before Colin Cameron pulled one back – but it could never be described as any kind of consolation.
"I can't believe it was 20 years ago," says Paatelainen, who still ranks that performance, that result and the team spirit in that squad, as among the best he has experienced in his career.
"It was a wonderful night. It is a game Hibs fans always want to talk about, sometimes Hearts fans too. They just say different things.
"I have golf buddies who are Hearts fans and we play whenever I am in Scotland and they always tell me what a b****** I am for that game!"
It was a night everything went right for us. We had good players and a good manager and every player is always up for those games. So it was a special game."
Hibs had a quality squad for the 2000/2001 campaign and a well-balanced team, capable of turning defence into attack swiftly, with a useful mix of athleticism, footballing intelligence, energy, vision, team-work, inch perfect supply and a complementary strikeforce that thrived on the battle and on goals.
The club's second season back in the top flight after their 'great adventure', there had been some shrewd acquisitions.
Guys, for example, like Ulrik Laursen. "I saw him when I was scouting in Denmark and couldn't believe my eyes so I immediately called Rod Petrie and told him to get him signed. And, thankfully, he did," recalls then manager Alex McLeish, who also landed Paul Fenwick, who he describes as an "unsung hero", Gary Smith, who was "a nice player and good to work with", John O'Neil, "another unsung hero" who was the ideal foil alongside Mathias Jack and Russell Latapy in the central midfield three, and David Zitelli, who "was an intelligent player who settled in quickly".
When added to assets and established stars like Franck Sauzee, Stuart Lovell and Paatelainen, there was a confidence and a determination not to be the weak link.
"They brought out the best in each other and there were a lot of winners, a lot of big characters in that dressing room," says McLeish. "We were super-efficient and we played a forward-thinking 3-5-2. That suited us that night. We were at home, the noise levels were amazing and we had Mixu, who was at the peak of his career."
Having started the season well, there was talk of McLeish's men as possible title challengers. In the eleven games played until that point, they had lost just once – to Celtic – and drawn twice. The week prior to the Easter Road derby they had defeated Rangers and if that boosted their self-belief, the comments made by Rangers boss Dick Advocaat in the wake of that game galvanised their resolve. Writing off their chances of keeping pace with the Old Firm, he gave Hibs something to prove.
"As a manager, you can smell confidence in a dressing room and I knew the players were on a high so when Dick wrote them off I didn't really have to say anything," recalls McLeish. "I knew that had probably annoyed them. It was one of those times when an opposition manager did my team-talk for me."
"It is always the same when it was the derby," recounts Paatelainen. "The fans would start talking about it not just the week before the game but two or three weeks before it. They wanted to win those games.
"They had suffered bad times against Hearts in the past but we were not interested in what had happened before. We knew these games were like cup finals. They were never just another game, they were special games. They were the ones you wanted to play in, we were excited and we had a strong mentality so when the fans were talking about it in the build up and talking about the need to win, we fed into that."
"Alex is being very humble," responds Paatelainen. "He was the one who created that team and that squad and I know now, as a coach, how important it is to get the right balance and the right character.
"But that was a fantastic team, with players who had played in top teams, in top leagues outwith Scotland.
"On the pitch we worked well together and we believed in each other. We weren't worried about the other teams and we knew we had talent. That season, especially, we had a strong bond and it was possibly the best team and team spirit I have ever had as a player or manager.
"Alex was very important in identifying the right players and bringing us all together and the way he asked us to play and the formation, he knew how to get the best from that team and against Hearts that day it all came together. It was probably the best game for that. Everything clicked."
"Credit to the players for the way they reacted when we went behind after five minutes. There were a number of inspiring players in that team, a lot of larger than life characters," says McLeish.
"You couldn't say that Hearts taking the lead was against the run of play, because it was so early in the game. One of the things we always told the players was to be on their toes at the start of every game because some teams come at you like a rocket. But that night we started slack and they caught us cold.
"Then we scored but it didn't count and it was like I had a negative parrot on one shoulder saying: 'The Jambos have a jinx over you'. Luckily I had a positive parrot on my other shoulder and he was reminding me that we were in such great form, full of confidence and that we had strong characters, good players, and it was early enough to get back into it!"
"In those days, we didn't fear Hearts," says Paatelainen. "They were difficult opponents, we knew that but we never feared them. We were very confident at that time, we knew we had good players and we knew we could come back at them. We got a couple of scrappy goals before half time and then another just after the break and we never looked back. We were very dangerous on the transition and in the second half we ran the show."
"I watched the game recently and it was lovely to see just how many chances we had," adds McLeish. "I was watching highlights and thinking 'here comes the fourth or the fifth or the sixth' but it was another chance that was saved or we didn't score and I was watching it thinking about how many more we could have scored. We could definitely have got a few more. It could have been 10!
"As a manager you never really relax or enjoy a game until it is over but that was one I could enjoy before the final whistle.
"I have been on the other end of that as a player and you just want the game to end and to get out of there. You could see that in the Hearts players'. They were frightened we were going to score another two or three and they just wanted the final whistle."
And it could have been much worse for the Gorgie side. As Hibs came at them time and again, goalkeeper Antti Niemi kept it to six, with team-mates and rivals agreeing that he prevented an even bigger mauling.
"Antti and I were 10 years room-mates for the Finland national team," explains Paatelainen. "We were good buddies and still are. We go fishing together when I am in Finland.
"After that game Antti and his family came to my house for a meal and beer and, as you can imagine, he was, understandably, very quiet until he finally got drunk!
"The amazing thing was that he was a goalkeeper who had lost six goals but he was still their best player. We saw that he got the highest marks of all the Hearts players and that says something about the goals that he saved. I told him that it showed it could have been much worse for them if it wasn't for my buddy."
"I wish I couldn't remember anything about that game but that's not the case," laments former Hearts defender and captain Steven Pressley, who admits that two decades has done little to dilute the pain of that result. "I remember that Antti kept the score down.
"I do think we were in a transitional period and we had a bit of a makeshift team that night but we had been relatively settled and happy with the way we handled the first 42 minutes so it's amazing to think how quickly games can change. They got two quick goals at just the right time and then they scored again just after half-time and we became totally dysfunctional.
"I have probably worked to blank it out but there would have been a lot of shouting and a few crossed words afterwards. You never enjoy losing to your main rivals.
"The thing I do remember is the next day because Jim [Jefferies], the defeated Hearts manager] ran us into the ground. It was a punishment and it old school and some people may not agree with that way of doing things but it served as a stark reminder of the standards expected at Hearts, especially in a derby match.
"We had a manager for whom the club meant, and still does mean, a great deal. We knew the result had an impact on the fans and on the players but I don't think I realised how much it impacts on a manager until I started coaching. Jim was devastated after that match and it's only now that I can understand just how devastated he was."
A message from the Editor: Thank you for reading this article. We're more reliant on your support than ever as the shift in consumer habits brought about by Coronavirus impacts our advertisers. If you haven't already, please consider supporting our sports coverage with a digital sports subscription