Hibs: Stephen McGinn gives fascinating insight into life with brothers John and Paul
Like every other fan, there was a degree of apprehension as Stephen McGinn waited for Scotland's Euro play-off penalty shoot-out against Israel to begin. But there was solace, he thought, in the fact that his wee brother John would not be stepping up to take one of them.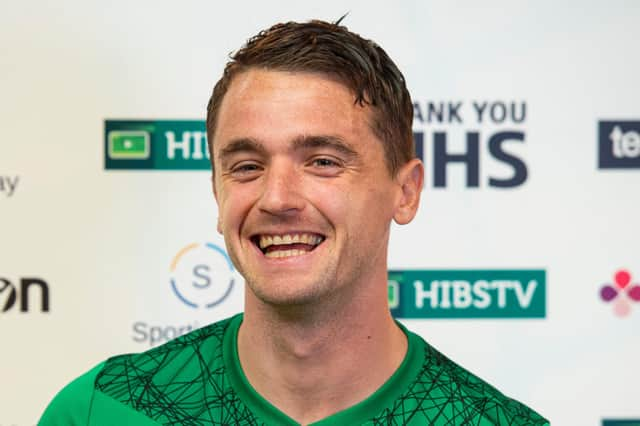 Stephen McGinn delighted to see his brother Paul join younger sibling John in the Scotland squad. Photo by Ross MacDonald / SNS Group
He was in for a shock, though, when, seconds later, the camera panned in on the Aston Villa midfielder walking up to place the ball on the spot!
"John told me after he missed against Brondby [for Hibs] that he was never taking one again," said Stephen. "He said that unless it went to sudden death he's no hitting one, and then he's first up!
"I'm thinking, Ofir [Marciano, the Israel and Hibs keeper] knows that's the way he goes as well but he just creeps it in. That sudden relief from 'aw naw, he's actually hitting one' to the relief of it going, it was quite sudden."
"I think from him saying he's not hitting one, that has got to be going through his head, but I'm delighted he's got that monkey off his back and it is probably testament to his character.
"I've been involved in penalty shoot-outs, and some boys just don't fancy it. Maybe you need a wee bit more confidence to put your hand up and say 'I'll hit one and I'll go first'. He did that and he manages just to get it in"
It gave Scotland the platform to progress and McGinn every reason to be proud of his youngest footballing sibling, but those feelings could be magnified if, as expected, the English Premier League star is joined on the pitch by the third McGinn brother, Paul, for the Nations League matches, against Slovakia on Sunday and then Czech Republic on Wednesday.
The Hibernian full-back was called into Steve Clarke's side after Covid, injuries and extra time took their toll on the squad, and the only negative as far as the eldest brother is concerned is that neither he or the rest of the family will be allowed into a fan-free Hampden to roar them on.
"The one big frustration will probably be if they both get a run out and we are not able to go. That would be a killer for my mum and dad, who normally go everywhere to watch.
"John has got to an unbelievable height, but the journey Paul has been on is so different. He was part-time, did different jobs, and to see him get to that level is immense pride.
"But my parents don't even speak to me any more. They just speak to them," he added with the kind of self-deprecation needed in a family where talent comes in abundance and good-natured sibling rivalry is rife.
"We are pretty competitive, well, me and John are, more than Paul. But it does drive you on, even now seeing Paul make the jump from St Mirren to Hibs and going up a level again and you don't want to just go and play games, I want to push myself. That's always been the case between the three of us, it's just John's that wee bit further away."
While both Paul ultimately followed John from St Mirren to Hibernian and then into the Scotland ranks, the 29-year-old has had to be patient, making stop offs at Queens Park, Dumbarton, Dundee, Chesterfield and Partick Thistle en route.
But, having shared in the journey, occupying a dressing room with his brother at Dens Park, Paisley and now Leith, he is pleased to see his brother get the recognition he says he deserves.
"Paul was always a clever boy at school then had a good job at Morgan Stanley. But he was doing quite well when I played down in England and just kept pushing the boundaries. He thought 'Stephen's doing it, John's doing it, so why not?'
"He was given an opportunity with Dundee in the Premiership and took to it. Jamie Murphy still talks about him being one of the toughest full-backs he played against in the league. He just kept pushing and improving and he's reached a level now where he is one of the most consistent full-backs in the league and it's testament to where he has come from, how hard he has worked and how he has stuck at it."
Statistically the best Scottish fullback in the Premiership this season, Paul is described as "a lot more quiet" by Stephen, while John, he says, "is a maniac!"
"But John will help him out, I'm sure. And Paul has a knack of being popular wherever he goes. He always manages to be more popular than me, so I'm sure he'll fit in!"
While they contend with international business, the oldest brother will be working to keep things ticking over at Hibs, first against Cove Rangers this afternoon and then up at Forfar on Tuesday as the Leith side look to build on a winning start to their Betfred Cup group.
The 31-year-old, who was signed on a one-year deal after training with the club over the summer, made his first start against Brora Rangers and is now just looking to make his mark before rivals for his midfield berth return from international competition of injury.
"I've been looking forward to the Betfred games as I knew there was a chance of Goga [Alex Gogic] getting called up and I would maybe get a game or two. I probably didn't realise how long it has been since my last game. It is a great feeling, getting back in."
Want to join the conversation? Please or to comment on this article.