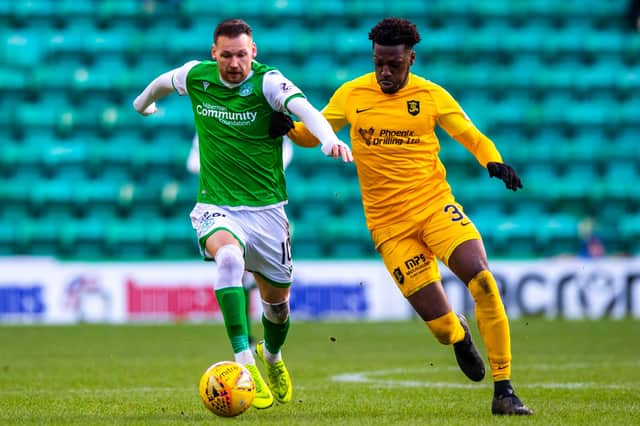 Martin Boyle and Steve Lawson in action during the Ladbrokes Premiership match between Hibernian and Livingston at Easter Road on February 22, 2020. (Photo by Alan Harvey / SNS Group)
Hibs winger Martin Boyle is looking forward to getting back on the training pitch for the first time since the coronavirus-enforced shutdown in mid-March.
He and the rest of the squad will report back to the club's East Mains training complex next Monday for the first day of pre-season ahead of the new Scottish Premiership campaign.
The players will all be tested and screened ahead of their June 22 return date as the Easter Road club take all precautions possible in order to ensure a safe return to action.
Measures such as social distancing, regular temperature checks and individuals washing their own kits mean the players will be returning to a very different world than the one they left behind in March.
Boyle, however, is simply excited to get back to work after the long lay-off.
"I'm not 100 per cent sure (what we're going back to), but we've had nothing for the past ten to 12 weeks so I'll just be glad to get back to anything," he said.
"I think we'll be split up into groups and I don't think we'll be allowed to be fully part of a squad. It's just going to be little numbers for the first few weeks until we see where the guidelines take us, and Hibs are obviously taking every protocol possible.
"I'm sure we'll be getting fitness tests, and we'll be getting our corona tests as well. I went in to collect kit that we've all had to take home and get washed. It's just little steps just now until we can gradually get back into the building and really take it from there.
"As far as I'm aware we show up in our kit, train in our little groups, then we head off again. It'll be quite brief to begin with until the guidelines change and hopefully we can get back into the contact and other game-building stuff."
Boyle and his team-mates will continue to undergo regular screening once training resumes, with Government regulations requiring clubs to conduct tests twice a week during phase two of the route map out of lockdown, which is expected to start on Thursday.
"Hopefully everyone has been social distancing and keeping safe and well," Boyle added. "We've been getting questionnaires pretty much every week to see if we've had any symptoms, and how we're feeling etc, and if anyone else has had it.
"I think everything at that end has been positive with us. Obviously if one person tests positive then that will be it, it won't happen. But it's safety first, and that's why the tests will be there, to see whether it's safe to return to play."
Having recovered from a long-term knee injury, Boyle felt he was getting back to his best form when the season was suspended in March. He had also been due to play for Australia in the Copa America this summer but, like Euro 2020, the tournament has been pushed back to next year.
He is looking forward to picking up where he left off under Jack Ross when the new season resumes, with the opening weekend of the Scottish Premiership season pencilled in for 1-2 August.
"The manager has been brilliant with me since he came in," Boyle explained. "I'm not looking forward to pre-season because I don't know what his runs will be like! But I'm looking forward to learning more from him hopefully.
"He might add more players to make the squad stronger, and hopefully we get some preseason games lined up soon and see where that takes us.
"I feel like we should be confident every season we go into to produce results. We've got a good core of a squad at the moment and if they can bring a few players in we'll only get stronger."
Boyle also revealed that Hibs players have not yet been given any indication when the current wage deferrals will end. Until such times, the club will not be signing any new faces.
"As far as I'm aware they are still ongoing," Boyle added. "I haven't heard much as such because we're not back playing and there's not a lot of intake at the moment.
"I'm not really sure but that's just at the back of my mind at the moment. Getting back playing and back to my best is the number one factor.
"That's for the chairman and Leeann Dempster behind the scenes. Our main aim as footballers is to get back, get our legs back, ease ourselves back into it and we'll start worrying about that side of things when it happens."