Hibs boss Jack Ross plans further comforting talks with Josh Doig after 'learning experience' against Celtic
Left-back was subbed at half-time following runaround from Frimpong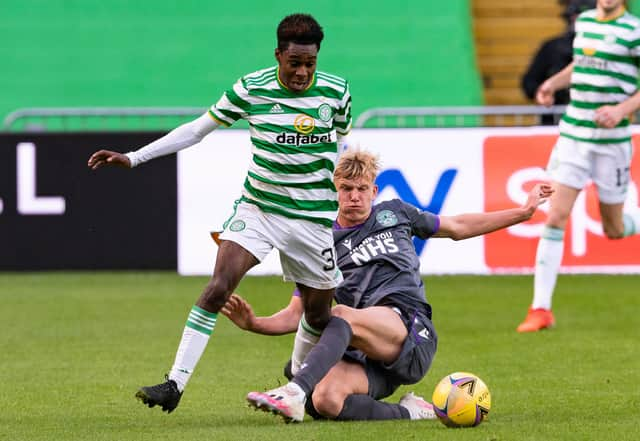 Hibs left-back Josh Doig found the going tough against Jeremie Frimpong during the 3-0 defeat by Celtic.
Hibs head coach Jack Ross believes Josh Doig will emerge a better player following a chastening experience against fellow teenage wing-back Jeremie Frimpong.
The 18-year-old Doig was replaced at half-time after a testing opening half against his tricky opposite man in Hibs' 3-0 defeat by Celtic. Veteran Lewis Stevenson was sent on to try and tame the 19-year-old with the visitors already trailing by two goals.
Stevenson also had his work cut out against Frimpong, who was named man-of-the-match as Celtic ended Hibs' 100 per cent away record in the league this season.
Ross has already sought to comfort Doig and will have a further chat with him in the coming days in the hope to limit the damage to the young player's confidence.
Doig has been a stand-out for Hibs this season and should reflect on yesterday's 45 minutes as a harsh lesson learned. He has little time to dwell, with Hibs back in action against Hamilton Accies on Friday night.
"Look, it was difficult for him today," said Ross. "He competed well in the first-half. He was up against a difficult opponent who has been lauded in recent weeks for being one of their stronger players.
"It is another learning experience for him. I had a good chat with him at half-time and I will do so again in the coming days. He has been brilliant this season for a young man who has just turned 18. He will be fine and will play a big part for us moving forward."
Ross, who was a defender himself, knows only full well how hard it is to come up against someone like Frimpong, whose ball skills are augmented by pace.
"When you are that quick and can be that quick from a standing start it is tough to play against," he said. "It is a really good quality for him to have. Because Celtic try and make the pitch as big as they can here and are good at controlling possession you want to isolate him in one-v-one situations. They are not easy to defend against."
Ross praised his side's first half performance despite losing two goals. Callum McGregor opened the scoring after seven minutes before Albian Ajeti made it 2-0 nine minutes before half-time. Mohamed Elyounoussi completed the scoring with eleven minutes left.
"We're at an incredibly hard venue in terms of Celtic's domestic record.," he said. "But in the first-half I thought we were really good. That sounds strange because we found ourselves 2-0 down. But what we created and how we played in the first-half was really encouraging.
"My changes meant that we gave up a bit of control in the second-half as we try and chase the goal. That becomes difficult for the players. There were things that we could have done better in the second-half, but I take responsibility for that side of it. In the first-half there were a lot of pleasing things for us."
On midfielder Scott Allan's continued absence, Ross said: "He has a health issue that he has been investigating further and you can appreciate it is a private and confidential matter. If and when we are able to comment on it, we will do so."