Franck Sauzee was 'the worst trainer', reveals ex-Hibs team-mate
Former Easter Road player and manager opened up on France legend's time in Capital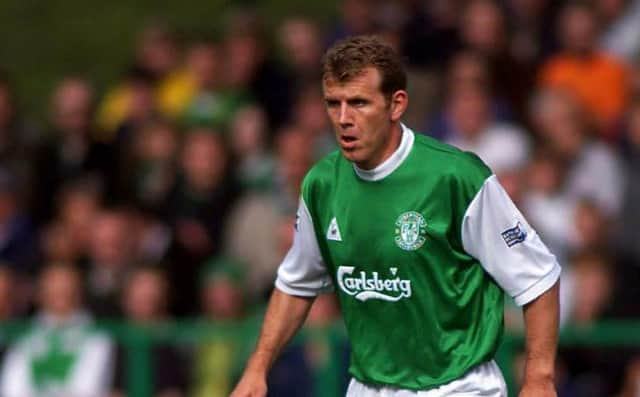 Franck Sauzee in action for Hibs
Former Hibs striker and manager Mixu Paatelainen has revealed fans' favourite Franck Sauzee was far from impressive in training.
The French defender joined the Capital club in the twilight of his career in 1999 and played 90 times in green and white, before an ill-fated spell in charge of the team that ended in 2002.
Sauzee played alongside the Finn in some memorable matches, including the 6-2 Edinburgh derby win against Hearts in 2000, and became his manager in his latter days at Easter Road.
Mixu Paatelainen congratulating Sauzee as the Frenchman celebrates a goal for Hibs
The 39-cap France international was a huge hit with supporters who dubbed him "Le God" and idolised him as he helped the club back to the Scottish Premier League following relegation in 1998.
Now Paatelainen has given an insight into the former Marseille and Montpellier midfielder's approach to training during an appearance on the Football Daft podcast with Grado, Stephen Purdon and Chris Toal, saying that while he was a superstar on match-days, he was far less impressive on the training pitch.
Speaking fondly of Sauzee, Paatelainen said: "He was obviously France captain, won the European Cup with Marseille, legend. Absolute legend, and a brilliant, wonderful person.
"But he was the worst trainer I've ever played with, during the week. It was agony to play with him in the 5-a-sides at the end of the training session.
"I went to him one day in training, I lost it, I said, 'Franckie come on, do a little bit of running.' He just stood still on the half-way line, didn't do anything.
"So we played with four players.
"I was like, 'Franckie, come on!' because I wanted to win, I wanted to fight and to win, even in 5-a-sides, whenever. And Franckie said nothing. Just looked at me, and said nothing.
"Then we got back to the dressing room and he came to me in the showers, and he said: "Mixu. Mixu, I am very sorry, I am very sorry Mixu.
"Saturday, Saturday… Saturday is when I play. I don't play during the week.
"I said, 'okay, fair enough. If you produce the goods on Saturday, no worries'."
Sauzee left the club after just 69 days as manager, while Paatelainen remained at the club until his transfer to St Johnstone in 2003. He later returned as manager in January 2008, departing by mutual consent at the end of the 2008/09 season.
He is currently head coach of the Hong Kong national team following similar roles with Kilmarnock, the Finnish national team, Dundee United, Ubon UMT United of Thailand and the Latvian national team. while Sauzee currently works as a football pundit on French television.
Want to join the conversation? Please or to comment on this article.