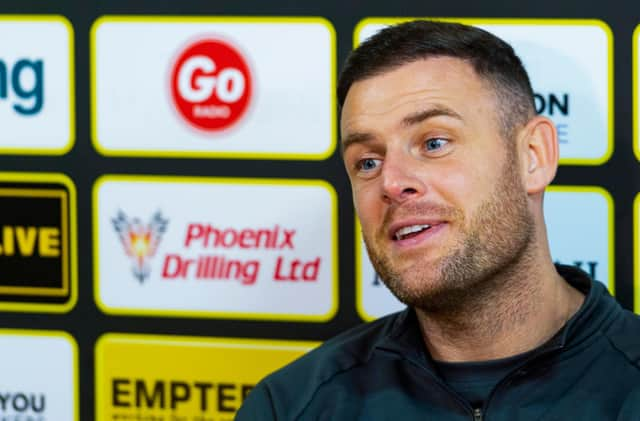 Anthony Stokes is back in Scotland with Livingston.
A guy who won seven trophies with Celtic and then starred in Hibs' most notable achievement in 114 years, few doubt Anthony Stokes' ability to shine for Livingston.
But, following his ignominious departure from the Leith club in January 2018, when manager Neil Lennon reportedly ran out of patience within his off-the field antics, the question is whether he can finally allow his football to hog the headlines.
Earlier this week, Livingston captain Marvin Bartley suggested that at 32-years-old, this opportunity represents a last-chance saloon. The Irishman just smiles as the comment is presented to him. "He said a few more positive things as well," he replies. But Stokes has heard it all before.
Following past misdemeanours, he has had to take judgements on the chin, but he is not shy when it comes to fighting misconceptions, such as his apparent flakiness when it comes to honouring contracts.
Since leaving Leith, where he is forever revered after scoring two goals against Rangers in Hibs' Scottish Cup triumph in 2016, he has bobbed about, signing up to play in Greece [although Apollon Smyrni were driven to cancelling his contract when he went AWOL from training for a week], in Turkey [his two-year deal was terminated by Adana Demirspor after just six appearances], and in Iran, where both stints ended acrimoniously. However, while his on-field performances have tended to live up to expectations, he says his employers have not, which is why his stays have been curtailed. There has also been the coronavirus pandemic to factor in.
Legal wrangles – and goals
"There's been a lot said, but at the end of the day look at the situations at the clubs abroad," says Stokes. "At Tractor [an Iranian team in the Persian Gulf Pro League], I finished top goalscorer at the club and towards the end I got injured or I could have finished top goalscorer in the league. But I left because they didn't pay me. I've gone through FIFA about that.
"It was the same situation at Adana. They were two or three months behind on paying me. I've gone through my solicitors and I'm still chasing money off Tractor and Persepolis [another of his Iranian clubs].
"I never broke my contracts, and that's been proven with Tractor. The initial dispute has gone ahead and I've been awarded what I'm due.
"With Persepolis, it's slightly different because with the whole coronavirus situation it was difficult for me – and for the club, I'm sure. But I had to look after my own safety. Iran's not a place I particularly wanted to be in lockdown for two or three months, with no football or training and isolated in an apartment by myself."
So when the team travelled to Dubai for a game, he sought permission to postpone his return for 24 hours, apparently to spend time with his family, but then stretched that out as he tried to gauge the pandemic's impact.
Wrong to say I've gone off rails
"I made the decision to go back to Dublin to be with my kids," Stokes continues. "The club wanted me to travel back but the outbreak over there was bad, it hit them quite hard. So, I look back at it as a good decision, to be honest.
"In that sense, people say I've gone off the rails - and I know I've had my issues off the pitch - but in the last two or three years abroad there's been no issues on my part."
There is a sense of deja vu when it comes to certain players' claims that they are simply misunderstood, but there is an easy warmth and charisma to Stokes' that invites people to keep taking a chance on him. That is aided by his proven ability to shine at Scottish Premiership level.
And it is the return to a more recognisable environment that attracted the striker to Livingston, who has missed the banter and is already enjoying the familiarity of football here.
"I've done a couple of years away with a few different clubs," says Stokes. "It was a good experience and I'm glad I did it, but it was getting difficult, especially after the initial stint in Iran, which was quite difficult culturally. The football side of it went well and I did enjoy it. Lovely stadiums, great facilities. But it just took its toll after a while.
"The language barrier is quite difficult. At the last three clubs I was at, I had interpreters with me. It's just hard to interact with people in the dressing room. So I'm glad to be back."
If Greece and Turkey posed their own issues, Iran was the most unusual choice. But, if it was testing on a personal level, it was an eye-opener professionally.
Taken aback by size and scale
"It's a nice country, nice people," he explains. "They're very easy-going and a lot of them do speak English, but it's broken English and it gets difficult after a while.
"I was surprised when I got out there with the size of the stadiums, the facilities. They had 70,000-80,000 at their games. People think there are no fans and the standard of football is terrible but we had six or seven Iranian internationals on our team. The three foreigners' slots were filled with players from back here and the standard of football was good, but it's not the sort of place, where if you have a couple of days, you can get back and forward.
"With visas and that, you can't actually leave the country unless you go to the police and get a stamp on it. A lot of little things had a snowball effect. I got through it, but I'm glad to be back."