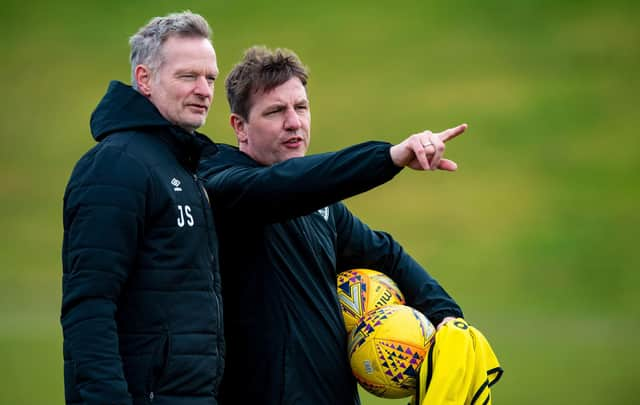 Daniel Stendel was at BT Murrayfield on Sunday afternoon to watch Scotland beat France and had one burning question afterwards: why was the win not celebrated more wildly by the home fans?
His understandably limited rugby knowledge means he might be unaware that it was the fourth consecutive time Scotland have beaten France at home.
It's become the norm. In addition, Sundays don't tend to encourage a partying vibe.
Stendel will be back watching sport for work rather than pleasure tomorrow night when Hearts travel to face
St Mirren in what could prove a season-defining clash. A win there truly would be big news for Hearts and their supporters – and guaranteed to be celebrated accordingly.
It was a year yesterday that the Tynecastle side last won a league match outside Edinburgh when defeating Dundee 1-0 at Dens Park. This sorry statistic is one reason why their plight remains so desperate at the bottom of the Premiership.
Stendel was careful not to attach too much significance to tomorrow's clash – in public at least. He was quick to stress it was not the most important game of his tenure to date. Rather, it's just the next big assignment. A win in Paisley won't be much good if it's followed by defeat by Livingston on Sunday and poor results thereafter. But it does provide a golden opportunity to drag St Mirren back into the mire while making Hearts' prospects seem so much brighter.
"It is an important game but I don't want to have the feeling that it is the one and only game that decides it," said Stendel. "It's a good chance to bring it all together at the bottom – Ross County, St Mirren, us and Hamilton. We all know how important the game is, but there is no difference between one game and the next.
"I think we can win," he added.
"It's not good if we give the feeling we may not win and then we have no chance. After this, we have eight games. It's an important game, a big chance for us to improve our situation. We want to use it."
Stendel saw much to satisfy him on Saturday as Hearts extended their recent unbeaten run to four matches with a 1-1 draw against Motherwell. But there was frustration in that the hosts had chances to secure all three points. Hamilton's late win over Kilmarnock also meant it was very much a case of two points dropped than a point won.
However, the manager was still happy at the way Hearts responded to losing the first goal. In the past, such a development might have threatened to signal all-out collapse.
"They looked a little bit more comfortable even at 1-0 down," Stendel said of his side. "In previous weeks, when they went 1-0 down, they felt like it was just the start – they would quickly go 2-0 and sometimes 3-0 down.
"That has changed. And, when you see how we conceded the goal to Motherwell, it's not easy for the players to say: 'OK, that doesn't matter.' The team understand that sometimes we miss chances. But that's not the only reason we don't win. Sometimes we concede goals, but it's a team game."
Stendel reports a far better feeling around the camp despite the two recent Hamilton results having constituted such dismaying news. He accepts the situation at the bottom really isn't much better for Hearts. In reality, it's worse.
But others are at least being drawn into the fray. Ross County, for example, are only six points ahead having played a game more. Stendel believes Hearts need to focus only on themselves in the near future if they are to make up ground on others.
"The last couple of games have been really good," he said. "We have been defending better as a team. It has given us more chances to win games. The situation isn't really so much better, but the feeling for the team is so much better. We have stabilised our game, especially in our defence."
However, he is aware that Hearts have a habit of failing to build on promising performances and results. A home draw with Aberdeen in which Hearts were the better side was followed by a series of patchy displays. These included a win over Rangers but also a home defeat by Kilmarnock and a last-gasp draw against Hamilton.
"I don't want to say we have stabilised too much," he said. "But… it is better."