'Big, physical Hearts' - A tag primed to return with the signing of a target man
'Big, physical Hearts'. A stereotype which has stuck within Scottish football.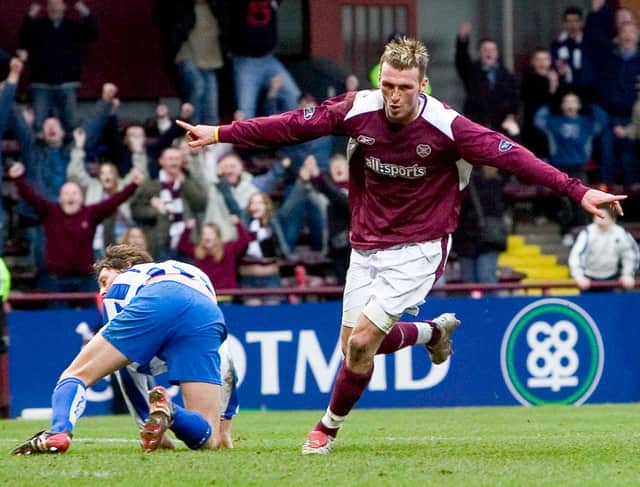 Lee Miller had a short but sweet time at Tynecastle. Picture: SNS
It is often an easy soundbite for pundits and managers, while for opposition supporters it is used in a disparaging manner.
Yet, it is something which should be grasped and accepted by the fans and the team, a badge of honour.
Scottish football is a physical game. Direct and frenzied, flick-ons and second balls can be decisive. Why not be the team which encapsulates that and embraces such an identity? Be the team others hate to play against, annoying and frustrating opposition fans in the process.
The target man
Currently, however, one crucial aspect of being such a team is missing. An ingredient which manager Robbie Neilson has identified in the January transfer window: The target man.
He said: "We need something a bit different up front, somebody with a bit of physicality… linking play, winning flick-ons and securing the ball up the pitch – I think it's important."
After all, Neilson witnessed first hand the impact a target man can have at Hearts during his playing day, and how much fans are willing to embrace them.
Kevin Kyle was a destructive force during his spell at Tynecastle. Picture: SNS
The Dutchman and the Scotsman
Mark de Vries was the focal point of the attack in the early 00s. The Dutchman could never be described as svelte, and he wasn't a powerful jumper, but his lumbering frame was hugely effective, both domestically and on the European stage. With his fortified caboose he was a nightmare to play against and exactly what the team required under Craig Levein to finish third two seasons running.
Come 2005 De Vries had joined Levein at Leicester City which meant John Robertson was in need of reinforcements.
Mark de Vries was a key focal point under Craig Levein. Picture: SNS
For 23 matches he was irresistible. More than the 11 goals he scored it was the way in which he played. Enthusiastic and infectious. At just 21 years of age he led the line superbly. Different to De Vries in that he was more athletic. He had the timing of an atomic clock when jumping to win headers, while he had the guile and intelligence to take in long balls, link play and win fouls.
Ultimate partnership
It was unfortunate a deal couldn't be done to extend his stay with the player opting for Dundee United but then arrived Roman Bednar and Edgargas Jankauskas.
Two strapping 6ft-plus strikers who couldn't be more different in terms of the qualities in which they offered, making them the ultimate strike partnership. Yet, like Miller who came before and Mauricio Pinilla would come after, their time was fleeting.
Edgaras Jankauskas and Roman Bednar, a dream partnership. Picture: SNS
The Bednar-Jankauskas partnership started just 19 times across two campaigns. A third option, and the real deal, was added in the second season but it was a case of 'what could have been' with the Chilean Pinilla.
The last effective target man the club possessed was Kevin Kyle. Arguably, out of all those since De Vries, the quintessential Hearts striker. Big, strong, aggressive. A was a destructive force under Jim Jefferies, just ask Sol Bamba, he both scored goals and facilitated.
For all these players, reference points, the team knew they could fire the ball into them and it would stick.
Neilson could do with another in that mould, and if it means the return of the 'big, physical Hearts' tag, then so be it.