Football boss and policeman Davie Irons on dealing with the coronavirus pandemic first hand
He reckons the season should end now and current standings declared final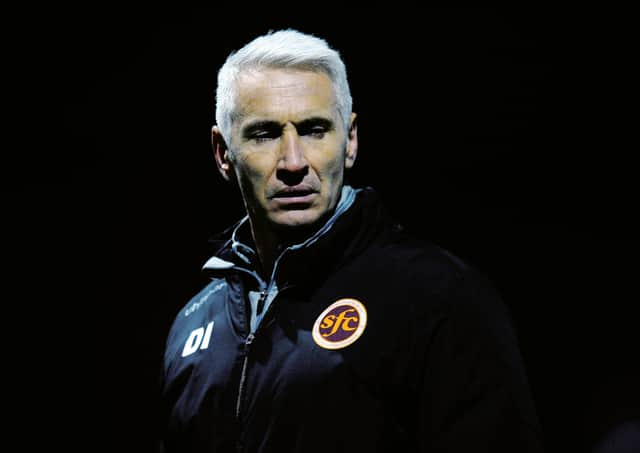 Stenhousemuir manager Davie Irons has volunteered to waive his salary. Picture: Michael Gillen
When he is out on the streets helping enforce a country-wide lockdown in the face of a global pandemic, it certainly offers some perspective to the squabbles over finishing positions in Scottish football's lower leagues. But for Stenhousemuir manager Davie Irons, who also serves as a policeman in Lockerbie, it remains important that the correct decisions are made by the governing bodies so that football can resume in the best way possible when the country eventually recovers from the effects of the virus.
Irons is no stranger to uncertain times in football, having managed Gretna during their tumultuous season in the top flight in 2007-8, which ended in administration and ultimately liquidation.
"It does put football into perspective," he says. "Initially when the coronavirus news broke, sport seemed to take the initial hit but then once that died down and people realised it's the whole world that's affected, the conversations moved away from the sporting side.
"When I am out as a police officer, any time people talk to me in the street it tends to be about football but that's changed and it is now about other issues and about helping vulnerable people."
Irons says people do seem to be heeding the government's advice, adding: "Initially it was a bit surreal. Last Friday the news broke that the pubs and restaurants had to close and I think a lot of people didn't quite grasp it.
"We had to go around pubs and inform people that they had to close – there wasn't any issues, I think generally people accepted it."
However, while it is clear that public safety is his No.1 priority, the former Dunfermline, Ayr United and Partick Thistle player acknowledges the enormous hole that the lack of football can leave in the lives of fans and the community, as well as players and management. Stenhousemuir have been leading the way with their Community Help Initiative, with coaches and staff delivering groceries, picking up prescriptions and offering support where they can.
Irons says it is important that the club supports those who have given up time and money to keep the club surviving over time: "I know football is pretty far down the list of what's important at this time but football is intrenched in the community and we want to give back to people who have supported the club.
"It's about keeping in touch and the club have got a database of older people so we can offer whatever support we can. I know how important Stenhousemuir is in the local area so it is good that we can all pull together and try to support each other."
Although he cannot help first hand, as he stays in Dumfries, Irons and his assistant Kevin McGoldrick have made the voluntary decision to waive their salaries. He says that the priority should be the survival of the football club and in particular the full-time staff.
Everyone from top flight managers to lower league chairmen have had their say on what should happen to this football season, and Irons is firmly in the camp of those who believe the season should be finished now: "I can't see for the life of me how this season can be finished. I do think they should just decide that where you are stands and that's the league finished."
But he added: "The financial implications for every club in Scotland are going to be massive and for clubs to get back on their feet it may be an idea to have no relegation. I know some clubs may not be overly happy with that but it's a situation we've never had before and probably never will again."
Irons learned first-hand at Gretna what can happen to clubs when they get into financial difficulty and says this may prove to be even harder because the crisis is so unexpected.
He says: "With Gretna there was closure in that you were told, the club is going under and that's it.
"With this, how do we recover? We recover by people in the community working together and supporting each other.
"I know financially probably the hardest thing for people to do is to support clubs when you've got to look after your own families.
"But the last thing you want on the back of this is for clubs to end up extinct like Gretna."