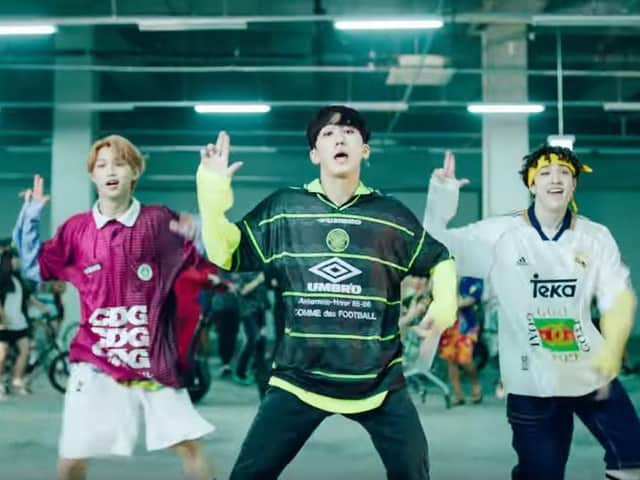 Celtic fans have reacted with a mixture of bemusement and disbelief after discovering not one but two Hoops shirts featuring in a music video by popular South Korean band Stray Kids.
The nine-piece boyband, based in Seoul, have been active since 2017 and are well-known for tracks such as Miroh and Double Knot, which both made the Billboard top five last year.
The video featuring the Celtic shirts is for My Pace, which reached number 8 in the Billboard charts in 2018 and has garnered 75 million views on YouTube.
Along with retro England and Real Madrid shirts, Celtic's 1998/99 away kit and NTL-sponsored home shirt worn between 2001 and 2003 are visible in the video.
Supporters reacted on social media with one quipping: "K'rean Brigade" while another added: "[The] only K-Pop video I will ever appreciate!"
One fan tweeted: "I see Celtic away 98 and Celtic Home 01, madness."
Another wrote: "OK so I have questions, who is this and why are they wearing a Celtic top?"
James Milligan joked: "Come on the K-Pop hoops" while another suggested: "Korean Tierney?"
The Parkhead club have had two South Korean players in the last 20 years - defender Cha Du-ri, who played more than 40 games for Celtic during the 2010/11 and 2011/12 campaigns, and Gwangju-born midfielder Ki Sung-yeung, who made 87 appearances between 2009 and 2012.
Perhaps shedding light on why the singers had chosen to wear Celtic shirts, Stevie O'Farrell said: "In 2013 I worked in South Korea for a year. Used to wear a Celtic top sometimes in Ulsan downtown and kids used to stop and talk, take photos. Cha Du-ri was the reason. They love the Celtic."
Celebrities wearing Celtic shirts is hardly a new phenomenon - in October last year, New York Mets shortstop Amed Rosario gave a TV interview while wearing the grey and pink change strip. Rapper Snoop Dogg has been known to wear one, fellow hip hop superstar Coolio actually turned up to Celtic Park on one occasion and 24 actor Kiefer Sutherland was seen wearing a 2014/15 shirt on set.