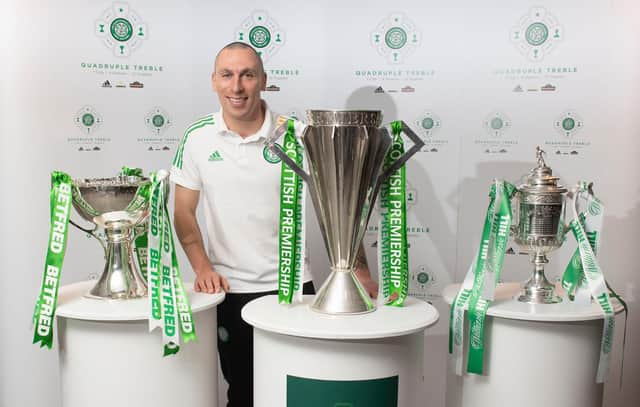 Scott Brown with the spoils that marked Celtic's historic quadruple treble in which he was an integral performer, following the club's Scottish Cup final success in December that earned a 12th straight honour. (Photo by Craig Foy / SNS Group)
Playing without the domineering figure at the core of a trophy-strewn decade doesn't seem such a straightforward option now, though.
Celtic have looked a bit more like the side that snared the previous nine titles, and less like the one that has screwed up this season's ten bid, with Brown restored to a central midfield berth for the past two league encounters. Maybe it is just serendipity that his first back-to-back Premiership starts in two months have coincided with a mini-revival of fortunes; the abject home loss to St Mirren giving way to the 4-0 victory at Kilmarnock that Celtic followed up with a 2-1 home win over Motherwell at the weekend. Or maybe it is something more.
It could be that Lennon opts against selecting Brown in his starting XI for the third time in little over a week for the away assignment against the Paisley club tonight. Expecting a player now in his 19th senior season to peak every four days undoubtedly drained him of the snap his game relies on this season. The confrontation with Jim Goodwin's men may then be an occasion requiring the restoration of Ismaila Soro. The 22-year-old certainly gave Celtic more legs and energy when he replaced Brown in December … only to run out of steam latterly himself. What the Ivorian understandably could not provide was the presence and aura the old stager supplied to a Celtic crying out for marshalling menace following their St Mirren shocker.
Callum McGregor is in no doubt that Celtic icon Brown would continue to serve the club with distinction if he signed on for another season. (Photo by Rob Casey / SNS Group)
Game management of both players may then be the way forward, but Callum McGregor is unequivocal that Brown isn't yet a force whose time has passed. "He still has a huge impact, and write him off at your peril, because he's going to come back," said the club's vice-captain. "He's done it a few times now, and certainly the game against Kilmarnock, I thought he was the best player on the pitch. He was absolutely outstanding.
"The thing with Scott is that people underestimate how good a footballer he is and how good his football brain is. He plays in that position so well. He can take it, turn and play forward. He knows the position so well defensively, and he gives us a real base. Then there's all the other leadership qualities that he has, and you can see it rubbing off on the team. Over the past 13 years he's been right up there along with the best Celtic players that there's been, and there's a reason for that: it's because he's so good."
Lennon doesn't deny that redefining and resetting Brown's place in the team, and recognising he is at a stage in his career where unavoidable physical diminishment precludes automatic first choice status, hasn't been easy. "That's because of the influence he's had, what he's achieved in the game and how he's received in the dressing room," the Celtic manager said. "He probably hasn't been at his influential best this season. When we went into the lockdown last March he was playing brilliantly, looking really fit and producing really powerful performances. The lockdown had an adverse impact on him.
"Broony's also one of those players who feeds off the energy of the crowd so having no fans in the ground hasn't helped him either. It's always difficult when you see a player with that temperament and personality start to come towards the end of his career; you have to deal with that as delicately as you possibly can. I brought him back for the Scottish Cup final in December because I thought it was the right thing to do with a player with his experience and quality and that proved to be the case. But I still think he has a lot to offer, although maybe not so much as he has done in previous seasons. That's just the natural course of things, whether it's football or any other walk of life. I thought he was excellent at Kilmarnock last midweek and he also played well for an hour against Motherwell at the weekend. He had a couple of games out through suspension and came back fresh and strong."
Neil Lennon acknowledges Scott Brown as he is subbed during Saturday's win over Motherwell. The Celtic manager accepts that his captain's influence this season hasn't been as before, but believes he still has plenty to offer. (Photo by Ross MacDonald / SNS Group)
Brown has been coy about what lies in store for him beyond the expiry of his current Celtic contract in a matter of four months' time. Even as he himself has acknowledged he cannot cover the ground as in his peak years, it has been possible to infer he would be willing to sign on for another season if there was a possibility of featuring semi-regularly. McGregor suggests his worth in such a role, which would allow the club to benefit from his strength of character and sense of purpose, would be immeasurable.
"I think he's always going to have value to the club," the 27-year-old said. "Obviously, I don't want to speak about what he should do or what he is going to do, that's up to Scott. But I just always think he's going to have value at this club, he's such a big personality and such a big leader. If we are lucky enough to get him for another year then that would be a brilliant decision, but if he decides something else then you have to respect that as well. As long as he wants to be at Celtic, we're lucky to have him."
A message from the Editor:
Thank you for reading this article. We're more reliant on your support than ever as the shift in consumer habits brought about by coronavirus impacts our advertisers. If you haven't already, please consider supporting our trusted, fact-checked journalism by taking out a digital subscription.