Tormented defender reveals exactly why Celtic's Kyogo Furuhashi is 'so hard to defend against'
Kyogo Furuhashi scored a double in the 5-0 Scottish Cup win over Morton to take his season's tally to 20 – and leave defender Jack Baird in a spin.
The Japanese striker was only on the park for the opening 45 minutes – rested at half-time along with captain Callum McGregor with his side 4-0 up – but it was long enough to leave a lasting impression on his 26-year-old opponent. Safe to say, Baird has not faced a striker of that calibre in the cinch Championship this season, but he did spent a few years in the Premiership with St Mirren and he reckons this Celtic side are the best he has faced, with Kyogo among the top strikers.
"Kyogo is a really good player and you can see why he is playing at the top," Baird said. "His movement is good but sometimes he doesn't get overly involved and then a minute later he is in the right place at the right time and scores twice. He is so hard to defend against. They have a lot of the ball and your head is spinning trying to find him to stop him.
"It is probably the best Celtic team I have ever played against. It was so tough and they never stop. The ball goes out of play and then it is straight back in again. You don't get a chance to rest and get a breather. It was a tough afternoon for everyone. It is a good test for us and parts of it I enjoyed. It was a good experience but obviously I didn't like the result."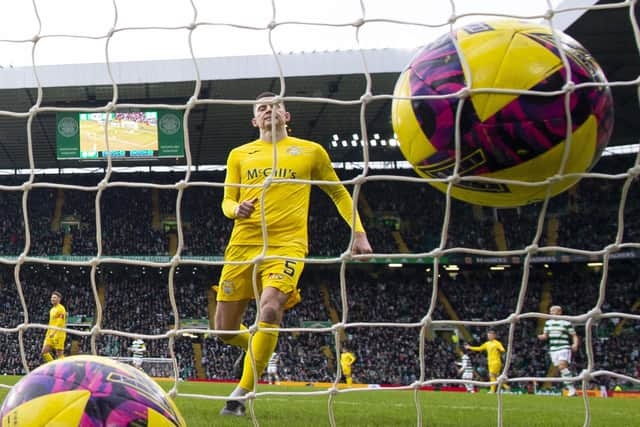 Morton started the cup tie promisingly with a few ventures into the Celtic penalty area but their hopes were killed by a VAR intervention on the 14-minute mark. Referee Kevin Clancy was summoned to the monitor after the ball inadvertently struck the arm of Efe Ambrose in the box, and to the astonishment of most observers, after nearly four minutes delay, a penalty was awarded, which Aaron Mooy scored to set Celtic on their way to a comfortable victory.
"I haven't seen it but I blocked the shot and it hit Efe. I don't know if it was a penalty or not but it wasn't ideal," Baird said. "It was my first time playing with VAR and I didn't know why we had stopped. It wasn't an obvious decision. When you speak to the ref he said it was a potential handball but you can't do anything.
"As a defender you are conscious you are around the box you try to get your hands behind your back. It is hard to defend that way but there isn't a lot we can do. It isn't a natural position but it is a hard one. I wouldn't want to be the ref, trying to distinguish what is or isn't a penalty.
"It knocked the wind out of our sails because we had a good opening ten minutes. We had a few long throws and corners which are some of our strengths. It's tough to take as it opened the floodgates for Celtic. We would never have predicted that after the first ten minutes."
Comments
 0 comments
Want to join the conversation? Please or to comment on this article.