The 29-year-old midfielder made his 400th senior appearance for the Glasgow club in the routine 2-0 win away at Dundee United and put in a typically assured, driving performance in Celtic's engine room. To get to such a landmark at his age is no mean feat and his manager, Ange Postecoglou, could not praise him highly enough after the win at Tannadice. "We are all pretty privileged to share a dressing room with him," the Australian said. "The greatest compliment I can pay him is that he plays every game as if it's his first. He is an outstanding individual and a credit to himself and his family."
McGregor is a humble individual and no doubt would have blushed had he been in earshot of Postecoglou when delivering such tributes to the press. The smile on his face was huge as he discussed hitting 400 and admitted it was nice to hear of such platitudes.
"It is always nice when people well about you, but the main guy you are trying to impression a daily basis is the manager," said McGregor. "He is the guy who picks the team, he is the guy who is heading the club, so for him to say nice things is a really good feeling. We continue to work hard, do the right things together and, hopefully by doing that, we will have success.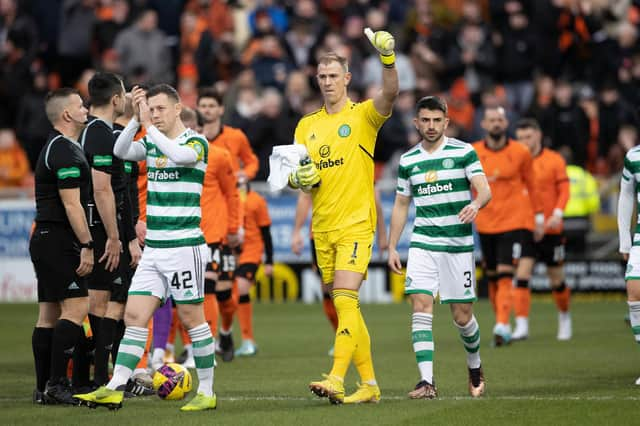 "The gaffer doesn't hand out praise too often, he likes to keep people on their toes. You know when you are doing well and when the manager picks you then you are doing something right. Sometimes when you praise people too much they become comfortable and he likes not letting that happen. It has worked well so far, so as long as we are winning and playing well then we are happy."
McGregor played alongside his predecessor as skipper, Scott Brown, for years in Celtic's midfield. The now Fleetwood manager is sitting on 672 matches for Celtic and McGregor is on course to surpass that as long as he can stay healthy. "That just shows you again how good he was for this club," McGregor replied when told what Brown's total is. "A real iconic figure who looked after himself and was an ever-present for the club. That's massive numbers and it's a huge testament to him. But I've still got enough time. Hopefully if I stay fit and keep playing well and being hungry to have success and do all the right things, who knows where I will be in five or six years time."
Did McGregor think he would even get to the 400 mark? "Probably not in terms of the scale of it," he admitted. "Of course, you take every game as it comes and, once you start to rack up these wee milestones, you realise you are doing something right, your preparation is good and your performance is good. So you just making more and, as long as I stay on that track and stay hungry and fit and healthy, I'm hoping to make a few more."