Celtic's Neil Lennon on Peter Lawwell: He fought many club battles - and won a lot
There was one word to which Neil Lennon kept returning in chewing over Peter Lawwell becoming "one of the best CEOs around" across his 17-year Celtic tenure in the position.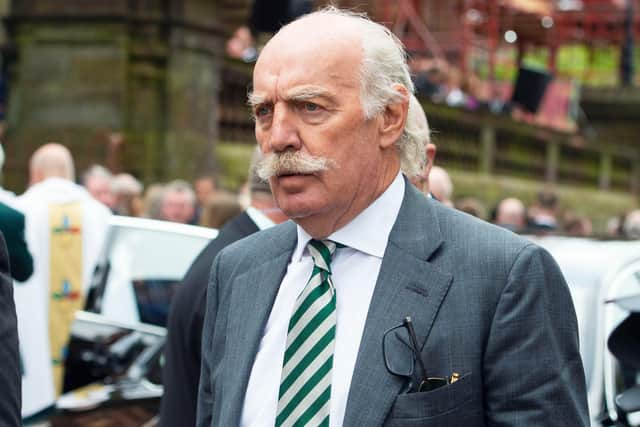 Celtic major shareholder Dermot Desmond has been in discussions for a year with Peter Lawwell about his departure from the chief executive role, according to Lennon. (Photo by Paul Devlin/SNS Group).
Shrewd, he said on more than one occasion of the 61-year-old, who will give way to Dominic McKay in July. Like the Celtic manager himself, Lawwell has become a constant source of ire for a large section of the support as the club's near-decade of title dominance has disintegrated one short of claiming the coveted record 10 for successive championships. And even though change in the club's stewardship has become necessary, judgments have been clouded over Lawwell's outstanding contribution – which has allowed for sustained on-field success without compromising financial solidity.
Lennon wouldn't fall into that trap. He is patently keen to avoid the perception of himself as "Lawwell's man", which has dogged him since he was appointed permanently for a second spell in May 2019. Yet, he does not deny the strength of the pair's relationship. He could not, when it was Lawwell who gave him his first taste of frontline management, on a temporary basis, following the sacking of Tony Mowbray in March 2010. He then allowed Lennon to lead the club for the next four years, before turning to him once more as an interim after Brendan Rodgers was enticed to Leicester City in February 2019. Lennon is better placed than anyone to assess what has made Lawwell such a formidable and successful chief executive then.
"Peter is very shrewd," the Celtic manager said. "He's forward-thinking and has a strong personality. He is a real tough negotiator at times when it comes to contracts and dealing with agents and other clubs. He's also fought many battles on behalf of the club, which he won a lot. I thought it was brilliant the way Peter did that. He was a really shrewd manipulator and he knew how to play the game. He learned that with the vast experience he gathered over the course of his 17 years at the club. I just admired his fortitude and his intelligence, really. He's been a huge influence on the club in a positive way.
Dominic McKay will have "big shoes to fill" in replacing Peter Lawwell as Celtic chief executive but all the support needed from the club to do that, says Lennon. (Photo by Gary Hutchison/SNS Group).
"We have a fantastic training ground and then you look around the stadium and the Celtic Way. It's beautiful and a lot of investment has gone into that. Then you have the on-field successes – three last 16s in the Champions League. Lazio, Barcelona, Man United wins, the players we have brought in. [Virgil] Van Dijk, [Victor] Wanyama, [Fraser] Forster, [Moussa] Dembele, [Kieran] Tierney, [Callum] McGregor, [James] Forrest, [Scott] Brown – they have all been under his watch. That's a magnificent achievement, plus the 13 league titles and a quadruple treble. It's unprecedented success really, with the backing of the board and Dermot [Desmond, major shareholder].
"Peter goes with my best wishes. We have become close. We have a good working relationship and we have also become friends. There was always that professional boundary but on a personal level we always got on well, as we both love the club and want the best for it in every decision that was made."
The pain both will feel is that their motivations have been questioned as Celtic have lost their way spectacularly this season. Those targeting them will delight in feeling their pressure has told in Lawwell's decision to step away. Yet, the succession plan that will bring McKay on board is not a reaction to support disgruntlement.
"We talked about it maybe 12 months ago and I know Peter spoke to Dermot about it on numerous occasions," he said. "Regardless of whether we win the league or don't, Peter was going to make that transition at the end of the season. We know when he's leaving now and we wish Dominic the very best in coming in. He has big shoes to fill but will get all the support he needs from everyone at the club. [The finances under Peter] is just good governance. We have quality people on the board who have the best interests of the club, whether it be in the present the past or the future. It is four months before Peter leaves, but already the progression and succession has been put in place. That is the forward thinking that people have at the club."
Neil Lennon is pictured alongside Celtic chief executive Peter Lawwell in May 2019 as he is confirmed as the new manager of Celtic on a permanent basis for the second time. (Photo by Bill Murray/SNS Group0.
Yet, even if Lawwell has made peace with cutting ties with a club he served in two different capacities – he was Celtic's financial controller for a short spell in the early 1990s – Lennon doesn't feel it necessarily will be a straightforward adjustment.
"I think he is prepared for it, but I always think when you have been entrenched in a certain way of life … his job has been all consuming in the last 17 years," said Lennon. "When you get in that sort of routine it can be a little bit disconcerting to leave it. At the minute, he is still very much engrossed in the club business. We had a chat about it yesterday, about how he would deal with it afterwards. We always do it. When you are in the sort of regimented routine of life, it is off putting when you leave, it kind of knocks you out of kilter. He will have all that to experience. I think he will be not short of offers, whether it be in football or in business. He has gained a fantastic reputation, even on the European scene, dealing with big clubs in the European Clubs' Association. He did some great work for the profile of the club within that."
A message from the Editor: Thank you for reading this article. We're more reliant on your support than ever as the shift in consumer habits brought about by coronavirus impacts our advertisers. If you haven't already, please consider supporting our trusted, fact-checked journalism by taking out a digital subscription.
Want to join the conversation? Please or to comment on this article.