The midfielder was forced to change his shorts after sustaining a bloody nose quarter of an hour in as the result of a clash with Bruce Anderson. The stoppage for the player to receive treatment witnessed an eerie hush descend on the stadium. Minds no doubt casting back to McGregor being forced to play the final three months of last season in a face mask because of a cheekbone fracture. Postecoglou, though, took a relaxed view of the incident when asked if McGregor being stricken induced particular worries.
"I am worried about all of them, mate. I love them all the same. I don't want any of them to get hurt," said the Australian. "But we realised fairly early that he had got a bang on the nose and a bit of blood was coming out. But it was nothing to worry about, he was fine."
There were some suggestions that McGregor may have broken his nose but Postecoglou did not seem especially troubled by that possibility either. "No. I didn't ask him, I wouldn't ask him," he said, when asked if he knew if that was the case for the 28-year-old. "If he did he would be up there tomorrow for training, no problem."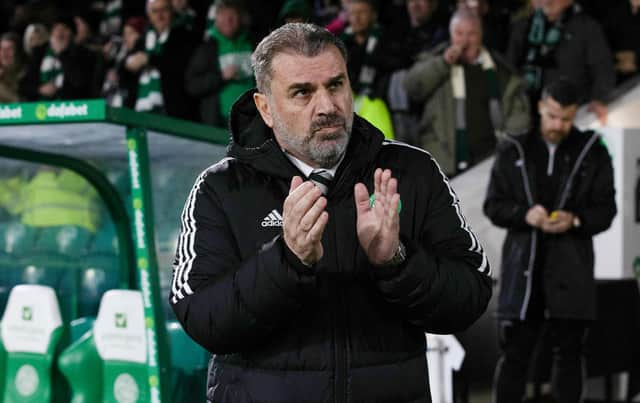 Celtic's barrage that produced three first-half goals appeared to involve them enjoying a break when Daizen Maeda, closing down Ayo Obileye inside the six-yard box, earned his team's second through the defender smacking the ball against him to result in it ricocheting back into the net. Postecoglou took umbrage at the implication the strike could be considered to have been of the lucky variety.
"You love that word don't you? It's just so easy… How many runs does Daizen make in a game?" said the Celtic manager, referencing the "lucky" description of him for his spending power by Rangers manager Michael Beale that he has regularly revisited in tongue-and-cheek fashion. "He is constantly in those areas. Tonight there was a couple more times when he just lacked a little bit of composure in the front third. He is always there and it is an enormous effort to always be there and that is why he gets his goals. Obviously I have known Daizen for a little while now and he always get goals and sometimes he gets goals which people will say, for want of a better word, fortuitous. But on the back of him just working his backside off every time we get the ball. He gets his rewards for it."