The Australian, though, believes clubs might want to think twice before loading up any barrels. He does so in citing the clover in which Hearts' Robbie Neilson and Arsenal's Mikel Arteta now find themselves … when earlier in their current tenures they seemed firmly in the mire.
Now it is Jim Goodwin – whose retention by Aberdeen this week was a shock the equal of his team's abject Scottish Cup elimination by sixth-tier Darvel – and Hibs counterpart Lee Johnston who are deep in the sticky stuff. Postecoglou may have only been in the country 19 months, but in that time the Easter Road side have twice changed manager, as have Rangers and his weekend opponents Dundee United. Aberdeen, St Mirren, Motherwell and Kilmarnock also have a different figure at the helm than at the start of the 57-year-old's present tenure.
Asked if it was a lonely job that had become increasingly more arduous, and whether anyone offered him pointers – as Liam Fox said he has welcomed from the Celtic manager – Postecoglou certainly gave a grey beard response befitting almost 27 years trackside. "To a certain extent," he said. "People don't tend to give me advice these days as they know what sort of response they are going to get … I can deal with things a lot better. I don't feel a loneliness in the job. I don't feel lonely. I've never felt isolated. I've loved what I have done. You go into management because you love being on the edge every weekend, you love being on a competitive scale every time you play. So I think if you talk to any manager, particularly the experienced ones, they'll tell you their most unhappiest times are when they're not in a job, not when they're in one.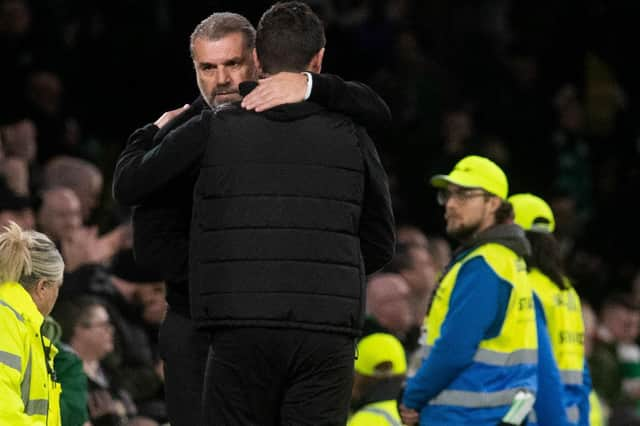 "For managers beginning their journey, it can feel [lonely], but I think after a while you understand that you actually love what you do and there is a reason why you do it. All of us have family and friends around us who can be that support network that you need. We all feel for guys who are going through a tough time in our roles because we know that could be us one day. Everyone is under pressure in certain ways.
"These days, clubs tend to be pretty quick to pull the trigger. The one thing proven is that's no recipe for success. Any clubs changing managers on a regular basis rarely have any sustained success. The guy who is on top of the Premier League at the moment, Mikel Arteta, is a guy who people were calling for his head not long ago. Now he's the best manager in the league. The best clubs tend to pick the people that they think are the right ones for the job and then support them to get the job done. [Look at] Robbie Neilson at Hearts. He's done a fantastic job the last three years and it wasn't that long ago with him. If they had changed him, they could have changed another half a dozen since then and probably not the success they have had now."