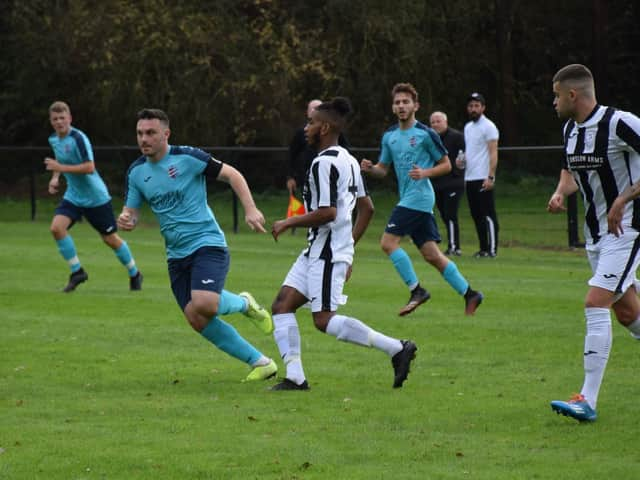 On a sunny and warm afternoon on a weekend with heavy rain the Oakmen left at the end of the game with a decisive 3-0 win.
With two more goals from skipper Dan Perry and another for Morgan Vale, the total tally of goals this season is now 15 with just 4 away, took the total number of points to 20 and remain top of the Sussex Combination Football Premier League.
The game started with Loxwood putting on the pressure moving the ball around but the Uckfield back four were well up for it in defence.
After 13 minutes, there was a lovely Uckfield move as a overlapping Ollie Duncan strides to deliver the ball dangerously into the Loxwood box. From the resulting corner, skipper Dan Perry's volley is comfortably gathered by the keeper.
On a quick attack from Loxwood, Uckfield keeper Jason Tibble back pedals and tipped a speculative effort over the bar.
On 34 minutes, Uckfield skipper Dan Perry was chopped down in the box and a penalty was awarded by the referee. Perry took the spot kick and confidently scored opened the score line.
Just before half time on 43 minutes, great work from Luca Page plays in Dan Perry who laid off to Morgan Vale to finish and score a lovely goal with the Loxwood's defence in disarray.
The second half started evenly for both sides with Uckfield keeper Tibble alert to a near post corner shot and at the other end Dan Perry put one just over the cross bar following a great cross by Jack Samways.
After 65 minutes the momentum went more towards the visitors with Oakman Callum Ridley started to pull the strings with superb play.
Jack Samways played a lovely forward ball to a onrushing Luca Page but the home keeper came out and made a smothering save.
There followed two substitutions for Uckfield with Shane Harper replacing Luca Page and Sam Cash replacing a injured Ollie Duncan.
The final substitution came when new signing Max Walsh, a former Dover and Hastings player, replaced goal scorer Morgan Vale.
On 85 minutes skipper Dan Perry notched a second, and Uckfield's third, after delicious interplay between Max Walsh and Shane Harper.
It was nearing the end of the game, and more neat play resulted in a powerful Sam Carrington shot which whistled over. Moments later a beautifully flighted Mohammad Zabadne cross is headed just wide by Dan Perry.
In the last 20 minutes all the play was with Uckfield as the home team looked tired and the Uckfield stamina and fitness paid off.
The game ended 3-0 to the visitors and secured their position as in the league leaders.
The next league games in at home next Saturday against Newhaven Town and should once again be a good test for the team.